Ideal Motors collaborates with Mahindra to produce 'people's car'
View(s):
Ideal Motors Ltd will produce a 'people's car' soon in collaboration with its long standing business ally Mahindra & Mahindra of India by setting up a vehicle assembly plant in Sri Lanka.
This is the first time that a genuine automobile manufacturer plans to enter the vehicle assembly arena in the country, and for his company after over seven years of doing business, Nalin Welgama, Chairman, Ideal Motors Ltd told Business Times.
Ideal Motors with the equity participation of Mahindra & Mahindra, India will begin Mahindra 'people's car' assembling in Sri Lanka with an initial investment of around US$15 to 20 million, he disclosed.
The company will sign an agreement with Board of Investment of Sri Lanka (BOI) within the next few weeks to launch the joint venture project
India's US$17.8 billion Mahindra Group Company would assemble vehicles from complete knock down (CKD) kits with 30 per cent value addition of local components along with Sri Lankan manpower numbering around 250 to 300 in the first phase to meet high demand of small cars in the island, he revealed.
Ideal Motors will initially manufacture the Mahindra KUV 100 sports utility vehicle, the ideal 'people's car' for Sri Lanka, he revealed.
Almost all the ground work has been finalised to obtain necessary approvals from the Finance Ministry and the BOI to set up the vehicle assembly plant in a two acre block of land in the Colombo suburbs probably in Horana, Mr. Welgama said.
The company is looking at assembling the all new compact Mahindra SUV, the KUV 100 initially, he said, adding that the aim is to offer a good quality car for a reasonable price for first-time car buyers and youth.
The Mahindra KUV 100 is offered in Sri Lanka with 1200 cc mFalcon engine: a 1.2-litre G80 petrol unit that produces 82 bhp and 115 Nm of torque.
This engine has a 5-speed manual transmission. ARAI-rated fuel economy figure for the petrol KUV100 is 18.15 km/l.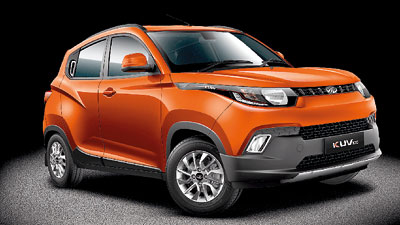 Meanwhile Ideal Motors partnered with the Consumer Cooperative Societies Federation of Sri Lanka Ltd [COOPFED], in a landmark venture whereby the entire range of Mahindra commercial and passenger vehicles, as well as all products marketed by the Ideal Group of companies will be available at attractive discounted prices to the combined membership of all 300 facilities of the COOPFED members of all nine provinces, numbering eight million!
This historic agreement was signed at a ceremony held at the Ideal Motors Head Office by Chairman Ideal Group, Nalin Welgama and senior officials of the COOPFED. . With this agreement the company is expected to offer special financial support to COOPFED .
"This landmark agreement which is for a period of three years is available to the entirety of the COOPFED membership and it can only be a win win situation for both organisations", said Mr Welgama.
" The Ideal Group leads in both sales and aftermarket infrastructure throughout Sri Lanka. Our association with COOPFED will surely complement this, allowing us to serve their members in all provinces", said Mr Aravinda de Silva, Deputy Chairman of ideal Group.