CMPH to make Hambantota port operational soon
By Bandula Sirimanna
View(s):
The much debated Hambantota port will become operational in November under the management of the China Merchant Port Holdings (CMPH) unlocking the country's potential to be a global maritime centre, an official at the helm of the Chinese company divulged at Colombo's Ceylon Chamber of Commerce seminar last Friday (September 22).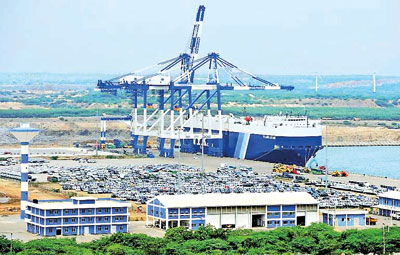 CMPH will have to spend at least US$ 600-800 million or more to bring the port to operational level.
"We are targeting to turn the Hambantota port into a major hub connecting the neighbouring countries as well as the rest of the world. That is the national vision of Sri Lanka and it is also our mission as an operator," said Deputy General Manager of CMPH Hang Tian.
The Chinese company's aim is to contribute to the future vision of Sri Lanka bringing new investment, new management methodology, and new technology by leveraging on the synergy of CMPH's global network, he revealed.
He also called upon local investors to join his company to make the venture a success.
"Hambantota port has the potential to play a more vital role during the transformation of Sri Lanka's maritime industry and economy," he said.
"This port is closer to major marine routes than Colombo port, and it is located in an area that is less developed so far in southern Sri Lanka," he said expressing the belief that, in the long run it has vast potential if it can be well planned and operated efficiently.
The Chinese company has considerable experience and resources in implementing the "Port, Park and City" Model such as Shekon, Zhangzhou in China,Mr.Hang Tian said adding that the company will implement and capitalise on this model to add substantial value to the port operations and development.
Shekon, which was a mere fishing village 38 years ago is today an industrial city. Mega projects bring enormous benefits to the cities and countries. Private sector led investments should be the focus in development projects as governments alone cannot carry out large scale projects, he pointed out.
The Hambantota port deal will boost foreign exchange reserves, which will ease the government's external liquidity position ahead of several large international bond payments in 2019-22 with the average annual debt payments will be far higher than US$4 billion, Central Bank sources, said.
Earnings from the Hambantota Port stake sale will feed into the Central Bank's foreign-exchange reserves, which will help bolster investor confidence and encourage future portfolio inflows.
Importantly, the transaction will allow the government to set aside earnings to repay its upcoming debt maturities and reduce its external debt, a key constraint on Sri Lanka's credit quality. External debt maturities in 2019-22 totals $13.8 billion, the sources said.
At least$3 billion is to be invested in the setting up of LNG, LPG and a petroleum refinery.
CMPH is to link up with an international firm like Sinopec or China Petroleum for the supply of oil to carry out bunkering at the port. It will also tie up with a local licensed company for bunkering operation, the Chinese official said.
A business plan is being prepared by the Chinese company outlining its future activities including port services, a business incubator, integrated logistics and a vessel supply service to attract more international companies to the port, he added.
He said the company played a key role in the development of the Colombo International Container Terminal (CICT) since it won the bid to develop the terminal in 2009. CMPH will invest over $1 billion as their share in the Hambantota venture.
The Sri Lanka Ports Authority (SLPA) and CMPH will establish the Hambantota International Port Services Co (Pvt) Ltd (HIPS) – with a capital of US$ 606 million and 50.7 per cent shares to SLPA and 49.3 per cent to CMPH.
The Hambantota International Port Group (Pvt) Ltd (HIPG) with a capital of $ 794 million and 15 per cent shares to SLPA and 85 per cent to CMPH will also be established.
HIPG and HIPS have agreed on the terms of the concession agreement in relation to the development, management and operation of the Hambantota Port.
The Port of Hambantota will serve ships travelling along the east-west shipping route which passes six to ten nautical miles (19 km) south of Hambantota from Asia to Europe and is also in a strategic Position along the "Silk Road Economic Belt and the 21st Century Maritime Silk Road".
The first phase of the port project will provide bunkering, ship repair, ship building, and crew change facilities.
Later phases will raise capacity of the port up to 20 million TEUs per year. When completed, the company claimed it will be the biggest port constructed on land to date in the 21st century.
The Hambantota Port project is a project to develop a major industrial and service port with an attached industrial zone in the Port of Hambantota and it is currently expected that the project will comprise three phases.
With 10 berths in Phase 1 and 2, and quay length of up to 3,487 metres; the berths are specialised to handle containers, bulk cargos, general cargos, RO-RO cargos and liquid bulk.
Water depth alongside the quay and navigation channel is -17 metres, which makes Hambantota Port a deep-water port capable of handling super-mega vessels.
It has also entered into a cooperation framework agreement with China Harbour to explore possible future cooperation and joint development and operation in relation to the Hambantota Port and the industrial park adjacent to the Port, he disclosed.
Meanwhile Director, Agency for Development Strategies, Mangala P.B. Yapa said Sri Lanka is currently negotiating with two Chinese companies to build a new refinery at this port with an investment of around $3 billion.
Outlining 'Hambantota Logistics and Industrial Zone – Vision for the Future', he noted that the two Chinese companies have already submitted a joint venture proposal for the refinery, which is expected to produce 5 million tonnes per annum.
Chairman, Sri Lanka Ports Authority Dr. Parakrama Dissanayake unveiling 'Hambantota Port: Development Strategy' pointed out that it should be developed as maritime centre in the region.
The Sri Lanka Ports Authority (SLPA) has paid China Rs. 47 billion so far for constructing the Hambantota port.
The money was paid back using funds collected by the SLPA through ports operations in the country.