Tilting windmills at blathering politicians is no answer to rule of law failures
View(s):

A former Army Commander or two jousting before the television cameras for sport, alleging war crimes against each other, is a seducing sight for public consumption. But this is not what the crisis of justice in Sri Lanka is all about.

No political or military leader can plead absolution
Indeed, these deeply cynical games distract attention from institutional failures that go to the heart of political and military responsibility. That fact must be properly understood for any reform process to even begin, whether in relation to war crimes or the failure of the Rule of Law in respect of 'ordinary crimes', as some may like to differentiate. And the less grandstanding there is in regard to these issues, the better.

One simple truth stands out. No Government is free of responsibility. No political or military leader can wash his or her hands of blood. It is a collective responsibility that comes into play here. So getting dazzled by allegations and counter-allegations are counter-productive. Accountability must be extracted, bit by bit, like drawing fire from an impossibly hard stone. If that lesson had been taken to heart from 2015 itself, probably we would be left with less ruination of the so-called people's revolution to stare at now.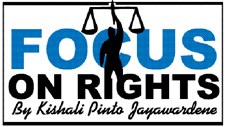 Certainly with all its talk since the unity Government came into power, it has taken little or no steps to redress a pervasive failure of justice. Refraining from overtly interfering with the judiciary does not suffice as an answer to critics though this does stand to its credit. Its party man to whom the Justice portfolio was handed to (until his ignominious departure recently) excelled in playing to the political gallery rather than mustering resources and public opinion for a concerted effort to address the problem.
An unfortunate state of affairs
It seemed incontrovertible that this inaction or in some cases, active collusion to subvert the course of the law was condoned by the United National Party. Evidence of its bad faith in the incident of the Central Bank bond scam and the subsequent attempt to cover-up was scandalous. On its part, the Bar Association of Sri Lanka also contributed precious little to actual policy reform on pervasive failures of justice, apart from holding donor funded talk-shops. Now its main focus appears to be leveling threats of contempt of court when criticisms are leveled against judges and lawyers.
This is truly an unfortunate state of affairs. And the tragedy is that even in cases where convictions are handed down after long and agonizing struggles, the cause of justice is not served. Earlier last month, the United Nations Human Rights Committee handed down a Communication of Views under the Optional Protocol procedure to the International Civil and Political Rights Covenant which illustrated this fact very well. The Protocol allows Sri Lankan citizens to come before the Committee if there has been any violation of Covenant rights. From one perspective, this was a typically run-of-the-mill case. On the other hand, it presents in a nutshell exactly where the systemic breakdowns occur in this country with extraordinary clarity.
In this instance, a seventeen year old Indian Tamil girl had been abducted and raped by two men belonging to the Sinhalese community in 2001. It took her close to fourteen years to obtain a judgment from the Kandy High Court convicting the perpetrators and sentencing them to twenty-three years of imprisonment. Before the Committee, her complaint was that even despite the conviction, the violations that she had to suffer remained unaddressed and that the State's legal remedies at the domestic level were highly ineffective.
A classic litany of all that is wrong
Her complaint reads like the classical litany of all that is wrong with Sri Lanka's justice system. Though she filed a complaint for rape at the Talawakelle police station on 14 August 2001, she was forced to make her statement through an unofficial interpreter translating into Sinhala, since no facilities to record her statement in Tamil were provided. She was then taken to the Kotagala hospital and subsequently to the Nuwara Eliya hospital, from where she was discharged later. The medical records clearly indicated that this was a case of rape.
The victim identified both perpetrators, who were held on police remand. Non-summary proceedings were initiated but both suspects were released on bail. During the hearing, the victim's character was denigrated. No mention was made of the fact that she was a minor at the time of the offence. After more than three years, the Magistrate's Court concluded that there was sufficient evidence to charge the alleged perpetrators and referred the case to the Attorney General following which indictment was filed in 2006 against the accused.
After this, the record reflects interminable postponements before court due to various reasons. At several points, this was because the prosecution had failed to produce the evidence or the prosecuting state counsel was absent. Then again, postponements were due to the absence of a permanent judge or because all the evidence had not yet been received by Court. The case was thereafter transferred to the High Court of Nuwara Eliya and then again postponed several times. At other points, the accused (who were continually out on bail) failed to be present or the case was out off on the request of the lawyers for the accused.
Time to address systemic problems of justice
In the meantime, the victim stated that she never failed to attend hearings, and she has not been responsible for any of the delays. She detailed her physical harm and psychological trauma. In addition, she and the members of her family had been continually harassed by the two perpetrators out on bail, who had tried to intimidate her into withdrawing her complaint.
In consideration of the complaint, the Committee found that the victim's equality rights before the law and equal protection of the law had been violated. The Committee concluded also that the State party's failure to conduct a prompt and an effective investigation also violated Sri Lanka's obligations under the Covenant.
This is just one of virtually hundred such cases which have either been denied justice or where the victims have waited so long that a conviction by itself, fails to bring any relief or redress systemic problems. It is time that the Bar Association directs its collective mind to policy reforms that correct such pervasive failures of justice rather than titling windmills at blathering politicians who talk of corrupt judges and lawyers.