Have we reached a turning point in our export performance?
View(s):

Are we seeing the end of the gloomy trade tunnel? Does the four consecutive months of increasing export earnings mean that we have reached a turning point in our export performance? This depends on whether export earnings will continue to increase in the second half of the year.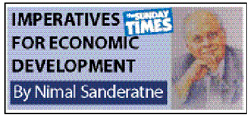 A continued surge in exports could reduce this year's trade deficit if this increasing trend in exports gains momentum and imports do not increase much in the second half of the year. It is imperative that this year's trade deficit is contained around US$9 billion by increased exports and a restraint on imports.
Export growth
In June 2017 export earnings increased for the fourth consecutive month to nearly US$1 billion (US$987 million) compared to June last year. This 9.6 per cent increase, compared to that of June last year, was owing to a growth in both industrial and agricultural exports. While industrial exports contributed about 77 per cent to this increase, agricultural exports contributed about 21 percent.
Earnings from industrial exports grew by 9.8 per cent to US$750 million in June 2017. Interestingly transport equipment increased by nearly sevenfold to US$54 million, compared to the corresponding month in 2016, owing to the export of two ships to Singapore. Rubber products and petroleum products contributed significantly to the growth in industrial exports. Exports of rubber products increased by 15.4 per cent in June 2017, while export earnings from food and beverages increased by more than two fold.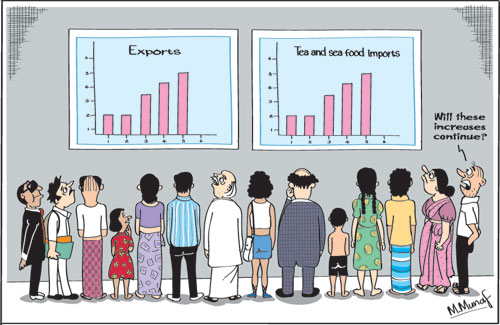 Garments
Most disappointing however was the export performance of garments that declined by 7.5 per cent to US dollars 398 million in June 2017. This decrease was due to a decline in garment exports to the USA and EU. In the first half of this year garment exports declined by 5.6 percent to only US$2.4 billion. As garments are the country's main manufactured export accounting for about 40 per cent of total exports, this drop in exports is ominous. Earnings from leather, travel goods and footwear and gem, diamond and jewellery also declined during June.
Tea exports
Earnings from agricultural exports increased by 8.3 per cent in June 2017 to US$232 million owing to higher exports of tea. Tea export earnings increased by 13.7 per cent to US$139 million owing to higher tea prices, despite the decline in volume by 9.5 per cent. The average export price of tea exports increased by 25 percent in June 2017 from that of June 2016. In the first half of the year tea exports increased by 17.8 percent to US$728 million mainly due to improved international prices. The trend of increasing international prices of tea augurs well for the country's exports.
Other agricultural exports
Earrings from minor agricultural crops also increased by 30.8 per cent during the month. However, earnings from exports of spices declined 12.9 percent, mainly due to the decline in both export volume and prices of pepper, nutmeg and mace despite a significant increase in exports of cinnamon and cloves.
Seafood exports
A significant development was the continued growth in earnings from seafood exports in June 2017. This enhancement in sea food exports is no doubt due to the benefit of the removal of the ban on exports of fisheries products to the EU market. Consequently, earnings from seafood exports increased by 17.4 per cent to US dollars 15 million in June 2017. Exports to the EU market doubled.
First half
In the first half of this year export earnings increased by 5.2 percent compared to the first half of last year to reach US$5.4 billion. Agricultural exports increased by 18.3 percent and industrial exports increased by 1.5 percent. The revival of both industrial and agricultural exports in the last four months was responsible for this improved performance. A significant feature of the export performance was the increase in tea exports by 17.8 percent owing to mainly improved international prices.
Trade Balance
The trade deficit contracted to US$554 million in June 2017 compared to US$775 million in June 2016. This decrease in the trade deficit was due to the export growth and decline in imports of consumer and intermediate goods. This improvement in the June trade performance is significant as the export growth was accompanied by a decline in imports of consumer and intermediate goods. During previous months when there were gains in exports, higher imports wiped out these gains and the trade balance was in deficit.
While the trade deficit narrowed slightly in June, the trade deficit in the first half increased by about half a million US dollars. The trade deficit in the first half of the year increased from US$4.2 billion in the first half of 2016 to US$4.7 billion in the first half of this year. Despite the export growth in the first half of this year, the trade deficit has been a record high. It is hoped that an improved export performance in the second half would be accompanied with restrains in imports to reduce the trade balance to around US$9 billion this year.
Cautious optimism
Although the four consecutive months of increasing exports is an encouraging sign, there are fundamental weaknesses in the export performance. Garments that are the main industrial export has decreased. Similarly other industrial exports are still to see a resurgence.
In contrast, agricultural exports have increased significantly owing to better prices. This is especially so with respect of the country's main agricultural export, tea. The indications are that this increasing trend would continue owing to an improvement in international tea prices and higher tea production with the onset of better weather.
Sea food exports that have progressively increased with the lifting of the EU ban is another prospect for increased export earnings. Export of rubber products is another item that is likely to increase in export earnings. There is no certainty that the significant exports of ships in June would continue.
Weakness
Despite the recent improvement in exports, the country's industrial export capacity is inadequate. The dearth of foreign investment in manufactures and the low tech capacity of the workforce, among other factors, require to be addressed to ensure a significant growth in export earnings. The country must follow an export led economic strategy to avoid balance of payments crises.