'I was devastated when things did not work' says Coach Ford
By Champika Fernando
View(s):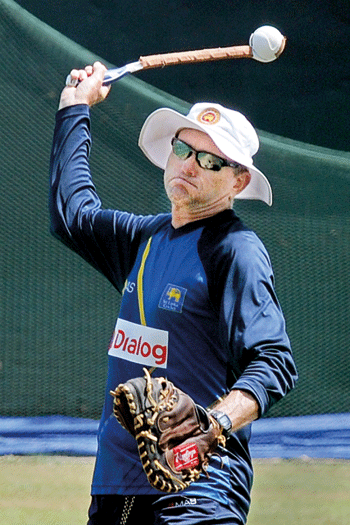 Graham Ford who stepped down as Sri Lanka coach, ending his second tenure with the side after 15 months said that he was 'devastated' at the circumstances which led to his resignation.
"I was devastated when things did not work out for me at SLC," said Ford responding to the Sunday Times from South Africa.
However, Ford refused to discuss those circumstances which led for his resignation in public. "Although many people do it, I have never felt it ethical to address matters, concerns and differences through the media," he explained.
Ford, 56, was hired for a 45-month stint that runs until the 2019 World Cup in England, but the former South African cricketer resigned soon after Sri Lanka returned from the Champions Trophy in England. Sri Lanka failed to reach the semi-finals of the tournament after losing to eventual winner Pakistan in their must-win group game.
Neither Ford, nor SLC have publicly explained the reasons for former's resignation but it was understood to have been the differences he had with recently installed Cricket Manager Asanka Gurusinha.
Gurusinha however had denied playing a role in Ford's early exit.
"Graham (Ford), from the start, probably didn't agree with my role," Gurusinha told cricinfo.com. "He thought I was interfering. I thought I wasn't. We did discuss it a lot. I am not sure what he discussed with the SLC president or anything like that.
However, Ford admitted that his personal opinion did differ on certain issues with those of Sri Lanka Cricket.
"My personal opinion did differ on certain issues but I do respect that my way is not necessarily the right way and that it is up to the decision makers to move in whatever direction they feel is best for Sri Lanka Cricket," Ford said.
Ford led the team to memorable Test and Twenty20 series wins over Australia but Sri Lanka's performances this year have been inconsistent, with the team suffering  a whitewash in South Africa and a first-ever Test loss to Bangladesh.
Ford who coached Sri Lanka from 2012-2014 before moving to English County Surrey is however excited about the talent of the Sri Lanka team which he believes could develop into a powerful unit if given the right sort of support.
"I was very excited about some of the young talent and although quite a way off now, this group of players can develop into a powerful unit if given the right sort of support," he said.
Following Ford's exit, Sri Lanka lost a limited over series to bottom-ranked Zimbabwe at home and are on the verge of a whitewash against India in the Test series. India beat Sri Lanka by 304 runs in Galle and recorded an innings an 53-run in the second match at the SSC last Sunday.