Biggest cash prize of Rs 2.5m in SL amateur Cricket history
Last Man Stands Sri Lanka T20 Cricket Tourney
View(s):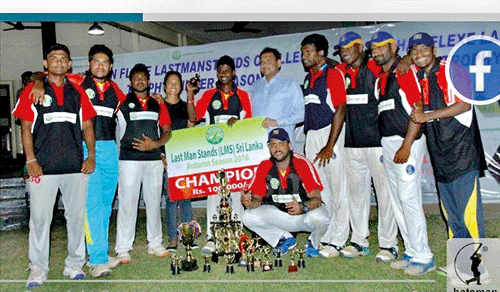 Last Man Stands (LMS) Sri Lanka T20 Cricket tournament, with the biggest prize in Sri Lanka amateur cricket history, estimated at Rs 2.5 million, will kick off on August 27. The semifinals and finals are scheduled to be played at the Army Grounds, Mattegoda, and Moors Sports Club Grounds respectively.
Winners of this year's tournament will be the first ever Sri Lanka team to qualify for the LMS World Championship in Cape Town, South Africa, from December 9-16, 2017, with return air fare to Cape Town, South Africa, fully paid 4-Star  accommodation with breakfast, team registration fee and the LMS Cricket kit.
Around 60 teams are expected to participate in the LMS Sri Lanka race to Cape Town 2017 tournament, with reigning LMS Sri Lanka champions Heshan Flexi eager to win the race to Cape Town.
Heshan Flexi are well seasoned with the LMS format and rules, and will lock horns with some strong contenders from Colombo who are playing in this new format of cricket for the first time.
LMS is the most popular and widest reaching amateur cricket competition in the world, which is played in 14 countries with over 100,000 players. It was started in the United Kingdom in 2005, and has since spread worldwide, growing in popularity very year. LMS was introduced to Sri Lanka in 2016. Since then, it has gradually become popular among amateur cricketers.
Interested teams please contact Sheran on 0770 514 549 / 006 1431 060 665 /
via email- srilanka@lastmanstands.com. for details. LMS Sri Lanka website is at-
https://www.lastmanstands.com/playcricket-sri-lanka.     - LR