Sanath sees the folly in injuries
By Champika Fernando
Retorts "It's easy to comment without knowing the facts"
View(s):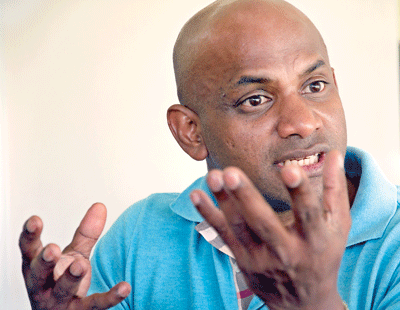 Brushing aside allegations that they changed players to the whims and fancies, Chairman of cricket selectors, Sanath Jayasuriya said a higher rate of injuries to the players during the last 14 months was a major stumbling block to stick to a plan.
Following last Sunday's second Test defeat, batting maestro Aravinda de Silva joined scores of others in calling for a consistent selection policy. Two former cricket captains, Kumar Sangakkara and Sidath Wettimuny, have also repeatedly questioned selectors' wisdom in picking and dropping players without giving them sufficient time to establish themselves in the side.
But Chief Selector Sanath Jayasuriya disagreed. "Why should we change a squad of players if they are performing well and are injury free?" he asked. "It's easy to comment without knowing the facts. Do you know how many players have been injured during the last 14-months?"
An alarming 14, he said, replying his own question. "So when players are injured, we need to bring in substitute players. When those injured players return after the recovery process, we need to reconsider them to the side because our long-term goal is with them, besides some of these replacements struggle to find their feet in international cricket. So what option do we have? We are not changing players, because we want to, but the situation has demanded it," explained Jayasuriya.
Among those injured were Angelo Mathews, Dinesh Chandimal, Kusal Janith Perera, Dhammika Prasad, Suranga Lakmal, Nuwan Pradeep and Dilruwan Perera some of the key players in the national side whose absence left the cricket selectors in a serious quandary.
"For an instance Mathews is not bowling after his hamstring injury. He used to bowl at least 15 overs in a Test innings earlier but now play purely as a batsman. So it's very difficult to get the right balance when your key all-rounder is not bowling," Jayasuriya explained.
Under Jayasuriya, 28 players have received the national cap (8 Test caps, 13 ODI caps and 7 T20 International caps) in all three formats but few have managed to establish a place in the national side.
Amila Aponsu, Avishka Fernando, Sandun Weerakkody, Chaminda Bandara, Thikshila de Silva, Vikum Sanjaya and Dasun Shanaka all made their debuts under Jayasuriya's chairmanship but these cricketers have hardly persevered for a longer run.
"We are not turning a blind eye on them. We are consistently watching them and when the opportunity comes, we will push them into the side. Actually, we wanted to consider both Jeffrey Vandersay and Tharindu Kaushal for the current series against India. Vandersay is still recovering from the finger injury while Kaushal is not that effective since his doosra was banned," Jayasuriya said
Kaushal returned figures of 2 for 81 in 14 overs during the only practice match against India, but was not considered for the senior side.
In an interview with Wisden India, Aravinda de Silva urged selectors to work on a long term plan rather than focusing on short term victories. "Short-term is good for a few months, one or two series, but not for the future," de Silva said. "We need to seriously look at the team in the long-term, stick to that long-term plan and not keep chopping and changing players."
De Silva, who was the head of Cricket Committee before resigning in May also said that Sri Lanka should focus on developing a strong second string of players.
"If you look at the Sri Lankan side, there were 14-15 injuries that affected the side recently and kept some of the main players out of the game. What you really need to understand is to study that and need to have a back-up plan," De Silva said.
"The second level of players, who need to step in, need to be identified and kept ready to go. For that, you need a proper under-19 and 'A' team structure so that these players have enough cricket to be able to get that exposure so that they can be tried out at this level. It is not happening now. If that happens, these issues will be sorted out.
Even though Sri Lanka beat Australia at home in a Test series and won a series in Zimbabwe, their performance otherwise have been below par. Currently they are among the lowest ranked teams across all formats at present, attributable largely to haphazard selection and absence of a competitive domestic cricket structure.