An experience that educated them in the importance of physical training
Milo Inter-School Under-12 Rugby 7s
View(s):
Nearly 1000 players from 89 schools gathered at the Racecourse ground in Colombo to take part in the Milo Inter-School Under-12 7s Rugby Carnival 2017 which was held on August 2 and 3. Besides taking part in the tournament where only 72 teams reached the second round of the competition, all participants were engaged in physical training activities prior to the commencement of the tournament on both days.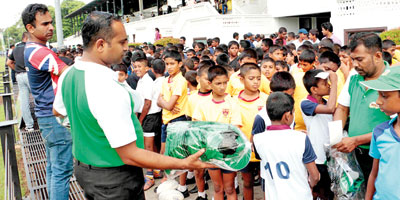 The sponsors of the competition, Nestle Lanka's Milo and the organisers, Sri Lanka School Rugby Football Association, made arrangements to give the youngsters an experience that educated them the importance of physical training. The competition was overall a success according to the organisers and sponsors. From the first day, Tuesday, where 89 teams competed from different groups 72 teams that topped each group were awarded with trophies and certificates and were given a second round of matches the following day. Each team played three games each on Wednesday where the contest was transformed as a friendly tournament.
Players were given the exposure of playing matches against opponents who topped groups and the intention of the second day's matches was to create a carnival atmosphere through camaraderie and Rugby.
- NA; Pix Amila Gamage