We played to a plan in the second inning – Dickwella
View(s):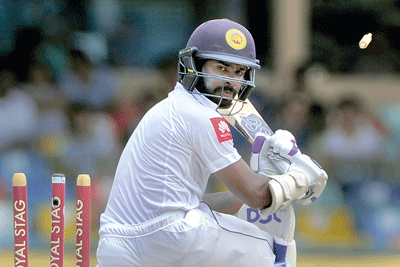 Sri Lanka fell like a pack of cards in the first innings but came up with a concerted effort in their second innings after India enforced the follow on with a mammoth 439 first innings lead to end the day three on 209 for 2 at stumps.
Niroshan Dickwella who made an aggressive half century (51) in the first innings where Sri Lanka crumbled out for 183 by lunch said that Sri Lanka executed their plans very well in the second innings.
"We weren't good in the first innings," admitted Dickwella. "Before the second innings, we discussed how to handle spin, how to handle pressure and how to play the new ball. It was a long meeting during the lunch break and we executed those plans very well.
Sri Lanka employed a well-executed plan against the spinners–sweeping and reverse-sweeping them using the crease and it brought them rich dividends as Sri Lanka put on a decent fight back, even though saving the match still remains a distant dream.
"We were training hard on sweeps and reverse sweeps. Hashan Tillakaratne and other coaches are specifically speaking about the sweep shots and encouraging us to do that. We are improved with the sweeps. When it comes to a spinning wicket, we have to play the sweep and that's an option," the former Trinity College skipper said.
Dickwella said that the spirits of the players have been lifted up after the century partnership between Dimuth Karunaratne and Kusal Mendis.
Meanwhile Ravichandran Ashwin who claimed his 26th five wicket haul in the match praised Mendis-Karunaratne pair for an excellent partnership.
"I thought they batted really well. Karunaratne really complimented Mendis, he defended beautifully, and Mendis played a few extra shots that Karunaratne obviously didn't play. It came off for them. Credit to them, they batted really, really well," Ashwin said.
"I don't think we did too much wrong. We tried reverse swing, we bowled cutters in. Pandya got the wicket with a cutter. We beat the bat a few times more than we should have for the nicks we got. Hopefully we will try and nick them off tomorrow.