SLC anti-corruption man on his way out
By S.R. Pathiravithana
Replacement already at work
View(s):
Now it is the beleaguered SLC's anti-corruption man Lakshman de Silva himself who is in a spot of bother. The former Sri Lanka Police Officer turned ICC anti-corruption sleuth has been sidelined by the Lankan cricket administration after he was in the midst of a row with tour organising committee official Aruna de Silva, also of SLC, during the India-Sri Lanka first Test match in Galle.
It is said that the rift broke out after Lakshman de Silva told our sister newspaper 'Ada' that he had a different opinion with an official during the match, but, since he had  been given only a six month extension he was trying to bear it up, and he was not certain how things would turn out to be.
However, now it seems that the days are really numbered for the ex-police officer who up to now had been performing a commendable job.
During internationals, he was also on the prowl looking to nab people trying to make a quick buck through spot fixing. However, he was a disappointed man because whenever a person is caught for spot fixing, he could only evict the person from the venue, because the prevailing laws of the country are not sufficient to prosecute such culprits.
Ironically, the SLC has already brought in a person to understudy Lakshman de Silva till his contract expires. The Sunday Times learns former Ananda College fast bowler Ayesh Weerakkody who also shone as an Assistant Superintendent of Police has been added to the anti-corruption unit.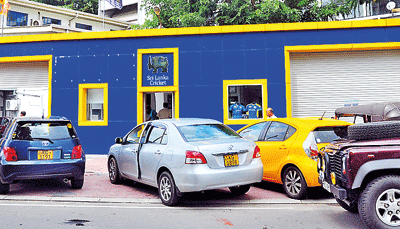 Even prior to this, the SLC has replaced employees while their full contracts were on. For instance former Cricket Manager Charith Senanayake was replaced by Ranjith Fernando after Sri Lanka's tour of Zimbabwe a few months ago and Senanayake earned a holiday with full pay till his contract was over.
An SLC insider said: "Anyhow we were looking for a replacement for Lakshman de Silva, mainly due to the age factor and he was given only a six-month extension and in the mean time we have put in Weerakkody to understudy till such time he could take over."
Meanwhile, according to Hindustan Times report, the BCCI has awarded the three Test matches of the November-December home series against Sri Lanka to Kolkata, Nagpur and Delhi. The final stretch of the international season at home will begin from middle of November with Kolkata hosting the first Test against Sri Lanka.
The second Test is scheduled in Nagpur, which will be making a comeback after ICC suspension for poor pitch. The final Test will be held in Delhi.
The three ODIs against Sri Lanka will be held in Dharamsala, Mohali and Vizag, while the lone T-20 will be played at Trivandrum.
The cricket calendar for 2018 will reads as
Sri Lanka in Bangladesh – 2 tests, 3 ODIs, 1-T20
(6 January to 25 February)
Independence Cup in Sri Lanka – Tri Nation
(7 ODIs including final) (March 15 to 1 April)
Asia Cup in India ODIs in June (2 weeks)
Sri Lanka to West Indies — 3 Tests (June-July)
South Africa to Sri Lanka – 3 Tests (August-September)
England to Sri Lanka — 3 Tests, 5 ODIs, 1 T20
(October-November)
Sri Lanka to New Zealand — 2 Tests, 3 ODIs and 1 T20
(December)
This will be followed by a tour of Australia in 2019 – 2 tests and 3 ODIs in January