Motorsports whizkid Yasith Gamage on overdrive to stardom
By Naushad Amit
View(s):
Yasith Gamage was an ordinary youth a few years ago but, during the past two years, he has proved that dreams are meant to be fulfilled. Now, at 30, Gamage is finally achieving his goals of becoming the next star in Sri Lanka Motorsports.
As a youngster like any other, Gamage would dream of driving fast and performing daredevil stunts in a car, someday when he grew up. Unlike others in the field of Motorsports, Gamage had to wait for years to make his track debut and in his debut season, at 29-years, becomes the champion driver in SL-E Cars Nissan March up to 1000cc class.
"It was a dream debut season any driver would love to experience, to win a championship title in his maiden season itself. I was just after a trial period in 2015, to see if I fit the track, and once I gained confidence, I totally focused on the debut season in 2016. I did manage to impress many, earn accolades and friends and above all, a name for myself as a fierce competitor," Gamage said.
Like any other youth, Gamage was busy building his life after completing his studies at Trinity College Kandy and graduating in England. But, at the back of his mind, the potential racing driver in him was always disturbing his day-to-day routine. Finally, he gets the much awaited green light from his present employer, Australia College of Business & Technology (ACBT), through one of its projects.  "Many of my close friends and family knew I was an ardent Motorsports follower, and having that kind of obsession made me drive fast on public roads, which I now feel was not the done thing. I had this crave to race one day, and it came as a surprise, when my employers said they are thinking of developing Motorsports as part of their promotional and educational aspect. We formed a technical team including me, to develop our first racing car, the ACBT branded Nissan March, which was tested in 2015 at some national events later in the season," Gamage revealed.
With a successful start in 2015, Gamage drove the ACBT Nissan March 1000 to many podium finishes in 2016, which handed him the championship of that category end of the season. Up to date, Gamage has competed at 20 events with 17 podium finishes, which is considered a great achievement by a complete rookie. He ensured his participation at any Motorsport event held in Sri Lanka in 2016 — Motorcross, Rallies, Hill-climbs, Drag Races — to prove that Motor Racing is a sport with the potential to attract mass popularity. Gamage also holds two track records under his belt for best timings.
As he gradually became more technically perfect as a Racing driver, local events alone were not Gamage's target. With his short, yet impressively perfect career, Gamage had already cemented his status at the Asian Gymkhana Series, a more demanding competition where memory and drifting skills play major roles.
"I was really privileged and honoured to earn the opportunity of competing at an FIA event. I really owe a lot to ACBT, my boss Erath Karunaratne, the crew and our team at ACBT who are really keen on developing Motorsports through a learning project. We have a technical lab at ACBT to develop our cars to perfection. Our first mission was executed perfectly, while the next is to cement our authority in local Motor Racing," a resolute Gamage said.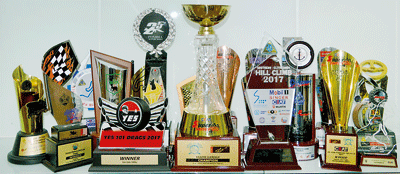 At present, Gamage and his crew are on the verge of developing their latest addition, a Mitsubishi Evolution IX, which means he will forego his entry class, the SL-E Cars Nissan March up to 1000cc. He had to sacrifice the first few months and events of the ongoing season, as the car was in the final developing stage. Gamage will make a comeback to the track in his all new Mitsubishi Evo IX and compete under a new class, the SL-GT Cars or the Super Cars.
"For me this is a dream come true. Few years ago, I was just a spectator watching the thrills of the track from outside and now, I'm living my dream. In a short time, I have gained a reputation among top drivers with most of them recognising me as a threat on the track. That's a big achievement for me as an individual. I'm eager to come out and perform in the SL-GT Cars, sooner or later, and by next season, I intent to give a shot at the championship title," Gamage, outlining his future goals, stressed.