160 outstanding Sporting Sailors felicitated
Sri Lanka Navy Colours Night
View(s):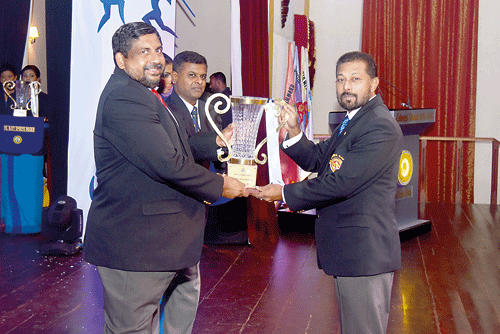 Sri Lanka Navy's (SLN) Colours Night 2017 was held at the Admiral Wasantha Karannagoda Auditorium at the Eastern Naval Command, Trincomalee.
Awards for Sportsman of the Year 2014, 2015 and 2016 were Leading Writer BAS Prasanna- Bodybuilding, (Ordinary Seaman RWMSTAP Rajapaksha- Karate, and Able Seaman JMSN Kumara- Triathlon respectively, were presented to those who excelled in their sporting event during the designated year. Inter Command Overall Championships were also awarded in recognition of the respective Naval Command's achievements at the annual Inter-Command Sports tournaments. They were won by Eastern Naval Command for 2014-15 and by Training Command for 2016.
Navy sportsmen/women who excelled at Naval Command, Defence Services, National and International levels from 2014-2016, were felicitated at the colourful ceremony. Accordingly, 160 Naval sports personnel who had won Gold, Silver and Bronze medals in a number of sporting disciplines received awards for their excellent performances over the last three years.
Athletics, Badminton, Baseball, Basketball, Beach Volleyball, Bodybuilding, Boxing, Carrom, Cricket, Cycling, Football, Handball, Hockey, Jet Skiing, Judo, Kabaddi, Karate, Musketry, Netball, Rugby, Rowing, Sailing, Swimming, Table Tennis, Tennis, Triathlon, Tug-of-War, Volleyball, Weightlifting, Windsurfing, Wrestling and Wu-Shu were in contention for honours.
Under the guidance of Commander of the SLN and the Director Sports, Captain (N) Prasanna Rathnayake, SLN men and women have shown they are capable of being second to none in the sports arena. Their dedication, commitment and team spirit have enabled them to make their presence felt in all major competitions where the Navy flag has flown high.
Commander of the Navy, Vice Admiral Ravindra Wijegunaratne graced the occasion as the Chief Guest. Chief of Staff, Rear Admiral Sirimevan Ranasinghe, Commander Eastern Naval Area, Rear Admiral Travis Sinniah, Secretary to Commander of the Navy and Director General Budget and Finance, Rear Admiral Udaya Hettiarachchi and senior officers were also present on the occasion.