'Wamana Yamaya' woven around a stranger
View(s):

'Wamana Yamaya', a noval story set in the historical city of Polonnaruwa is now being telecast on Rupavahini at 8.30 pm every Sunday.
Written and directed by Senaka Edirisinghe, the teledrama stars Jehan Aloysius, Dilini Lakmali, Umayangana Wickremasinghe, Chinthaka Kulatunga, Vishaka Jayaweera and Dimuthu Chinthaka.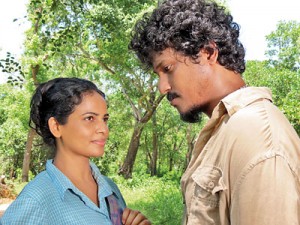 Produced by Suraj Jayawickrema, the teledrama revolves around three undergraduates Bhathiya, Uma and Kalan who journey to Polonnaruwa to complete a research they have been conducting. For Bhathiya conducting research is not to pass exams but to gain knowledge. While researching at an archaeological site, Bhathiya comes across an unusual sight. He sees a figure similar to a dwarf and follows him. But the stranger enters a house and disappears. This creates a great suspicion in Bhathiya and he starts to investigate on this unusual figure.
However Bhathiya finds that an extremely beautiful young girl lives in the house where the stranger has disappeared. The girl's name is Arundathi and she is both intelligent and educated and waiting for university entrance.
However with meeting of the 'dwarf' Bhathiya's life turns topsy-turvy. He regularly comes across this stranger who is only visible to the young undergraduate. Bhathiya who regularly talks about the 'dwarf man' becomes a nuisance to his two buddies Uma and Kalana.
Scripted by Uwani Chamika Gunasekara, camera is handled by Ayeshman Hettiarachchi and edited by Shan Alwis. The musical score of 'Wamana Yamaya' is directed by Darshana Ruwan Dissanayake.