Swiss effort to boost South Asian cinema
By Susitha R. Fernando
Locarno Film Festival- Open Doors Lab
View(s):
The ongoing Locarno Film Festival in Switzerland in its initiatives to promote cinema in South Asia-with special focus on Afghanistan, Pakistan and Sri Lanka this year–is to support new filmmaking projects in the region. In its second year, the Open Doors Lab has found new collaborations with Initiative Film and Torino Film Lab, to grant a follow up for the participants from the three South Asian countries. The Open Doors is being held from August 2 to 8.
Among the eight participants of 'Open Doors Lab' this year are three Sri Lankans namely Mohamed Adamaly, Rasitha Jinasena and Anura Silva. The others include Jawed Taiman, Mohammad Mehdi Zafari and Abdul Tamim Zarabi from Afghanistan and Mehnaz Alavi Diwan and Jami Mahmood from Pakistan
Two new awards will be granted to two individual participants of the Open Doors Lab 2017, in collaboration with Initiative Film and Torino Film Lab.
Open Doors to Development – Initiative Film Grant offers a six-month follow-up at distance. This includes an analytic reading of the script, Skype consultancy meetings and coaching in the making of a presentation board, useful for approaching potential future partners.
Open Doors benefits from the faithful collaboration with the Swiss Agency for Development and Cooperation (SDC) of the Federal Department of Foreign Affairs (FDFA).
With its mission of exploring South Asian cinema, the fifteenth edition of Open Doors celebrates the second chapter of its South Asian journey this year.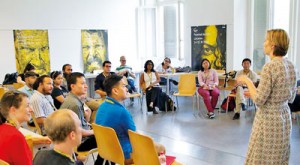 Started in 2016 on the eight chosen South Asian countries Afghanistan, Bangladesh, Bhutan, Maldives, Myanmar, Nepal, Pakistan and Sri Lanka, the project will last till 2018. The Open Doors section offers a three-fold programme:– The traditional co-production platform Open Doors Hub, introduces eight promising projects from the whole region for possible international cooperation.
The selected project teams will be introduced to European or/and international professionals in order to encourage international collaborations, mostly in terms of coproduction, funding and distribution and also of professional training. Their six-day tailored made programme alternates alternating pitching coaching, group discussions, one-to-one meetings and networking activities with Industry decision makers and Festival guests.
On the final day, a professional jury grants either development, production or post-production support to a few winning projects, the biggest award being the Open Doors Grant. In addition the CNC and ARTE would offer a bourse of respectively 8'000 and 6'000 Euros. In 2017, the three countries in focus are Afghanistan, Pakistan and Sri Lanka.
The Open Doors Screenings section presents, every day of Locarno Festival, either a feature length film or a programme of shorts from South Asian countries including Afghanistan, Maldives, Pakistan and Sri Lanka.
This year's selected film projects for Open Doors Hub are 'Across The Rainbow Bridge' directed by Niranjan Raj Bhetwal (Nepal). 'Badeszenen' directed by Dawood Hilmandi (Afghanistan), 'Barzakh'- 'Between Heaven and Hell' directed by Meenu Gaur and Farjad Nabi (Pakistan), 'Discount Workers' directed by Ammar Aziz and Christopher Patz (Pakistan), 'Made in Bangladesh' directed by Rubaiyat Hossain (Bangladesh), and 'One Summer Day' directed by Wera Aung (Myanmar) and 'Dhanu' by Sri Lankan filmmaker Suranga Deshapriya Katugampala.
'Young director Surawnga D. Katugampala grew up in two different countries (Sri Lanka and Italy), cultivating the desire to see the world from other points of view. He has completed his debut feature 'For a son' and it is ready to be released.
"My first feature film 'For a son' was about people of Sri Lankan origins trying to integrate in a foreign country which is slowly becoming their new homeland despite contradictions and difficulties. In this film I intend to narrate those who remain and want to remain in
Sri Lanka, focusing on youngsters and their need to reinvent their culture," Katugampola said in a Director's note.