Sharing their sheer joy in music
By Joshua Surendraraj
It was two hours of non-stop memorable entertainment when the Revelations took the stage for a reunion concert
View(s):
It's an amazing feat, a life changing moment when you become champions at the World Choir Games. Ten years after, the Revelations in a sell-out reunion concert on July 23 at the Bishop's College auditorium showed their audience just why that quality and authenticity in their music had made them famous.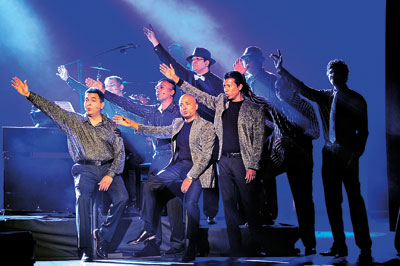 Performing with their original line-up, which won at the World Choir Games, back in 2008, this was a rare treat not to be missed. Indeed, the choir's local fanbase thought so, for no sooner the concert was announced, tickets flew and only a few balcony seats were left, days before the show. The choir took the stage to a full house that evening.
A decade had passed and there were a few grey hairs and in some cases no hair, but the guys had certainly not lost the charm. They are entertainers at heart, keeping the crowd in sync with them, moving from song to song with ease, their musicality and sheer joy in singing evident with every single song. Starting off with Gospel, 'Battle hymn of the Republic', lest one think it would be all spiritual and serious, they promised songs about a pet theme – girls, girls and girls.
Delivering a serious case of nostalgia in the process, they had the audience galvanised as the wigs came on. This was amidst a joke that some of the bald members of the choir would not return them. Choir Director Sanjeev Jayaratnam had one plan and that was to dance his heart out with his afro wig. He certainly knew how to work a stage and finished by joking "We love having fun even if it tires us". They weren't done with their little theatrical moments though. The choir also put on a short skit in which they all joined, much to the audience's delight.
Aside from all the free-flowing banter, the Revelations also dedicated this reunion concert to one who was an integral, much loved founder member of their choir- the late Mahen Peiris who passed away last year. Their faces grew solemn and their eyes seemed to relate a deeper story, as they gathered around the piano, singing 'Deep River Woman'. The choir paid their tribute to Mahen in the best way they knew how, and that was through song.
With their playful jabs at each other and the joyful energy they radiated one and all, the Revelations showed once again the bond that had brought them together. It was almost two hours of non-stop entertainment with well-loved songs from the perennial 'My Grandfather's Clock', 'Late in the evening', 'Hello Mary Lou' or Queen's 'Somebody to love', and there was no doubt, they had the audience with them on a high.
As they made it clear, their music lay rooted in something much deeper. And that was God. Their final encore was the Lord's Prayer, their heartfelt harmonies resonating in the Bishop's School auditorium, leaving the audience in hushed silence.
When will we see them together again?