Lady Gaga faces a legal tangle
View(s):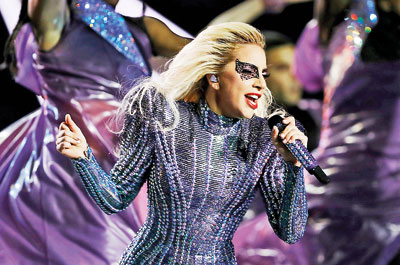 Lady Gaga is not pleased at being dragged into the legal battle between Kesha and Dr. Luke. Lady Gaga has backed Kesha all along in her legal battle has been subpoenaed by Luke to testify which the 'Born This Way hitmaker refers to an attempt "to manipulate the truth". Gaga who opened her Joanne World Tour on 1st August in Canada is being represented by her legal team
Mariah Carey has announced she will release a Christmas song this year. 'The Star' is the title to her brand new yuletide offering this season and is also the title of a new Christmas animated film which will be out. Carey made the announcement on social media on 26th July. She is best known for another Christmas hit song 'All I Want For Christmas Is You' which originally came out in 1994 and has to date sold over 16 million copies worldwide.
Marti Pellow has left the group Wet Wet Wet which he helped form back in 1982. The 52 year old is to pursue an acting and solo music career. Pellow last performed with the group in July at the 30th anniversary of the band at Edinburgh Castle. Wet Wet Wet scored their first top 10 UK hit with ' Wish I Was Lucky' in 1987. A few more 10 UK hits followed and then they hit No: 1 with a cover of the Beatles classic 'With A Little Help Of My Friends' in 1988. 'Good Girl' was the quartet's next No: 1 in 1991. After a slight slump in popularity in 1994 they were back at the top of the charts with a cover version of the Troggs song 'Love Is All Around'. The track was featured on the soundtrack of the film Four Wedding And A Funeral. The song went on to become Wet Wet Wet's trademark song as it were as it turned out to become a classic in its own right. The remaining members of Wet Wet Wet are Graeme Clark, Tommy Cunningham and Neil Mitchell.
The infectious sounding song 'Despacito' by Puerto Ricans Luis Fonsi and Daddy Yankee with Canada's Justin Bieber has returned to the top of the UK singles chart once again, a week after it lost ground to DJ Khaled's Wild Thoughts' with Rihanna and Bryson Tiller. The remix has Bieber who added the English lyrics to the song. 'Despacito' thus has clocked 10 non consecutive weeks at the No:1 position on the UK chart. The bilingual track also joins a select group of five that have been at the top of the UK singles chart on three occasions – Frankie Laine 'I Believe' (19530, Guy Mitchell 'Singing The Blues' (1957), Pharrell Williams (2014), Justin Bieber 'What Do You Mean' ( 2015).
Rudimental are back on the UK singles chart after two years. The bass and drum group are at No: 10 with 'Sun Comes Up'. The former X-Factor winner James Arthur provides the vocals to Rudimental's fourth UK top 10 hit. 'Sun Comes Up' has had a chart life of four weeks, beginning at 26. This week the track climbed upwards from 16 to No: 10.
Reports from the US say a private funeral for the late leader of Linkin Park, Chester Bennington took place on 29th July in California. Bennington committed suicide on July 20.
TW LW
1 2 Despacito (Remix) – Luis Fonsi & Daddy Yankee ft: Justin Bieber
2 1 Wild Thoughts – DJ Khaled ft: Rihanna & Bryson Tiller
3 3 Unforgettable – French Montana ft: Swae Lee
4 4 Feels – Calvin Harris /Pharrell Williams/ Katy Perry/ Big Sean
5 5 Mama – Jonas Blue ft: William Singe
6 8 Power – Little Mix
7 7 Your Song – Rita Ora
8 9 Pretty Girl – Maggie Lindemann
9 11 Came Here For Love – Sigala & Ella Eyre
10 16 Sun Comes Up – Rudimental ft: James Arthur