Head out for guilt-free fare
Good Life Cafe
View(s):
Tucked away at the end of a small walkway on Sulaiman Terrace, off Jawatta Road, Colombo 5, it's easy to miss the Good Life Cafe (GLC). Opened in late 2016, the small cafe with white and light green decor, wooden furniture, chalk board menus and subtle murals, the GLC exudes a bright and fresh ambiance. Serving a variety of cold press juices, smoothies, and smoothie bowls, made from entirely plant-based ingredients, the little cafe is the embodiment of health conscious eating.
Offering vegan, gluten and sugar free fare, one would think that the owners behind it are on perhaps a health craze. But not so, according to Apinash Sivagumaaran, one of the founders of GLC. Apinash, who also owns the Isso Restaurant, founded GLC together with his friends Samath Gammampila, Abhishek Devaraj and Imran Jeevunjee." We aren't fitness freaks. We just wanted a place to get good juice and have healthy options," he explains.
Aside from their smoothies and juices, the GLC also offers a variety of healthy snacks and ingredients, including protein balls, granola, apple cider and Greek yoghurt to name a few. Their cold press juices are also available at the Ohm yoga studio (Havelock Road, Colombo 5), the Isso Restaurant ( Sulaiman Terrace, Colombo 5) and the Purely Wholesome Living (Kothalawala Avenue, Colombo 4). The GLC also delivers for a small charge depending on the delivery location.
We tried out their more popular smoothie bowls, 'the Green Bowl' and their 'Apple Pie' cold press juice. The smoothie bowl had a base made of avocado, banana, pineapple, almond milk, rolled oats and matcha, and was topped with banana slices, granola, and coconut flakes. Beautifully presented, it's definitely one of those instagram worthy dishes. With no added sugar, at first one is surprised at the lack of sweetness of such a brightly coloured dish. But the sweet and crunchy toppings make up for the unsweetened base.
As you continue to eat, you begin to appreciate the creamy texture and light feel of the dish. Besides for Rs 100 you can get extra toppings to remedy the sugar-free base. A smoothie bowl is priced at Rs 700, and its generous portions are quite filling.
The Apple Pie juice, named so because it tastes like an apple pie, consists of apple, carrot and cinnamon. We found it to be refreshing and quite hydrating, and were quite surprised to learn that it was made with no added water or sugar. It's made using a cold press machine as opposed to a conventional blender.
One of the added benefits of using a cold press machine is that it ensures that the enzymes and nutrients that would otherwise be lost due to the heat produced by the blender, are retained. "If not you're just drinking flavoured water with none of the nutrients," says Apinash. Packaged in 200ml glass bottles, the cold pressed juices are easily transportable and convenient, and are priced at Rs. 350.
Overall the GLC is a nice quiet little place to catch up with friends for breakfast or a snack and not feel too guilty about eating out.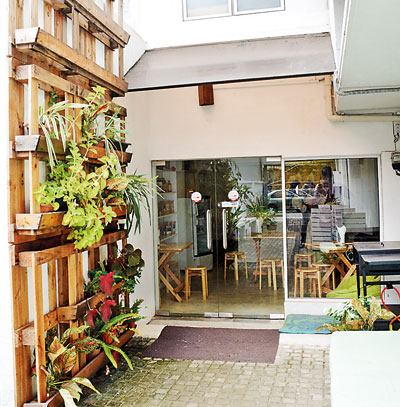 Address: No. 3, Sulaiman Terrace, Colombo 5 (Off Jawatta Road)
Operating hours: 8 a.m. – 8 p.m. Monday to Saturday (Closed on Sundays)
Price range: Rs 350 – 1000 per head
Contact no: 077 224 6726
Follow them on:
*Instagram: @goodlifecompanylk
*Facebook: @goodlifecomany.lk