BreadTalk Sri Lanka launches new range
View(s):

BreadTalk honours the art of bread making by imparting life to their novel creations since its inception. The evolution and growth as an internationally recognised bakery brand for over 12 years, has been encapsulated through three distinctive generations. Single Handedly, BreadTalk has succeeded in revitalising the once stale bread business, with a creative new approach to the art of bread making and baking.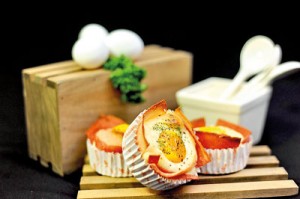 Specialising in the finest breads, bakery items and gourmet desserts, BreadTalk ensures each item has its very own scrumptious story to tell, mostly filled with special ingredients sourced from around the world. From exotic nuts to the freshest fruits and finest cheeses, BreadTalk will seduce you with its charm and delight you with its many exquisite flavours.
Unveiling the new range concept, you can Get Talking with our new Buns and delightful Dessert products that aims to alter the way customers see, feel and taste the brand. BreadTalk Sri Lanka chefs, RavinPriyantha – Executive Chef (Bun) and Indika Perera – Executive Chef (Cake), whom Sri Lanka acclaimed master chefs together have created a range that reflects the aesthetic beauty of Sri Lankan customer centric food range for local customer to enjoy each bite! This new Bun and Cake and Dessert range is in celebration to express Sri Lankan culinary standards, innovative flavour combination and unique culture.
Internationally acclaimed baker and confectioner BreadTalk's franchise in Sri Lanka which is a fully owned subsidiary of RIL Property recently looking forward to open its eighth outlet in the suburb of Wattala bringing baked goodness to the buzzing customers in town.