Bold moves ahead with Danceworld Sri Lanka
By Purnima Pilapitiya
Sureka Buell and her young dancers prepare to take the stage with Jazzin-Dare, Dream, and Dance
View(s):
It's a sweltering Saturday afternoon when Sureka Buell and her young dancers wrap up rehearsals for their upcoming show "Jazzin-Dare, Dream, and Dance". The last installment of the sold-out show was back in 2015. But as always, the choreographer and founder of Danceworld Sri Lanka- Sureka, is always looking for ways to take her shows up a few notches. This year's theme is centred on female empowerment and what it means to be a girl.
When we meet the young girls who will tear up the stage in less than a week, its impossible not to feel a few body ache as they cartwheel and handstand effortlessly for endless pictures while Sia fittingly blears over the speaker about being the greatest. For Sureka a lot of the music is inspirational, perfectly balancing the fierce, dramatic choreography.
Together with her creative director Shaan Ismail Deen, the show will see girls between the age of 5-20 -years taking on hip hop, contemporary, ballet, fusion and African jazz among the diverse styles that Sureka meshes into the numbers. Among the 25 different performances, look out for a few special dance numbers which the girls performed for their American audiences at Disneyland when they flew to Los Angeles this April where they were invited to take part in Dance Excellence; a "Festival of Dance." Representing both the studio and their country, the dancers cinched 5 awards in 5 categories for Outstanding Achievement, a feat Sureka is immensely proud of.
All through their practise time they slide, point toes and pretzel themselves into splits and positions, the fatigue and blistering Colombo heat doing little to weaken their strong performances.
In fact, 'strong' seems to be the best way to describe the choreography, music and sheer energy of the dancers. For Shaan, who took over the creative directorship after watching the first 'Jazzin' performance back in 2015 the "goosebumps effect" is what he wants for the show.
Sureka's pieces despite the varied genre of dance always tell a story, from the tiniest moves to the lyrics or beat of the music. This year's show not only showcases the girls' strength in dance but their own selection of music from upbeat, colorful routines to Justin Timberlake's equally toe tapping song "Can't Stop the Feeling!" to a dramatic, tribal inspired second half of the show dedicated to "The Lion King."
Besides the fierce, fist pumping dance moves, there are moments when several leotarded bodies suddenly synchronize into one. For Sureka, the show is not just about girl power "Girls need to support each other in the world," she explains. The sisterhood that she wants to create in her pieces imitate reality, with the girls training and teaching each other, she adds proudly.
The show's powerful theme extends to what Sureka wants for her girls offstage as well. Her oldest student Piyusha Sumanapala (20) is dancing her last show with Sureka, leaving for university later this year. Her ten years learning under Sureka began when the prospective teacher and student met while Piyusha was studying classical ballet under veteran teacher Oosha Saravanamuttu. Passionate about contemporary dancing, Piyusha's favourite piece 'The Answer' is dedicated to the problems of life and how people cope with them.
Duleni Gunaratne (17) and Shayomie Kulatunga (16) have also been dancing under Sureka for more than a decade. For Duleni, who was also Sureka's very first pupil, her teacher's passion for innovation, experimenting with different kinds of dance is what she enjoys the most. So when they tell us that 'hiplet' is their favourite, it is immediately followed by a double take by any non-dancer in the vicinity. A mix of ballet and hip hop gained popularity through instagram, the girls will be using the unique style to deliver an equally liberating message- following your own path when so many people keep telling you what to do.
From upbeat pop to ethnic beats and stirring lyrics to routines with ribbons, Jazzin is shaping up to be more than just a message for Sureka's girls. "I want it to be a journey for the audience," she adds.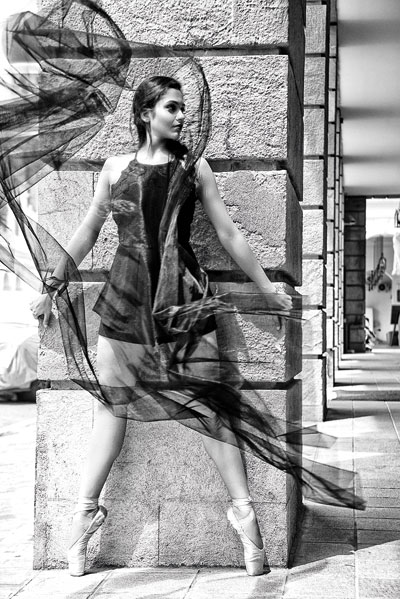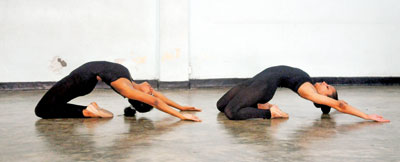 | | |
| --- | --- |
| Jazzin- Dare, Dream, Dance! Goes on boards from August 11 to 13 at the Lionel Wendt Theatre. Tickets priced at Rs. 4000 (VIP – Granting access to their Exclusive VIP Lounge, Wine and Canapés during intermission), Rs. 3500,Rs. 3000, Rs. 2500,Rs. 2000,Rs. 1500, Rs. 1000 (Balcony). For more information log on to Facebook at facebook.com/danceworldschool) or direct purchase at the Lionel Wendt Box Office. | |
| | |