Letters to the Editor
View(s):

The vexed issue of  'prescribed standards'

There were references to 'Prescribed Standards for Medical Education' in the media recently, particularly when discussing the issues regarding Malabe SAITM private medical school. Some persons in authority often stated that the Sri Lanka Medical Council (SLMC) has not done anything regarding `Prescribed Standards' in the past. This is not true.

The requirement for 'Prescribed Standards' was shown by Attorney General, late Mr. K.C. Kamalasabeyson when the SLMC in 2005 requested the Minister of Health Nimal Siripala de Silva to de-recognize the MD awarded by St. Petersburg State Medical Academy (SPSMA), Russia to a group of Assistant Medical Practitioners after studying in that country for about one year (some even less). The SPSMA had earlier obtained recognition for its MD diploma for a six year course in Russia. The AG pointed out that to de-recognize a 'recognized' qualification requires 'Prescribed Standards' under the Medical Ordinance.

The SLMC set about drafting the Prescribed Standards using documents such as the Benchmark Statement on medical education of the University Grants Commission (UGC) and publications of the World Federation of Medical Education (WFME). Subsequently, the SLMC had discussions with officials of the Legal Draftsman's Department and drafted standards regarding medical education. The document was circulated to all the medical faculties and their constructive suggestions were incorporated. The final document was approved by the SLMC and subsequently by the Cabinet of ministers and was published in the Government Gazette in 2006 as 'Prescribed Standards'.

A private medical school (PMC) proposed to be established at Piliyandala challenged it in the Court of Appeal. This institution had earlier taken the SLMC to courts when the advertisements that the medical school was recognized by the SLMC were rejected by the Council. There were a series of incidents against the Council including an attempt to set fire to the office, an attack on the residence of the Registrar with firearms and finally a grenade attack on the residence of the President of the SLMC. The persons involved with the PMC were questioned by the CID but investigations were suddenly halted by "orders from the top"! Incidentally, Prof. Carlo Fonseka was named as the Medical Director of the PMC.

The Minister of Health, Nimal Siripala de Silva tabled the 'Prescribed Standards' for approval by parliament, Dr. Rajitha Senaratne, Minister for Engineering & Construction got up and started to criticize its provisions using the same arguments filed by the PMC in the case before the Court of Appeal. As the Minister was not in a position to reply to the arguments and the representatives of the SLMC who were in the officials' box could not reply, the matter was referred to the Consultative Committee on Health of the parliament. Before the Committee, SLMC representatives met the arguments of Dr.Rajitha Senaratne but he was not willing to accept them. The Minister of Health suggested that the SLMC representatives meet Dr. Rajitha Senaratne in his office and settle the matter. When we met him at his office at Sethsiripaya, Battaramulla, the lawyer who represented the PMC was present as his legal advisor!The SLMC agreed to compromise and a new draft was made and published in the Government Gazette in 2007 cancelling the previous one. It was taken up at another meeting of the Consultative Committee on Health but Dr. Rajitha Senaratne again brought out fresh objections. Then in desperation the SLMC obtained an appointment with the Attorney General and discussed the matter. After studying the drafts, he pointed out that the problems were due to having one set of standards for both local and foreign medical schools and suggested separating them because the SLMC could prescribe standards for local medical schools but could only accept the degree of a foreign medical school if their standards meet the criteria required by the SLMC. This was done and finally the ' Prescribed Standards' were published in the Government Gazette for the third time in 2009.

A date was set for a meeting of the Consultative Committee on Health. Ministry officials informed the SLMC that attending the meeting was a mere formality and the Prescribed Standards would be approved. When we went for the meeting in Parliament, the Minister of Health announced that the cabinet of ministers discussed the matter the previous day and decided not to table it in Parliament. When requested, he stated that he is not obliged to give reasons and that there would not be any further discussions on the matter. These were the heydays of the Rajapakse regime, soon after the armed forces victory over the LTTE. A gazette notification was later published to rescind the Prescribed Standards by the minister.

That was the fate of the 'Prescribed Standards for Medical Education in Sri Lanka' and the reason why private medical schools and their Godfathers didn't want to have them. It is also the reason why when two top level panels appointed by the UGC went to inspect and submit a report on the medical course at SAITM in 2011, a member of one of the panels who was a top official of the UGC informed the other members that his minister wanted approval granted to SAITM, even before the panels commenced their inspection!

Dr. N. J. Nonis
Registrar, SLMC ( 2005 – 2013)
---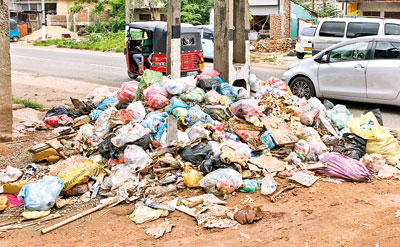 Whose rubbish is it anyway?
Starting off with the Meetotamulla tragedy, " Colombo garbage" became the bone of contention and in the recent past protests and demonstrations have been a common occurrence at all the dumping sites, new and old.
It is a pity that no one has the wisdom to explain to the organizers of protest action that people coming to Colombo from outside are responsible for a bigger part of the garbage left to be collected in Colombo.
Workers in various fields are travelling daily to Colombo from distant places such as Chilaw, Galle, Kegalle, Ratnapura etc. A good majority of them bring lunch from home wrapped in "lunch sheets" or plantain leaves and then in newspaper. Each person brings in two items of garbage and eventually these are dumped in the city of Colombo itself.
Those who do not bring lunch from home go to the nearby eating house for their lunch. Those eating houses have to prepare meals for their daily customers and what is left over by them forms a bigger part of the garbage dumped in Colombo. Residents in Colombo are responsible for as little as 25% of the garbage. So it goes without saying that people coming daily to Colombo from outside should bear the responsibility for as much as 75% of the "Colombo garbage". School children and the teachers, as well, coming to Colombo from the suburbs cannot be exempted when dealing with this issue.
Therefore "Colombo garbage' should be renamed as "Garbage brought to Colombo" and disposal action should reflect this fact.
It is also the duty of the media to educate those who are raising objections, that there is nothing wrong in taking out of Colombo at least that portion of garbage brought in from outside.
Anthony J. Perera
Makola
---
Dengue battle: Clean the drains
In the battle against dengue we need to focus on a few issues. First and foremost is to clean the stinking and polluted Municipality drains, water ways, canals and remove the plants growing one foot above them.
The Municipality has miserably failed to do this job and when called upon by residents, they say they will come today, tomorrow or the day after and never show up.
Have any of the inspectors or who ever is responsible for keeping the enviroment clean ever examined or seen the condition in the Mount Lavinia, Nugegoda, Kohuwela, Dehiwala and Pepiliyana areas? These are some of the worst affected areas. Many children and adults are sick due to this menace.
Since the authorities seem to be blind to all this, wake up citizens and keep bugging even the Members of Parliament in your area to take action.
Disgusted citizen
Via email
---
Laying down the law at the Swimming Club
The difficulties encountered recently by the Colombo Swimming Club (Sunday Times, July 23) reminded me of the saying "what goes round comes round".
As a member of the Royal Northern University Club located in Aberdeen, Scotland I have reciprocal rights to the Colombo Swimming Club. Sometime ago, I decided to use this privilege and spent a few hours there. I asked two relatives to meet me at the club so that we could set off from there for lunch at the nearby Cinnamon Grand. One relative arrived in an expensive car and she was let in without any problem. The second arrived in a three wheeler and she wasn't allowed in, after an interrogation worthy of Scotland Yard, as I wasn't a member!
Harith Kulasinghe
Aberdeen
Scotland
---
In praise of The Graduate
Nicholas Barber's (BBC) lengthy article (ST of July 9, 2017) about the movie 'The Graduate' and its star Dustin Hoffman seems unjust in its analysis.
'The Graduate' was a ground-breaking film changing some enshrined concepts of Hollywood movie-making. One was initiating the trend for pop song soundtracks instead of an orchestral music score. This was so effectively used in the memorable 'Pretty Woman'.
The other innovation enriching the future of cinema was the casting of Hoffman – the unlikely star. Not the usual glamorous Hollyood idol. Many were sceptical but Hoffman not only graduated to stardom but won an Oscar nomination as Best Actor.
This opened the gates to diverse ethnic groups resulting in the advent of such incredible talent as Barbra Streisand, Al Pacino, Robert de Niro etc. So let us rejoice rather than brood.
Asoka Weerakoon
Kandy
---
Happiness formula based on Buddhism
I read with interest the article on secrets of happiness based on the experiences of ex-Google executive, Mo Gawdat and published in The Sunday Times of July 23, 2017 (page 14, Sunday Times 2). However his equation of gauging happiness (H e – E) appears to be incomplete and too simplified.
Based on Buddha's teachings I like to improve his equation by incorporating emotional reactions to life events and memories of the past. The proposed new equation is H – (M+E) where H is happiness, e is life events, r is emotional reactions to life events, M is memories of the past and E is expectations in the future. Accordingly individuals who are skilled enough to minimise the emotional reactions to life events and enjoy the present moment without wandering into their unhappy past and uncertain future are much happier. I hope Mr Gawdat would read the online edition of this issue of The Sunday Times!
Anuruddha M. Abeygunasekera
Kalubowila
---
Small-time businessmen invade Jayawadanagama Housing Scheme
The Jayawadanagama Housing Scheme (JHS) at Battaramulla has been one of the popular creations of the late President R. Premadasa in the early 1980s. It comprises 705 housing units of eight different types with floor areas ranging from 400 to 1200 sq. ft. The objective of this housing scheme was to provide housing of different types to suit the needs of different income groups in a healthy environment. Some of the houses were also allocated for the use of public servants.
The JHS is located on a scenic spot of undulating land which is a part of the St. Thomas Estate in Thalangama South in the Battaramulla M. C. area. It is surrounded by primary housing, several temples and the ITN. The only other activity of the JHS other than housing is several corner shops designed to serve the residents. The provision of infrastructure facilities in the JHS was purely for residential uses and not meant for any other use. The JHS was indeed a model housing scheme serving the aspirations of the residents in an environment devoid of industrial, commercial and noise pollution.
Of late the JHS has been invaded by petty businessmen targeting several H type houses for nonresidential uses. For instance one house has been used as a junk yard of heavy metal which could only be moved by cranes. This is totally unacceptable in a primary residential area and causes severe damage to residential infrastructure facilities let alone the pollution caused. The persons with limited intellectual capacities involved in these petty business activities do not understand either the significance of a primary residential area or the concept of the housing scheme. They have been in the area for about one or two years but are attempting to dictate terms to those who have been living in the scheme for the last thirty years. While planning authorities are slow to react to this menace the offenders make use of the laws delays to create a 'Panchikawatte type' environment in Jayawadanagama.
According to Section 10 of the Agreement of Sale of the NHDA it is specifically stipulated that the vendee shall use the premises solely for dwelling purposes. It is therefore clear that this condition is being wilfully disregarded. Further most of the houses in the scheme are twin houses with a common wall separating each. This concept has been used to reduce the cost of a unit. These petty traders even attempt to influence owners of the other twin houses to put up a wall inside their houses to prevent damage to the house arising from the former's nefarious activities.
It is hoped that the National Housing Development Authority will take appropriate steps in conjunction with the Urban Development Authority to eliminate this menace. Any delay on the part of these institutions may perhaps cause disaster. If these businessmen are adamant the NHDA should compulsorily acquire these houses and allocate them to deserving public servants as government quarters.
Professor Ashley L.S.Perera
Via email
---
Student strikes and doctors' strikes were unheard of then
When we were young Medical students in the late '50s, if any group of students in the Ceylon University wanted to strike, the Vice Chancellor of the Ceylon University made it clear that their names would be struck off the roll immediately. Our parents would not have tolerated us if we refrained from attending classes for whatever reason.
When I was a member of the GMOA, we did not own even duty-free bicycles, but we continued to work and to be "On Call" 24 hours daily, despite the comparatively low salaries when compared to the mercantile sector. There was no private practice then and no overtime. There were no major epidemics like the present dengue epidemic. Even then, for obvious reasons, token or indefinite strikes were not thought of by the Doctors.
Need I say more.
Dr. K. Rajendra
Via email
---
Only one blip in a smooth running Passport Office
On July 19th, I accompanied a senior citizen to help him obtain his fourth passport.  The new passport office at Battaramulla is out of this world (in comparison to other government offices) – it has a fantastic outlook, spacious building, many lifts, and is very methodically arranged.  There is a spacious area in front of a huge TV screen where instructions are on display, for the public to relax in seated queues in a disciplined manner till their turn arrives.
The security staff was very polite and gave proper instructions -where to move forward for the next step, from the point of entry right up to end of the procedure.
This peaceful and professional scenario was tarnished by only one incident.  There was an announcement made at 12.25 for all staff officers to attend a meeting with the big man in his office.  All staff officers left for the meeting, while the public had to fret till it was over at 13.30.  There was a lot of confusion and stress amongst the public – senior citizens, pregnant mothers, mothers with little children who were all there waiting and waiting for one hour without service.   At least in comparison to meetings which go on and on for hours it was good, but the timing was bad in the eyes of the public.
Staff meetings in an institution where the public are served, should held after office hours, without  wasting people's time.  The job which should have been finished for us by 12.30, was delayed by one hour.   We hope the DG will keep this in mind for his next staff meeting.  Anyway congratulations and thank you to the staff  for a highly efficient professional service in an excellent office atmosphere!
Sumith de Silva  
Kesbewa
---
Declaration of assets – The noose is loose!
Two weeks prior to the previous General Elections, it was reported that only 68% of the candidates had declared their assets. That means, two thirds of the candidates had been avoiding declaring their assets which is supposed to be mandatory at an election. Maybe, a few more would have complied since then. However, in spite of a fully confident Elections Commissioner (EC) who claimed to be supposedly free of political meddling, this rule goes unenforced. These miscreants are free to continue sneering at this constitutional requirement of declaring their assets.
However, in a recent 'land mark' case where a former minister was charged with two counts of failure to declare assets, brought in by the Bribery Commission, the fine was a paltry sum of Rs. 2000.00, under the archaic Declaration of Assets and Liabilities Act 1975. This is the maximum fine according to the Act. It is a little baffling that the one year jail sentence also applicable, had not been imposed. This, in spite of the same person being subject to other cases being brought against him by the Bribery Commission. Surely,on the back of this judgment, the aspiring parliamentarians and public officials can afford to flout the law at Rs. 2000.00 a go. A small investment which can bring them mega returns. The illusion of rooting out financial corruption among the political leaders now appears to be a joke of major proportions.
Mr. Bumble's words, the 'law is an ass' per Charles Dickens comes to one's mind.
Desmond Z. de Silva
Moratuwa