Appreciations
View(s):

A man of strong values, serene and unruffled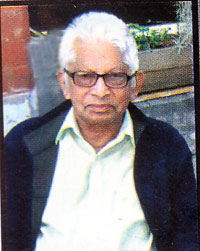 DON BALDWIN KURUPPU
I count myself fortunate to have been tutored by such an adorable teacher while I was at Ananda College. He epitomised the nobility that was intrinsic to teaching. After leaving Ananda College, he served both in government institutions and public enterprises as Personnel Manager in Cement Corporation, Consultant / Personnel Manager, People's Bank and trainer / consultant at NIBM. He was instrumental in the introduction of employee participation programmes in most of the public institutions during the '70s. His energetic leadership made him serve in the Ministry of Industries on a part time basis and he functioned in an advisory capacity in Corporations supervised by that Ministry boosting the participatory management approaches to elevate their contributions to the next level.
He migrated to Australia in 1991.
As a prolific writer, he authored over fifty books, original works, translations and biographies. He was a repository of knowledge and wisdom, sharing his vast knowledge and experience expecting nothing in return. He was a live wire among the Sri Lankan community in Victoria, Melbourne. His writings on the migrant population Down Under was interspersed with sarcasm and wit and were widely read. His excellent grasp of English and Sinhala Languages enabled him to produce literary pieces for the local news papers (when in Sri Lanka) based on incidents of current interest which were well received and appreciated by the reading public.
He was never conspicuous with his emotions, but his immense love for his family was always in plain view. He gave them the space to express themselves, to pursue their adventures and ambitions, to become strong and independent but was always there when they needed his wisdom, strength and love. His uninhibited affection for them would reveal the great tenderness that lay beneath that cool reserve. He had strong ethics and principles which he never compromised. He was able to bend the world to his will not with brashness or aggression but with quiet poise, dignity and his own distinctive brand of compassion.
Throughout his life he displayed humanism, gentleness and other good traits which are now fast disappearing. His exemplary ethical conduct, integrity and moral values left an indelible mark on those who came into contact with him. He was never over bearing and self opinionated but unpretentious, always keeping a low profile. In the evening of his life, he developed a mental serenity and tranquillity that enabled him to remain calm and unruffled and face life with equanimity.
He lived for 89 years. His demise reminds us of the Buddhist teaching of impermanence – "material form, feelings, perceptions, formations and consciousness are all impermanent"
May he attain the supreme bliss of Nibbana!
-Parakrama Jayasuriya
---
A highly respected and efficient officer
SSP MDC SAPARAMADU
My one-time superior M.D.C. (Chandra) Saparamadu, retired Senior Superintendent who passed away recently was one of the most respected law enforcement officers of the Police Department.
His Police career started in 1952 when he donned the uniform as a young Sub-Inspector.  The officers admired him as a man of integrity, veteran field officer and a role model. He was a smart administrator and strict disciplinarian. He had the ability to make quick, confident decisions because he knew what he could and couldn't do under the law and according to the department's policies and procedures.  Thereby he quickly established a national reputation for outstanding police leadership. I had the privilege to work under him in two Divisions. Above all what I relished most in him was his gentlemanly qualities.
He served in Gampaha under the tutelage of HQII of the calibre of S.K. Iyar, M.B. Werapitiya and Lionel Senanayake. They were very supportive and encouraged him to undertake difficult tasks. One was the raid he conducted on a brothel which served the British soldiers stationed in Katunayake, managed by a desperado who was always armed.
This was followed by many encounters with thugs and local political toughs in Minuwangoda and Negombo. Once he had to arrest a thug who obstructed a day patrol PC. The thug was supported by his uncle who was an IRC reputed for violence. Both offered stiff resistance but he managed to arrest them having used the required force. The IRC and the thug were charged for obstruction to police and they in turn filed a private plaint of grievous hurt and wrongful arrest against him. The magistrate took the \police case first and in order to secure a conviction in the Police case,. Mr Saparamadu secured the services of Sir Ukwatta Jayasundara QC who argued the case very well, demolishing the medical evidence cited by the defence. The private plaint was withdrawn.
As a probationer he was sent in-charge of Police Station Inginiyagala. In 1956, with the adoption of Sinhala only as the official language of the country, the communal troubles were fast spreading. Young Saparamadu took effective preventive action and held Inginiyagala area free of violence whilst the rest of the country was in absolute chaos. A special commendation appeared in the Administrative Report.
In 1961, as an inspector he was sent in-charge of Paiyagala Police Station. From Paiyagala he was moved to Colombo Division where he was the OIC of six important Police Stations namely Modera, Cinnamon Gardens, Borella, Kotahena, Slave Island and Pettah, each time to a heavier charge before being promoted as A.S.P. From his probationary period until promoted ASP in 1972 he had always been the OIC of a main station, never been in a Sub Station or branch. None else can claim such an uninterrupted record as an OIC of a main station.
The IG Police and other senior officers were conscious of Mr. Saparamadu's operational and administrative capabilities. In 1974 whilst in Trinco he was hand-picked by Stanley Senanayake IG Police for a tricky mission in Jaffna to protect the Head of the State Mrs Sirimavo Bandaranaike.  She was on her first visit to Jaffna and to Nallur Temple to attend a pooja. A section of Tamil people headed by Mr. Amirthalingam were already in and around the Temple to protest and obstruct the visit. The strategy and tactics he planned ensured safe arrival of the VVIP and they were able to attend the special Pooja.
He was a visionary policeman. As Director CID, Technical Branches he did a lot for the upliftment of the institution. The old dilapidated building which had once been the hospital for Italian soldiers during World War II was demolished and replaced with a new building complex to suit the modern era. This includes the well-equipped modern auditorium.
He retired from the Police Service on 02.04.1990 leaving a strong legacy of dedicated service to the department and the country.  Even after his retirement, the Police Department kept him in service on extension and he continued to work as Director Police Inspection & Review and Director Reserve Police Recruitment Division.  My association with him continued even after his retirement and I had an opportunity to provide him transport for his medical treatments.
-Lal Liyanarachchi
---
A great administrator and sincere friend
Ivan Samarawickrama
I first came to know Ivan Samarawickrama when he was Government Agent of Polonnaruwa in the mid-1960s. I was then attached to the Land Development Department.
I van had already earned a name as a good administrator when he was appointed Assistant Government Agent of the Jaffna District at a time when there was civil disturbances and an army officer (for the first time I believe), was appointed to function as the Government Agent. The government of the day understood the importance of having an officer acquainted with District Administration in order to control and administer a district. Ivan Samarawickrama performed his duties with great acceptance by the people of Jaffna and greatly contributed to the district's peace and development.
Polonnaruwa District had some unique characteristics. Most of the land was crown or state land, where settlement had taken place from the 1930s onwards when the ancient irrigation systems were restored under D.S. Senanayake who later became the first Prime Minister of Sri Lanka. Hence, the task of the Government Agent was to administer the district with great attention to the newly created settlement or colonization schemes and to ensure that the irrigation and the agricultural development were carried out efficiently.
In this Ivan Samarawickrama proved to be an excellent Government Agent. His public relations skills and his ability to coordinate functions earned him the respect and regard of all those who served in the district. Further, the Member of Parliament was the Minister in charge of Lands and Irrigation, C.P. de Silva. He was a hard task master who had earlier functioned as the AGA in charge of this district, and a pioneer in the settlement work. It was, therefore, difficult to satisfy him. Ivan Samarawickrama was on good terms with him due to the hard work he put in.
I have very pleasant memories of my stay in Polonnaruwa. Ivan and his wife were gracious hosts and the Residency was a happy place to meet and discuss the problems of the district. The number of dinners and parties hosted will ever remain green in my memory. The most difficult problem was the proper distribution of water on an equitable basis. This was achieved due to Ivan's public relation skills as much as his administrative ability.
I recall going on inspections to the most remote parts of the district. The staff officers and their families joined in these inspections. I can yet recall watching elephants at a close distance with Ivan Samarawickrama at Somawathie, the home of the famous marsh elephant. Ivan was a crack shot, and as long as he had his.303 rifle in his hand I had no worries.
Finally, I worked under him in the Ministry of Mahaweli (the largest development ministry in the recent history of Sri Lanka) when he was appointed to succeed T. Sivaganam as Secretary. During this period I came to know him very well as an able policy-maker who was able to understand the complexities associated with this large development ministry. I must place on record his achievement of the negotiations that preceded the construction of Randenigala scheme, which was the last of the major dams constructed under the accelerated Mahawali programme.
To me he was of great assistance. His assistance rendered to my family and I during the July 1983 ethnic riots I will always remember with gratitude.
His memory will live long as a great administrator from the ranks of the Sri Lanka Administrative Service.
-Rama Somasunderam
---
The Calypso man
Noel Ranasinghe
June 11, 2017 marked the second death anniversary of pioneer musician Noel Brian Ranasinghe, the Sri Lankan singer/songwriter who crafted a new style of singing with trademark sarongs, straw hats and calypso music with a local flavour in the 1960s. Noel was the leader of the La Ceylonians, one of the few bands to survive as a unit for decades, and known widely for landmark compositions like 'Tharuna jeevitha apa vinodaya yen' (about young people having fun based on British singer Cliff Richard's popular 'The Young Ones')' and 'Hoiya hoiya' (tribute to the fishermen)' among hundreds of other songs that are sung by many bands today.
"I must have composed more than 300 songs in my lifetime," the veteran musician said in an interview with the Sunday Times in April 2013 when he celebrated his golden jubilee in music. Noel was a musician who constantly fought for the rights of others.
His wife called the Sunday Times last week to reflect on Noel's second death anniversary.  "We miss him a lot," she said and requested a small write about her husband.
-Feizal
---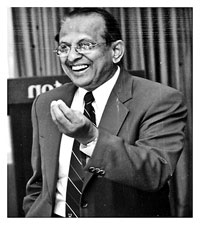 His motto in life was 'service to humanity is the best work'
Upali Mahanama
I came to first meet JCI Senator Upali Mahanama, commonly known as the 'father of Colombo South Jaycees' at a national convention of the Jaycees held at the auditorium of Princess of Wales College Moratuwa in the 80's. I witnessed the delivering of one of his eloquent speeches, which captivated the entire audience from the word, 'go'. An active participant at the General Assembly, I was fortunate enough to be given the opportunity to deliver the vote of thanks at the convention that day. Just as I stepped off the stage, Senator Upali surprised me with a personal greeting and congratulated me on my vote of thanks and the active role I played that day.
Years down the line, in hindsight, I truly believe that the sense of pride he instilled in me that day, played a significant role in my life, and invariably led me to reach for more than mere modest goals.
Gradually, as I began to form a close association with him, I learnt that he was not just an outstanding orator, but that he was a colossus in many arenas; an international marketing consultant, a trainer, outstanding sportsman – and later a ramrod straight sports administrator; mentor, father, brother, friend; he was a well-rounded gentleman par excellence.
It's not wrong to say that his mantra in life was 'service to humanity is the best work of life'. He had many followers who would seek him out for assistance – be it career, personal or even financial. He was one man who not only had time for anyone, but also the capacity to fit into anyone's shoes and see beyond what others could see. He empowered hundreds, if not thousands through providing opportunities, imparting knowledge, advising and most of all, inspiring change.
There are distinct memories of Upali the humanitarian which still resonate within me. Spending not days, but months and years trying to rehabilitate a drug abuser everyone else thought was beyond redemption; I recall how he built two modest, but fully furnished houses for two families displaced in the Eastern Province in the 80s, together with a Buddhist priest in Embilipitiya. Not stopping there, the visionary in him made sure that the children had regular schooling and that they had a means to generate income. I recall how he was able to lead the people in a village hundreds of them to contribute to the making of the bridge with their labour to connect their village to the town. These are but a few examples of the many activities he initated. Charity was his hallmark.
Upali never failed to impress anyone he encountered – irrespective of race, religion, caste or creed, he understood and spoke a common language with everyone. A well versed scholar on a myriad of subjects he was able to contribute to any discussion be it religion with a priest, international affairs with a diplomat, career prospects with a student or the impact of climate change with a farmer from a far-off land. The discussions were never far from being thought provoking humorous, and mostly, unforgettable. He also left behind lasting impressions with whoever he met. During the many walks with him in the latter part of his life, I came to realize that he was a man who sought perfection in whatever task he undertook; and that to deliver a compelling speech he spent time studying the demographics of the audience he would address, which phrases to use, jokes to tell and would practise and practise his speech over and over again.
A man for all seasons, a mentor, great listener, the life of a party – a rib tickler with no mercy, a humble human being, he leaves a legacy etched into the hearts of those who were touched by him.
Upali was the Founder President of the Colombo South Jaycees and contributed immensely to the growth and development of the Jaycee movement in Sri Lanka. He was elected National President of the Sri Lanka Jaycees and later elected a JCI World Vice President.
He leaves behind his wife Swarna, sons Devaka and Roshan and their loving families.
Upali was a true friend, companion and brother to all.
-Malik Cader
---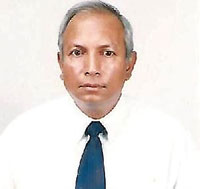 Planting was in his blood
Janappriya Ratnayake
My first encounter with Janappriya was in 1967, when he came as a young Trainee Assistant Superintendent to Madampe Group, Rakwana. Thereafter, much water has flowed under the bridge, and I cherish the friendship that we cultivated over a period of 50 years.
Janappriya hailed from the Deep South. He was from an aristocratic family –the eldest son of Wijesena and Phyllis Ratnayake of Deniyaya. He grew up with two sisters and a brother. At Richmond College, Galle, he captained the school cricket team in 1966 and on leaving school, he joined the bandwagon of planting, which was running in his blood from his forefathers.
At Madampe, he surpassed the expectations of his tough task master, a senior planter, the late Mr. Van Twest. This young lad performed in an excellent manner, riding on his inborn talent. Ironically, after the retirement of Mr. Van Twest, it was none other than Janappriya who cared and looked after him like a son.
Consequent to his successful performance at Madampe, he moved to Abbotsleigh Estate, Hatton and turned it around to a very profitable division. Whilst at Abbotsleigh, he married Manjula Kulatunga and they were blessed with two children.  The daughter, Dayanji has settled down in the United States whilst the son Millinda is engaged in business locally. Millinda dutifully and with much affection looked after his ailing father during the final stages of his brief illness.
After a very successful planting career in Hatton and Matale, Janappriya took over the reins of Willie Group, Deniyaya and during his tenure, Willie Group achieved the best performance ever recorded at the time. He mastered the art of excellent public relations, tea cultivation, processing and other management techniques that propelled the Group forward.
With his wide experience in all three tea growing elevations, not only in manufacturing but in all other plantation aspects, he was handpicked by M/s Bartleet & Company where he joined as an Executive. He excelled at his job and during this time, the catalogue of this company had a significant market share particularly in the low grown sector.
Janappriya with his knowledge, versatility and being an excellent "PR Man" was in demand.
He served as a Director of M/s Mercantile Brokers (Pvt) Ltd and later joined M/s Asia Siyaka where his role included managing tea factories and estates, until his retirement.
I have so many golden memories and silver tears and as all things have to come to an end, Janappriya bid adieu, after a brief illness. He will live in my heart for evermore until we meet at Sansara.
Adios my friend!
-Edward Welikala
---
We could always look to her for advice and guidance
Heloise Viviette Peiris
On May 11, 1946 Heloise was born to Francis Henry and Vivienne De Mel of Rawathawatta, Moratuwa. The 3rd in a family of six, she was a blessed girl from her childhood, a vibrant character. She was kind and generous beyond words and was our stalwart. She had the gift of speech, and was able to draw the attention at any gathering.
Ever since I joined the family in 1973, she had been a wonderful sister to me. We all could look up to her for advice and guidance. Heloise and her valuable advice were inseparable. She possessed a high level of integrity. The family was always first on her agenda, for she loved and cared so much for her siblings.Heloise married Kumar Peiris in 1971 who was an equally popular character among the friends and relatives. They were blessed with three lovely daughters, Kumarini, Kamaneetha and Manouri who are married to Michael, Andrew and Daniel respectively making the family complete by blessing Heloise with six grandchildren. They were a happy family.They migrated to Australia in 1991 leaving behind prestigious jobs in Sri Lanka.
But very unexpectedly Heloise was struck with a terminal disease. Ever since her sickness her loving husband Kumar was with her to care for her. I personally witnessed the way Kumar looked after his beloved wife. We salute Kumar for the love, commitment and endurance he had in caring for Heloise keeping the marriage vows to the last. All their friends and relatives in Perth, even the church helped them in numerous ways. She stayed positive and free from frustration amidst an incurable disease. It was her faith in God, the key that provided her with inner peace and joy.
Being ill for the last three years she was never miserable. She accepted the situation and got closer to the Lord. Kumar and Heloise had a deep care and concern for the needs and wishes of others. They both went that extra mile to make others happy.
Heloise passed away peacefully on June 10.As the ferry sailed to the bank, she may have embarked without any reluctance before the clouds turned too dark on her. As she sailed across the shore to eternity, to meet our Lord I'm confident that Jesus embraced her and said "well done my good and faithful servant, enter into the portals of heaven".
May her soul rest in Peace!
Priyangani De Mel