Public display of ignorance via unprofessional advice
View(s):

"With the joy of live sport comes the irritation of spectators letting professionals know where they're supposedly going wrong. One boisterous fan got his comeuppance in one of Wimbledon's most endearing and hilarious moments yet." The incident has been reported widely and gone viral. It is not only the advice given to players; the annoyance includes the instructions given to match officials. These are somewhat like the wife as a backseat driver muttering instructions.

During the Wimbledon Women's Doubles, a man shouted advice from the stands to a 4-time Grand Slam winner. This was when Kim Clijsters was asking teammate Stubbs whether she should serve down the middle or wide, when the cheeky chap called for a body shot. Silence being the code during  the match, the instructions were clearly heard.

But rather than chastising him for his cheek, Kim beckoned the rowdy spectator to the court. It must rank as one of the funniest moments in Wimbledon history, when a 4-time Grand Slam winner invited a spectator to participate in her match.

The man didn't back down, borrowing a racquet and taking to the court. But then, Clijsters realised the man's T-shirt and blue shorts weren't up to Wimbledon's all-white dress code. She ran to her bag, grabbed an extra white skirt, and helped the man squeeze into it. He took the challenge, but his performance was not as big as his mouth. He managed to return her serve. Though it looped high, it did at least land over the net. Sadly, his second shot was less successful.

At any match, whether it be Rugby, Football, Cricket or Volleyball, in Sri Lanka there will be dozens who advise on how to play, umpire or Referee (Ref). I tell you, Sri Lanka is not alone. Walk into a pub to watch any match and the backseat drivers are aplenty. Same with the meeting spots in Sri Lanka.

On the field, maybe one day, somebody should give one of them the hot seat and a hat or whistle. Why not ask them who knows most to Ref, and hand over the whistle and watch from the side. It does not matter whether it is the spectator, the ex-player or, the potbellied administrators or, the advisers. Give them the chance as Kim did in Wimbledon.

The question is, whether there would be any takers. Not that the whistle has not been offered in the past, when men in the middle had the courage to do so, while those who were rowdy, accepted the rejoinder in the spirit that is a part of the game .

Take the case of the pundits who talk and boast about the way a young Ref recalled play on the report of a Assistant Ref (AR) and threw a Yellow Card. The thought and the fight is that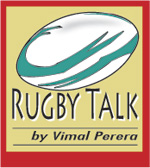 the hooter is off and the match is over, and how can a Ref restart and add the adjective that he blew the whistle. In 2015, a clarification was made by World Rugby and the issue is recorded as clarification No.4.
The "Scenario: There is a ruck and the Ref blows the whistle because the ball is unplayable, and then blows again to indicate clearly, the end of the match, with the score 18-19. The AR immediately calls the Ref and tells him that a player from the winning team was clearly offside in the ruck, and kicked the ball. The Ref requests a review by the TMO that confirms the action. Then the Ref shows a Yellow Card to the infringing player. After that, the Ref decides to restart the match with a penalty kick. This is converted to goal and the Ref blows "No Side" with the score 21-19.
The clarification reads, "If the AR has flagged for foul play/deliberate infringement and it takes place before the end of the match, then the Ref may restart the match with a penalty kick, free kick or mark, etc. If the flag was raised after the final whistle or, for non-foul play/deliberate infringement, then the game is over."
More than the lack of substance of the law, what should be most important is the knowledge players have in what they do, which can cost a match. The tap not being taken and the ball passed off the ground was the first issue that ceased the play to continue. Similarly, people were heard screaming in a number of matches, when, in the last seconds, a penalty is awarded and the ball is kicked to touch or, a scrum is reset or a line-out results in a crooked throw. The law and the clarification give directions for the play to continue.
On the paddocks, it was heartening to see the entry of schoolboys to the big league and performing well. The commitment was there in both games, while a number of tries were scored. The same cannot be said of the seasoned lot who did not inspire much confidence, to say they are playing well. It looked as though there was a mismatch in combining with foreign players who play '7s' in a different style more suited for running and continuing phases. The locals, at most times, seemed to play a shorter version of XVs specifically, as they went into contact with little emphasis on quick ball at the break down.
 Vimal Perera is a former Rugby Referee, coach and Accredited Referees Evaluator IRB