EU and UNDP officials visit development projects in Batticaloa
View(s):
Key officials from the European Union and UNDP visited several development projects in Eastern Batticaloa and took part in many events organised on the occasion of their recent visit.
Initially Libuse Soukupova, Head of Cooperation of the EU Delegation to Sri Lanka and the Maldives and Mohamed Muzain, Programme Manager, UNDP, visited a traditional food sale centre located in Chenkalady village.
The centre which operates with the sole aim of increasing entrepreneurial skills of women has been built through the financial support of the EU-SDDP and implemented by the UNDP. There are currently 30 women who sell traditional foods using locally produced agro based products. The purpose of the support has been to increase the living standards of women as well as to create more work opportunities and better income for the poor and marginalised communities, particularly women, according to an EU Sri Lanka media release.
The team also visited the newly renovated Fishermen Business Centre which has been supported by the EU-SDDP. With the renovated ice plant facilities and activities such as capacity building of women and youth in entrepreneurship and marketing management, the centre aims at benefiting more than 4800 families, while enhanced income generation activities will reach at least 20,000 people.
Also during the visit to Batticaloa, 90 graduates who have successfully completed training on heavy equipment operation and modern dress making were awarded certificates at the Vocational Training Authority of Sri Lanka (VTASL). The certificates were handed over by Ms. Libuse Soukupova, Lionel Pinto – Chairman of VTASL and Ms. Indra Tudawe from the International Labour Organisation (ILO) in the presence of Government Agent Ms. P.S.M. Charles and other dignitaries. This initiative, in collaboration with the Sri Lanka Institute of Textiles and Apparels (SLITA) and Vocational Training Authority of Sri Lanka, has been implemented by the International Labour Organisation with EU-SDDP support.
Ms. Libuse Soukupova together with Ms. Nina Brandstrup who is the Representative of the Food and Agriculture Organisation of the United Nations (FAO) also attended the ceremonial opening of the Multi-Species Marine Finfish Hatchery in Tharmapuram, supported through the EU-SDDP in the presence of senior Government Ministers. The project has been implemented by FAO with the aim to fulfil the national requirement for the development of marine finfish farming in the country. The hatchery has a capacity to produce four million fingerlings annually and is the largest Marine Finfish Hatchery in Sri Lanka.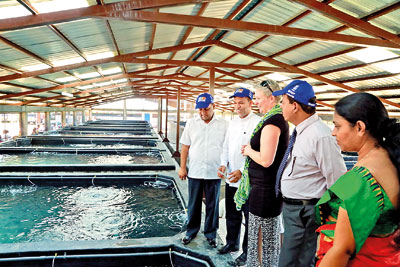 From left: Mahinda Amaraweera – Minister of Fisheries and Aquatic Resources Development, M.L.A.M. Hizbullah – State Minister of Rehabilitation and  Resettlement, Ms. Libuse Soukupova – Head of Cooperation of the European Union Delegation and Upali Mohotti – Chairman of the National Aquaculture Development Authority (NAQDA) are seen observing the tanks at the Multi-Species Marine Finfish Hatchery in Tharmapuram, Batticaloa.