Changing face of workers in India
By Rakesh Mohan and Anu Madgaykar (Project Syndicate, 2017)
View(s):
MUMBAI – A debate about job creation and employment is heating up in India, fuelled by data that seem to show the country is entering a period of jobless growth. Official statistics suggest that overall labour-force participation declined between 2011 and 2015, with fewer than two million new jobs created annually.
If those numbers were the whole story, then India, a country where 16 million people reach working age every year, would be heading for economic trouble. There are two reasons to doubt that it is. First, the Labour Bureau's figures do not provide a full accounting of the country's labour force; many of India's 460 million workers, especially the self-employed, are simply uncounted in official surveys. Second, the data fail to account for the quality of new jobs being created. As India's labour market evolves in line with the shift toward a non-agricultural economy, the creation of "gainful employment" – safer, higher-paid, and more productive jobs – will be the true measure of economic health.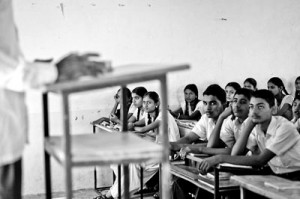 The dearth of timely, reliable data has long been an impediment to the analysis of trends in India's labour market. Current government statistics that rely on quarterly surveys do not provide a complete picture of what is happening nationwide. For example, they track only those enterprises with more than 10 employees, which represent less than 2 per cent of the national total – indicative of the low quality of work in which the vast majority of Indians are engaged.
The bureau's annual household survey covers a larger sample of workers, but the latest available datasets are from 2014-2015. Moreover, the yearly samples can obscure key trends. For example, reporting only the total number of jobs added in India from 2011 to 2015 – an increase of about seven million – misses the shift from agriculture toward non-farm jobs in the construction, trade, and transport industries. In fact, on close examination, the data show that agricultural employment shrunk by around 26 million jobs from 2011 to 2015, while the number of non-farm jobs rose by 33 million.
While official surveys do suggest a falling labour-force participation rate, that conclusion needs further testing, because such declines are not usually discernible over short periods. More important, declining labour-force participation may indicate that more young people are staying in school, for example, or that more women from poor households are entering the middle class. Both would be welcome developments.
As India's economy modernizes, it is essential that policymakers design and implement a system of labour-market assessment that enables more relevant, timely, and accurate analysis of trends. Prime Minister Narendra Modi's office recently established a task force that is seeking to achieve just that. One approach would be to introduce a quarterly employment survey with a much larger sample size. Data from this more comprehensive survey could then be validated using government figures on enterprises, job search portals, sales revenue, and taxes.
Good data are especially important for measuring "gainful employment," which is defined by the type of work done by people already employed, labour productivity, earnings, and working conditions. Fortunately, gainful employment already is being stimulated across India. The government's increased spending on infrastructure and social services is creating new work opportunities for an estimated seven million workers, and at wages that are 70 per cent higher than farm-related work. These investments are also helping to accelerate the shift from agriculture to other sources of income in some of India's poorest states.
Opportunities for gainful employment are also coming from India's information technology and business process outsourcing sectors. Even with growing investment in automation, these sectors have remained net job creators, and are forecast to add an additional three million workers by 2025 (although a shortage of employees with the necessary skills could hurt those projections).
Independent work and micro-entrepreneurship are a third source of gainful employment, often supported by government lending schemes. In India, as elsewhere, digital ecosystems – including cab-hailing companies, e-commerce players, and digital financial services – are providing new opportunities (especially for women, in burgeoning self-help groups) to earn decent pay in parts of the country not typically considered strong labour markets.
Since 2014, these three sources of employment have created high-quality work opportunities for as many as 26 million Indians. But much more needs to be done. While some workers have benefited from the shift to non-farm employment, tens of millions more are in need of opportunities. Government and the private sector could work together to shape and introduce many more targeted initiatives aimed at fostering gainful employment, such as bolstering tourism and manufacturing.
Despite Modi's "Make in India" initiative, a significant increase in labour-intensive manufacturing is yet to be seen. But, as rising wages push some manufacturing jobs out of China, India is in a position to capitalize.
Given the current composition of India's workforce, the potential of the demographic dividend is such that low-skill, labour-intensive manufacturing should be vigorously pursued. But at the same time, the government will need to remove hurdles that stand in the way of investment and innovation in certain higher-skill sectors, especially in the digital economy.
Indians aspire to higher pay and safer, cleaner, and more stimulating jobs.
A new emphasis on gainful employment initiatives – and better statistics with which to measure their impact – would help Indians achieve their goals.
(Rakesh Mohan is a former deputy governor of the Reserve Bank of India and former executive director at the IMF while Anu Madgavkar is a partner at the McKinsey Global Institute, based in Mumbai).