Joes did it in style
View(s):

The feeling of a win you have had a hand in, is what made the Jig of Joes No.10 after the knockout final. The first ever Rugby title is probably what inspired the performance that is much talked about in the media. It probably took away the spotlight from the Joes winning the knockout. The win was a cause to dance all the way from the Race Course to their home in Darley Road. The lone dancer did it on the field. Have the Joes come of age in schools Rugby, as they join the few who have been dominating the ownership of a trophy?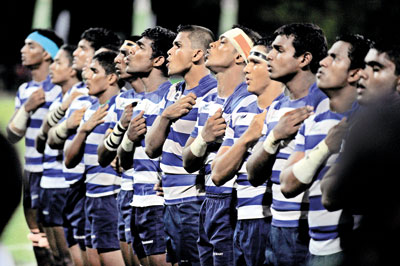 Recently, English International Jesse Lingard enjoyed scoring a goal, with a jig to express his delight, after smashing a beauty in Manchester United's 3-1 triumph at Middleborough. "I think, in sport, you've just got to do what makes you happy," he added to journalists. "Obviously, I enjoyed the moment and, when you score, it is a big thing. So you've got to take it in your stride."
Probably the Jig by Joe's No.10 might be looked at differently, and he seems not to be alone in enjoying victory in a way he enjoys most. People look at incidents in different ways and will have different views. I have been talking a lot on values and the spirit of Rugby and the need to discipline one's self and uphold the ethos. That has brought praise as well as threats on what I write. The jig and the song-and-dance was no threat but, may have invited one, as some opine. It did not happen; so what?
Just as much as I have a right to write and express views I think, a player should be able to show the feeling of a win. Taunting is what was behind the action albeit, foolish as some might say. Yet, it was not abusive verbally or physically. But then, who is to set values in a society that has a wining and complaining mind, however it may come. I don't think this is the first time a jig caused a lot of tongues to wag. Tongues wagged many times too, post-Bradby. Kudos should go to the Isipathana player who held his calm in the face of the jig; which was a leaf from matured behaviour.
The gestures and various celebrations styles run to over two dozen in various sports, such as the send off and flying run in cricket. One that caught my attention is the one by Owen Farrell, when he scores a goal. "Ever wondered the way Owen Farrell does this; the answer is as heartwarming as Farrell is prolific on the pitch: the celebration, which involves linking the index finger of each hand, is a tribute to his biggest fan, little Jack Johnson.
Jack, aged 6 and Rugby-mad, suffers from Duchenne Muscular Dystrophy (DMD), a debilitating muscle-wasting disorder which leaves him unable to walk. As Jack gets older, his condition will worsen and worsen – and there is no cure.
Schools Rugby is not over, as the sevens are played this week. The issue is why sevens are played just a few days after a grueling Rugby season. St. Joseph's and Isipathana played three matches in a hard fought tournament. Coming to a sevens game almost immediately is a risk you expose young players to, who should have had time to recover. On the other hand, what can you expect from two teams that have been playing XVs rugby till last week? If the argument in not playing sevens early in the year, is that teams were practising for a XVs season, how can you fathom taking players to sevens Rugby, when you have been playing XVs.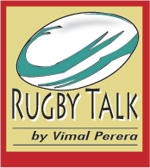 Sevens is a game where the physical demand is high. In such a situation, it would have been better to have a longer break: a longer recovery time. It may be too late to talk about it this year but, at least the thought should be addressed to play it early in the year or, probably in October or November, after the 'A' Level. It would be still better to play in December or January, as a prelude to the next season and after the 'O' Level too.
With injuries more prevalent in the second half of finals during the World sevens Series tournaments, with those deciders going for 20 minutes, instead of the usual 14, the governing body has opted to keep the games the usual seven minutes a half.
A research done in the University of Canberra suggests "Rugby sevens imposes unique demands on players during competition. The disparity between Rugby Union and Rugby sevens dictates different characteristics of players, priorities for player preparation, and tactical approaches to competition are required. .