Handsome prizes for SLT Speed Up Cycle race
View(s):

What is regarded as Sri Lanka's longest cross country cycle race with a huge reward as prize money, the SLT Speed Up Cycle Race, is set to take place from July 25, for the second time in history. Set to flag off from Colombo, the race will come to an end four days later at Embilipitya, covering over 600 kilometres.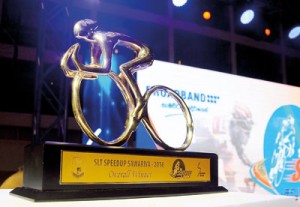 The launch of the SLT Speed Up Cycle Race took place in 2016 by Sri Lanka Telecom (SLT) and it immediately took the country by storm, as such a venture had never been attempted before in the history of the sport of Cycling in the country.
Last year the men's race began on July 27 from Colombo and concluded on July 31in Batticaloa. The women's race also began on the same day in Colombo but concluded that very day in Ambalangoda.
The event enjoyed tremendous publicity and concluded in success thanks to the excellent planning of SLT with the support and partnership of the Cycle Federation of Sri Lanka.
On June 30, SLT announced its intention to continue with the venture as the 2nd annual SLT Speed Up Cycle Race for 2017 was officially launched at the Cinnamon Grand in Colombo.
The men's race is scheduled to begin on July 25 in Colombo and end in Embilipitiya on June 29 with the overall winner assured of a handsome cash prize of Rs. One Million while the overall best team is set to be awarded a total of Rs. 100,000.
The women's race will be a single day event as it happened last year, beginning in Ratnapura and ending in Embilipitiya on July 29. The overall winner of the women's race will secure a cash prize worth Rs. 200,000.
"SLT has always mirrored in its own products some of the characteristics shown by professional cyclists, such as stamina and endurance.
In an effort to boost the development of the sport in Sri Lanka and further popularise the SLT Speedup concept, SLT has dedicated a considerable sum as the overall value of the prizes for the winners of this year's race, to reward their effort and build up their careers.
Thus, ensuring a brighter future for the sport of Cycling in Sri Lanka," stated an official of the programme.