Making a splash on canvas too
By Kaveesha Fernando
For the first time Swim Week Colombo combines art and fashion
View(s):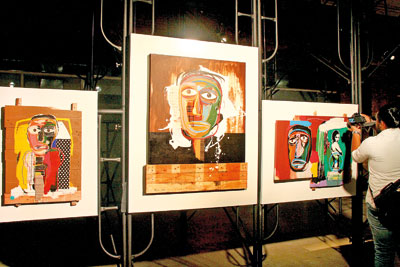 Fashion and art may not seem an immediate match but Art Connect exhibition, a part of Swim Week Colombo for the first time attempted combining the two. As founder of Swim Week Colombo Ajai Vir Singh sees it, the two streams have much in common.
"I feel that art has a deep relationship with fashion. Both use canvases – artists use a flat canvas while for fashion designers the garments are a canvas. They can merge together and one can inspire the other. The theme of this week is green consciousness and I feel that this is another way to express green consciousness," he explained. Six well known artists Anoma Wijewardene, Bandu Manamperi, Mahen Perera, Vajira Gunawardena, Chathurika Jayani and Ajith Susantha presented their work at the show.
Focusing on two themes – the general theme of 'Green Conscious Earth Sensitive', and the theme of the exhibition "Revive", many of the artists exhibited mixed media work using recycled materials in their attempt to address the issues faced by modern society. Some of the exhibits were created using natural dyes made from coffee and betel leaves along with recycled newspaper and wood.
One of Bandu Manamperi's exhibits used newspapers from the time of the war mixed with experiences which he had gone through (which he calls his own news) to create his final work. Mahen Perera had an exhibit of assemble art which he had made by reusing various materials. Ajith Susantha had used various types of paper to show the interaction between depth and space and he said that he felt that natural dyes etc. which he used made his exhibit eco-friendly. All in all, there were exhibits which catered to the tastes of modern art connoisseurs.
'Art Connect' was held at the Bay Seven auditorium at Trace City Maradana on June 27. For further information, please see the Swim Week website http://swimweekcolombo.com/schedule/.