Baby Chenuthi needs a liver transplant in India
View(s):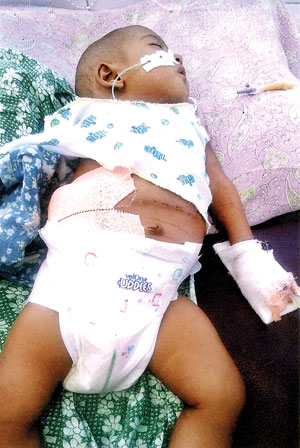 Five-month-old baby Chenuthi Sakithma Bandara of Ragama, suffering from 'Bilary Atresia' and intestinal malrotation underwent surgery and is now being treated for chronic liver cell disease.
Her doctors have now recommended an immediate liver transplant. She is under the care of Dr. Shaman Rajindrajith, consultant paediatrician and head, Dept of Paediatrics, Kelaniya University.
Since paediatric liver transplants are not done in Sri Lanka, her parents are arranging to take her to Global Hospitals, India. This major surgery will cost around Rs. 8 million. Her parents cannot raise this money and are appealing to kind donors to help save their baby daughter's life.
Any contributions could be sent to the child's father Asiri Madusanka Bandara- Account No: 8180007048 at the Maharagama Commercial Bank. He can be contacted on 0719063999 and 0767083159.