Appreciations
View(s):

A doctor with a multitude of interests
Dr. Asoka Thenabadu
It is one year since my friend and colleague Asoka Lakshman Thenabadu passed away suddenly on June 30 following a sudden heart attack. It is with a marked sense of sadness and remembrance that these words are penned.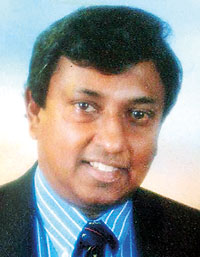 Asoka was a fellow Thomian as well, and hence was a friend of mine from our younger days. In school, he was involved in a multitude of activities, and distinguished himself in scouting, earning the Queen's Scout badge, the pinnacle of scouting. He was a debater, representing the House in many other activities as well, ending up as a School Prefect.
Academically he excelled; he was one of the groups of Thomians admitted to the Colombo Medical Faculty in 1963. A diligent student, Asoka was a fellow resident with me at Bloemfontein. Graduating together in 1968, Asoka served his internship at the Ratnapura General Hospital with several of us. During post internship he was posted to Colombo South Teaching Hospital.
After a stint he joined the Army Medical Corps. During this period he met his bride Manel Wijeweera, LLB.The two left Sri Lanka for the UK . Asoka added a DCH and MRCPCH to his MBBS degree eventually becoming a Consultant Paediatrician in Epsom, practising in that speciality for 35 years in the UK.
He also became a successful businessman of sorts, setting up Stat Locums , an organisation that provided Physician Coverage Services to both practitioners as well as hospitals, starting in the UK and expanding later to the Middle East, New Zealand and even Down Under.Asoka and his wife were blessed with two sons, one of whom Sam, followed his father into medicine, becoming a Paediatric Trauma Surgeon in UK, while Chris, following in his mother's footsteps, took to Law, to become a Solicitor in UK.
Asoka had a multitude of interests; in addition to Stat Locums, he helped visitors to Sri Lanka find and enjoy some of the abundant beauty of Sri Lanka, and explored areas outside the beaten path, such as whale-watching excursions from Mirissa. He lent his expertise to the Historical Society as well as the Photographic Society in Colombo. His interests were many, and he was well known to go out of his way to extend help and mentoring.
On retirement, he chose to return to Sri Lanka and live in Colombo .He continued to maintain his Stat Locums office.On an extended visit to Sri Lanka after a pause in 2014, I became aware of much of Asoka's generous nature when he went out of his way to introduce me to various voluntary societies in Colombo, of which he was a very active member, encouraging me, picking me up and taking me to many of the meetings, and to Sinhalese Sports Club and Royal Colombo Golf Club to ensure that I would not become "bored", as he put it; For this I was very grateful. He was an active Old Thomian, and remained so to the end, keeping up with both fellow schoolmates as well as officers of the OBU.
His passing prematurely at what I consider a prime stage of his life with so much left to give the many to whom he extended a hand is to be mourned. I am proud to have been associated with him, and am sure his sons and siblings are too.
Esto Perpetua.
Dr. Chris Simithraaratchy
---
He served the Police Department with  honour and dignity
SUBRAMANIAM VAMADEVAN
The demise in Sydney, Australia on June 1, of Subramaniam Vamadevan, Rtd. DIG, who served the Police Department with honour and integrity, was sad news received by Police Officers who had worked with him, and all those who knew him.
Popularly known as "Vama", he hailed from a respectable family in Jaffna. At St.John's College, Jaffna, where he had his entire education, he excelled both in the academic field as well as in the sports field. He was an outstanding sportsman and captain of the College First Eleven Soccer team. He gained admission to the Peradeniya University and even at the University he participated in sports activities. He graduated from the Peradeniya University and joined the Police Department as a probationary ASP in January 1957. After joining the Police Department as an ASP, he had served in several outstation districts such as Matugama, Kandy, Mount Lavinia and Colombo. Wherever he worked, he initiated innovative ideas to maximize the service of the Police Officers with the help of the members of the public. He was also concerned about the welfare of the men who were working under him.
He was at one time Commandant of the Sri Lanka Police Reservists. It is here he stamped his name by his initiative and determination to form a Police Hevisi Band which was invited by Queen Elizabeth II for the Edinburgh Tattoo held in 1971 where the band received a Gold Award from the Queen. It was a proud moment for the Police Department to witness Mr. Vamadevan, who at that time was Superintendent of Police, being received by the Queen along with the members of the Hevisi Band. Today the Hevisi Band is the pride of the Police Department.
He was also at one time the Superintendent in charge of the Mount Lavinia Division. It was during this period that communal trouble erupted and he had a hard time in performing his duties due to his race. It is the same communal trouble which finally made him and his family migrate to Australia. He was residing at Thalakotuwa Gardens in Narahenpita, and his house was burnt and ransacked. He and his family had to leave the house under the escort of the late Wg.Cdr. Noel Fernando who was a friend of his family, who went to their rescue and brought them safely away from the marauding mob. It is a pity that the Police Department lost a brilliant Police Officer who had a bright future in the Department. His two batchmates the late Ernest Perera and Cyril Herath ended up as IG's and there was no doubt that he too would have ended up as IG if he continued in the Police Department without migrating to Australia.
He was also at one time the Commissioner of Police, Colombo. Here too he initiated innovative ideas where the public could be served better by the Police Department. I recollect Mr. Vamadevan going about in the city riding a pedal cycle along with other Police Officers, who were also made to ride pedal cycles. He was also one of the Directors of the Special Branch which is now known as the Intelligence Division. He along with a few other Officers, under the late Ana Seneviratne, raised the standard of intelligence gathering to a professional level. His last position in Sri Lanka before he migrated to Australia was Director General of Intelligence. He was trained in intelligence work in UK, Israel etc. He was a disciplinarian too. Whenever the junior Officers committed any lapses, he did not mince his words to take punitive action against them.
When he was based in Kandy, he covered the Katugastota area, where he met the family of Mr.Rajakariyar who was a Police Officer who had resigned and gone into business as a building contractor. During his visits to Mr.Rajakariyar, he met one of his daughters Charmaine Rajesh Rajakariyar and subsequently married her. They have two children.
I have some personal reminiscences of both Mr. & Mrs. Vamadevan when they came to Chennai immediately after the 1983 communal trouble, where I was serving at the Sri Lanka Deputy High Commission, and stayed with us. My family members were happy to receive them and be with them in the days of sorrow after their harrowing experience in Sri Lanka.
We extend our deepest sympathy and condolence to his loving wife Charmaine who cared for him during his illness for the past few years, and the two children.
"Ohm Shanthi"
"May his soul rest in peace."
Anton Jeyanathan
---
20 years have passed since this valiant soldier departed while fighting
Colonel Nizam Dane
Though it was 20 years on June 24, 2017, we still remember Colonel Nizam Dane who led the 10th Battalion of the Vijayabahu Infantry Regiment and sacrificed his life for our tomorrow at Periyamadu in Omanthai while fighting the brutal Liberation Tigers of Tamil Eelam (LTTE). Incidentally, he was also born in June –on the 14th.
The whereabouts of Commanding Officer, Lt. Col. Nizam Dane of the 10th Battalion of the Vijayabahu Infantry Regiment was not known for hours after fighting broke out. It turned out that he had been hit by terrorist fire. A weekend newspaper described him as the senior-most officer to die in the then ongoing operation.That was back in 1997, at the height of Operation Jayasikurui, conducted by the military to wrest control of the Wanni from the LTTE.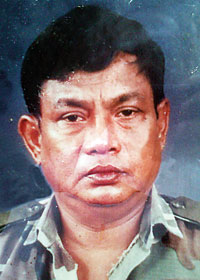 Lt. Colonel (posthumously promoted Colonel) Nizam Dane, affectionately known as Raja Dane, and his men from the 10th Vijayabahu Infantry Regiment were holding ground at the forward defence lines (FDLs) at Periyamadu, off Omanthai. In the darkness of night, wave after wave of LTTE cadres mounted a fierce attack on their artillery positions. The soldiers fought back, but realised the opposition was too formidable. When they received orders to retreat, after the FDLs were overrun at several points, they managed to remove the artillery batteries, but with great loss to life.
Raja Dane did not make it back alive. When the Army mounted a counter-attack and forced the Tigers back, they found the 10th VIR Commanding Officer propped up against a tree trunk, one hand holding his beret to his chest – his boots still on."With boots still on" were favourite words with Colonel Dane. He would say, "My only wish is to die with my boots on." The Almighty granted him his wish. Nizam Dane died in action on June 24, 1997. Even after 20 years I still struggle to find the right words to describe the man he was.
All I can say is that Raja was a dedicated Army officer, a loving husband (to Eileen), a dedicated father (to his only offspring, Romola), and a doting grandfather, even for a brief period.In my long association with him, I rarely saw him lose his temper, but he did get angry with me once. It was during a discussion, one of so many, on finding a solution to the ethnic or terrorist conflict. I made the mistake of asking why he, as a Malay was fighting in a conflict between two other races. I vividly remember his response.
"This is our country," he said, animatedly. "Whoever fights, it's the future generation that will suffer. We must fight, if necessary, for our children's sake. Mind you, it has to be a political solution at the end. The leadership to fight to a finish also should be political."
He was absolutely right. That happened.Today, after the armed forces have destroyed the LTTE, the question still remains: Where do we go from here? As we see, the war had been won but not the peace. If he had been alive, what a topic that would be for long discussions! He would quote chapter and verse from recent books to the classics, since he was a trained English teacher as well.
Raja Dane touched the lives of the top brass and the ordinary soldier."Apey Sir nitharama positive," his troops would say. That phrase had great significance. In the military, "Apey Sir" carries much weight. It meant that Raja was "one of us" – someone who belonged to the troops. Raja was also loved for his positive take on life.
Time was of the essence for him. "Do it now", he would insist. True to his Geminian character (not that he believed in astrology), he had many irons in the fire at the same time.
When I talked about astrology, he would dismiss it as bunkum, but he would prod me for more! How else to explain a good soldier who opted to be a voluntary officer without joining the regular force? He wanted to be on the move, he needed space. He gave up a teaching career and a comfortable office life with Mercantile Credit Ltd, to become a soldier. He was with the 5th Artillery in Jaffna, Mannar, Gampaha, Colombo and Batticaloa.
For a period, he served as secretary to the North-East Governor, General Nalin Seneviratne. Raja was with Military Intelligence before he was seconded to the Vijayaba Regiment, which he commanded until his death at Periyamadu, in Omanthai, during the Jayasikurui Operation. Raja Dane never talked about his military operations. To ask him about any of that was like trying to pluck a feather off a tortoise. But once in a while he would give me that "desperately-need-to-know" titbit.
A man who loved peace but was pushed towards war – that is as close as I can get to describing Raja Dane. He departed while fighting – a fitting end for a true soldier.
He would not have wanted to be assassinated by his foes. That much I know through my experience with my friend, partner, companion and brother-in-law, Colonel Raja Dane.
T.B. Singalaxana
---
DR. DANIEL MUTHUMALA
Toast to an illustrious life among the SL community in New Zealand
To use a local expression: a mighty Totara has fallen. This note is not to mourn the sad loss of this stalwart of the Sri Lankan community in New Zealand, Dr. Daniel Muthumala, but to celebrate his illustrious life. Muthu, as we fondly called him, came from a highly respected family in southern Sri Lanka, one of seven siblings. His parents wanting to give him a good education, enrolled him at Ananda College in Colombo from where he entered the University of Ceylon Peradeniya.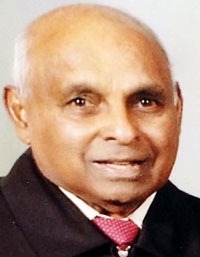 At Uni he completed a degree in economics. But that was only a part of the story. University life gave him something more, something that endured alongside his academic prowess. That was the opportunity to immerse himself in the cultural resurrection that was taking place in the country, moving with the pioneers of Sri Lankan arts, music and drama such as Dr. Ediriweera Sarachchandra, Dayananda Gunawardene, Gunasena Galapaththi, W.D.Amaradewa, and many others. He grabbed the opportunity with both hands and became a popular singer, drummer and dancer. His performance on the public stage commenced with a role in Sarachchandra's 'Bahina Kalawa' in 1951 and was followed by roles in several other well-known plays such as 'Ratnavali', Dena Deyyo' and Bak Maha Akuna' and the lead role in the popular film Bak Maha Deege, which is now available on You Tube.
He commenced his working life as a teacher at Dharmapala Vidyalaya, Pannipitiya and held many senior positions including General Manager of two large conglomerates Ceylon Leather Products Corporation and Ceylon Fisheries Corporation.
Muthu migrated to New Zealand with his young family in 1974 and worked as an economist in several agencies (NZ Fishing Industry Board, Ministry of Foreign Affairs and Trade, Ministry of Works, and the Ministry of Health). Internationally he worked as a member of New Zealand government missions: to Indonesia on fisheries, to Fiji to assess feasibility of a cattle industry, and Thailand to help in agricultural development. He served also as a Member of United Nations missions to Egypt, Pakistan and Tanzania on fisheries development.
Amidst all these, plus travel and bringing up the young family,the hard working father also worked towards a post graduate degree and obtained a Doctorate from California University. Geetha, his wife, was right behind him in all these endeavours.
In 1983 when the community was thrust into a terrorist uprising back home Muthu rose to the occasion as a founder member of the United Sri Lanka Association to defend the country against false propaganda and took on the daunting task of being its Secretary. He will be remembered for navigating the community ship through a turbulent sea, and for contributing his vision to make USLA the main vehicle for this expatriate community.
Muthu was instrumental in leading a special subcommittee, in processing hundreds of applications by deserving Sri Lankans for visas to live in New Zealand.
Throughout these years, he nurtured his first love, culture. He was deeply concerned that there was a young Sri Lankan generation growing up in New Zealand without any exposure to that '2500-year-old culture' we boast about. There were valiant efforts by some to help remedy the situation, such as Dayani Gonsalkorale and Marla Gunawardene but more was needed.
Muthu's contribution to address this deserves special mention.In 2002 the chance meeting with Yasodhara Sarachchandra, daughter of the doyen of traditional drama, Ediriweera Sarachchandra, herself an accomplished actor, singer and composer, who was studying at the time at Massey University, offered the opportunity to address the problem.The community received her and her husband, Kusumsiri, also a celebrated artiste, with great enthusiasm.
Unfortunately, although the solution to our problem virtually fell into our lap the existing organisational structure within the SL community was not capable of utilising the duo productively. It was then that a trio of doctors, Ramyasiri and Kalupahana, and of course Dr Muthumala, helped in the formation of the Sri Lanka Association of New Zealand (SLANZ). SLANZ under the advice and guidance of Muthu, produced 11 plays and one short film choreographed and directedby Yasodhara and Kusumsiri, using entirely local talent.
Muthu also had a strong desire to bring these workshops, classes and training to the community and the younger generation at the lowest possible cost. He knew the young families arriving in a new country trying to establish themselves should not be laden with extra burdens. He also had a vision of exposing our youth to other cultures, especially Maori, and having cultural exchanges. He developed a closer relationship with the Orongomaimarae in Upper Hutt and SLANZ has been actively involved with the Marae regularly in their Waitangi day celebrations upto this day.
Muthu was one the best Sinhala orators and writers in our community. His knowledge, command and use of the Sinhalese language were excellent. He maintained a sharp mind and intellect upto the very end. These are only a few instances of the great contribution made by Daniel Muthumala over four decades to the burgeoning immigrant community in New Zealand. A group of Sri Lankans who wanted to recognise this enormous input publicly wanted to propose his name for Queen's honours. But Daniel, flatly rejected the notion.
Many years later they resurrected the same idea. That time they were more prepared to respond to likely objections. They found that there were two people who had sway over Muthu and the group was prepared to seek their help as a last resort. They were his two granddaughters Charika and Tamara, apple of his eye. The reluctant warrior melted with a few words from the grand daughters. Daniel was awarded the Queen's Service Medal on birthday honours in 2015.
But that is only a symbol of recognition for over 40 years of unstinted service to the community. Hundreds and hundreds of those who appreciated the drama and other cultural activities Daniel was involved in, and hundreds who were given a hand to settle down in New Zealand with USLA recommendations which he meticulously helped implement, his advice, encouragement and promotion of Sri Lanka, and its culture and heritage in this far off land,and of course his exceptional contribution to New Zealand society, have all earned Muthu a unique, and highly respected place in history, which will be cherished for generations to come.
Muthu has given to this world much more than what he himself asked from it.He has set a great example for others to follow. As for SLANZ, Muthu has left a vacuum hard to fill. His guidance, wise counsel and leadership, and most of all, his short sharp interventions at meetings to bring us down to earth when we got entangled in long discussions, will be sorely missed. Grieving for him are Geetha, Dhammika, Deepika, Wasantha, Roshni, Gihan, Shamitha, Charika, Tamara and Ashvin and a whole lot of friends.
May he attain Nibbana.
Prasanna Premaratne