RTI Commission mandates project information
Information to include details on procurement and environmental assessments
View(s):
The Right to Information (RTI) Commission, on Friday (30), conducted a consultation with senior public officers and representatives of independent Commissions on the RTI Act, No. 12 of 2016, discussing in particular, the Commission's draft Proactive Disclosure Guidelines and Rules on the Annual RTI reports of Public Authorities.
The Guidelines and Rules are to be gazetted in the coming weeks. The Guidelines explain duties under the Act on Ministers, to disclose information in advance with regard to their Ministries, including on procurement and related processes.
Specific duties arise where "projects", the value of which exceeds US$ 100,000 (in case of foreign funded projects) and LKR 500,000 (in respect of locally funded projects) are concerned.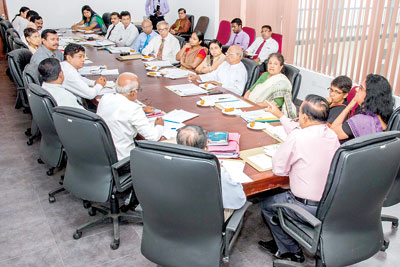 In these cases, Ministers are required to disclose information in advance of the commencement of the project, including if particular persons who are likely to be affected, have been notified/consulted.
Also required to be given are details/description of steps being taken to provide compensation/reparations to affected parties, if any, where applicable and details of the institution responsible for processing applications for compensation.
A further requirement is to state if necessary clearances have been obtained from regulatory authorities, including bid evaluations, feasibility studies, technical evaluations and financial evaluations, environmental impact assessments and details in that regard.
Meanwhile, the Commission issued an announcement on its website (http://www.rticommission.lk) reminding requesters they must state the fact of citizenship in information requests filed under the RTI Act No. 12 of 2016.
Section 3 (1) of the RTI Act states that, every 'citizen' shall have a 'right of access to information which is in the possession, custody or control of a public authority.' Section 43 defines a 'citizen' as including, "a body whether incorporated or unincorporated, if not less than three-fourths of the members of such body are citizens."
The Commission has also informed that an Appeal to the office of the RTI Commission can be filed through registered post or in person, even by a duly authorised representative.
It has clarified that it is bound by Rule 13 (2) of the Rules (Fees and Appeals Procedure), gazetted on 03.02.2017 in Gazette No. 2004/66, which does not permit appeals by email.