The way it was and the way we are told it was
By Kaveesha Fernando
An evolving dramatic project 'Dear Children, Sincerely' returns with 'Dear Children, Sincerely ... Seven Decades of Sri Lanka'
View(s):
Before you read any further, close your eyes and try to picture the day that Sri Lanka gained independence.
Did you imagine a whole nation celebrating – with people sharing kiribath and wade, proudly hanging flags in their houses and waving them as they walked the streets dressed in their national costume?
What if you were told that none of this ever happened?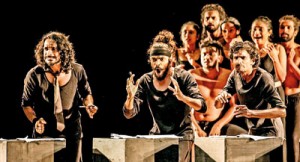 How much of Sri Lanka's recent history would you think you actually know then?
Screenwriter Ruwanthie de Chickera spoke to people born in the 1930s (who would now be over 80 years old) and made a narrative out of their experiences to find answers to these questions.
This, she felt, would be a great learning experience for them as well as their audiences.
After interviewing around 60 people of that vinatge from all races, religions, social classes and areas of Sri Lanka, their testimonies were compiled into a play which spans seven decades and highlights important events in Sri Lankan history.
The play, titled 'Dear Children, Sincerely…', has been performed by the Stages Theatre Group several times with different stories being highlighted in the various performances.
The first performance – collaboration between the Stages Theatre Group and Rwandan artistes, was staged in 2015 in Rwanda, and later in India and Sri Lanka.
Next week's performance will be titled 'Dear Children, Sincerely… – Seven Decades of Sri Lanka'. Cast member Jayampathi Guruge feels that this project is constantly evolving as they add new events and create new scenes out of the material they have compiled.
He also stressed that it is more important than what can be learnt from history books."Api danna rajawarunge history ekata wadiya meka wadagath wenne mokada meke aththama danaganna puluwan (This is more important than learning about the time of the Kings because we can learn what actually happened from this)" he says, adding that because they got real interviews, they have genuine names and places and accurate information.
What we learn as history in school and what actually happened are two completely different things, he feels. "Apita mawala thiyana loke wena ekak, habai aththatama wela thiyenne thawa ekak. (The world which has been created for us and what actually happened are two totally different things)."
Take for example the fact that the war ceased for two days during the World Cup so that everyone could watch the 1996 final, recalls Ranmali Mirchandani.
"Everybody wanted to watch the match – the LTTE wanted to watch the match and the army also wanted to watch the match so they stopped the war for two days," she explains. Ranmali takes the role of an old woman recalling her memories of the 1960s in the play.
Jayampathi is incredulous that the cricket 'ceasefire' happened. "Eka pissuwak ne – yuddayak nawaththala match ekak balanawa, (That's crazy right? They stopped a war to watch a match)" he says, adding that he feels Sri Lankans were desensitised by the constant coverage of the war.
Nipuni Sharada Pathirage, another cast member, feels that their effort towards depicting events accurately has paid off. "We have almost started thinking like the people of these different time periods and when we act, we go through what they went through," she states, adding that she can connect with the slow pace of the lifestyle of post-independence Sri Lankans who weren't too worldly in comparison to the '90s citizens.
Stage manager and cast member Akalanka Prabashwaran feels that having a supportive ensemble cast has helped him manage both roles. He also feels that Sri Lankan events are much easier to portray than Rwandan events.
"If all else fails, we can at least look at newspapers and look at their faces and read the text and imagine what they felt like," he explains, adding that with the Rwandan storyline this was much harder to do.
"There is no set director and stage manager who barks orders at us – we all help out and this is very much a production which we all do," pipes in Nipuni.
Another important aspect they have taken from the project is the fact that among themselves they attempt to look beyond caste and creed. "Ruwanthi akki doesn't like us to say Sinhala person or Tamil person.
She always tells us to look at people as Sri Lankans who happen to speak Sinhala or Tamil," she says, adding that they have all been making the effort to learn all three languages of Sri Lanka (Sinhala, Tamil and English) from their fellow cast members– an important step to prevent racism, cast member Duminda Sandaruwan says.
For Duminda, this has been a journey of untold stories and new ideas and a completely new facet of history which he never knew existed.
What is really striking is the disparity in the narration of what actually happened and what is related to people, particularly in relation to what happened on Independence Day then and what we do now and think they did then, he says, laying particular emphasis on the fact that they feel citizens of the time barely even knew they had Independence.
"Api nowechcha dewal arang yanawa wechcha dewal amathaka karala (We learn untold things while we forget what actually happened)" he says.
'Dear Children, Sincerely… – Seven Decades of Sri Lanka' will be staged on July 5 and 6 at 7 p.m. at the Lionel Wendt. Tickets are available at the Lionel Wendt. For more information please call 011 2 695794.