Tea and dessert: Flavourful pairing at Park Street Mews
View(s):

At the Park Street Mews kitchen, pastry chef P.D. Chaminda shows us how to plate this month's special – Bailey's pannacotta with strawberry granita and passion fruit sauce.

First, he slices the pannacotta in half along with a few strawberries and places them neatly on a plate. Next he spoons the strawberry granita into a bowl and places it carefully between the two halves of the pannacotta.

Then he spoons some chocolate crumble (which resembles cookie crumbs) and passion fruit and mint sauce in horizontal lines on either side of the pannacotta and finally adds two white chocolate triangles.

The result is a delectable dish like what you would see being made at a top Michelin star restaurant.

The mix of textures, colours and flavours make this dessert (and the many others Chaminda expertly makes) so interesting in fact that Park Street Mews will be pairing a selection of their desserts with flavoured teas throughout the day.

Although pairing dessert and tea is a unique idea for Sri Lankans, the concept is popular in other parts of the world. An overseas assignment on food and tea pairing which was organised to present Sri Lankan tea gave Chaminda the idea of pairing desserts with tea.

With the help of executive chef Rohan Perera, they devised a menu which they handed over to Dushyantha De Silva who made teas which matched the desserts.

With unconventional flavours of tea such as passion fruit and pineapple, almond truffle and chilli chocolate, Dushyantha aims to revolutionize Sri Lankan tea.

"I want to blur the lines between tea and dessert," he explains, adding that although Sri Lanka is new to the idea of unconventional flavours of tea, the concept is well accepted in other countries – he got the idea from observing the teas served in France. Tea should transport people to a different time and place.

"We're in the business of emotions," he says.

Priding himself on using single estate teas- the tea in any specific product would come from a single estate rather than blending teas from different estates, the tea he carefully selects at auctions have flavours added to them in a facility in Colombo.

He works on the flavours for weeks until he gets it just right. "When I say chilli chocolate you should be able to actually taste the chilli and the chocolate, and you can with our teas," he explains.

He specifies at what temperature and for how long each tea must be brewed before it can be enjoyed – a process which he has trained the staff at Park Street Mews to perform.

People need to know about the value of tea, he says. "If you want to sell Jamaican coffee people will readily spend and buy but when you say tea, people wonder why you should spend so much and buy it, but this is a different experience and I think people should try it and see," he says adding that he hopes pairing the teas with desserts will encourage people to try out new flavours of tea.

The desserts at Park Street Mews are elegantly plated so that they are a feast for the eyes as well as the taste buds. Chaminda feels that the most important aspect of a good dessert is a combination of different textures and flavours which merge to form something extraordinary, while Rohan adds that using good ingredients is vital for success.

"We use natural ingredients which complement the teas so that the desserts turn out well," he explains. Dessert prices range from Rs. 500 upwards and teas from Rs. 350.

The dessert and tea menu at Park Street Mews can be experienced throughout the day at the Park Street Mews restaurant at 50/1, Park St, Colombo 02. For further information, please contact 2303133.

(KF)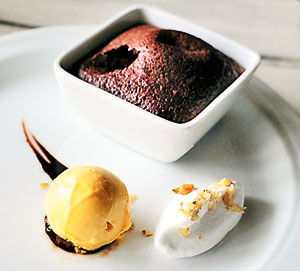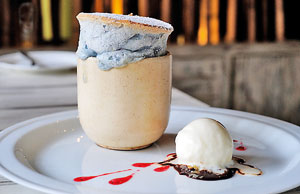 A different taste of Tea
Twenty- five year-old, Dushyantha's tea brand Teaeli is so well received that he even presented Prince Charles his tea when he came here for the Commonwealth Heads of Government Meeting in 2013.

Dushyantha has even started making tea flowers and stars – dried tea leaves which have been collected in shapes which can simply be dropped into hot water to make tea.

Committed to giving people a great experience through his teas, Dushyantha feels that the recent trend of high teas in Colombo is less about the tea and more about the food, but hopes that the teas themselves will also become popular in the near future.

His teas are available for purchase at the Bayleaf tea room and can be ordered online through his website www.teaeli.com.