Revisiting 'Welikathara'
By Susitha R. Fernando
View(s):
Digitally upgraded D. B. Nihalsinghe's epic cinema direction 'Welikathara' is now being screened in several cinemas in Colombo and the outstation.
Considered as DB's best cinematic creation, 'Welikathara' also was one of the popular films with a box-office record in the 1970s. It is also marked as the first film shot in Cinemascope in Sri Lanka.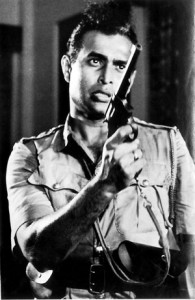 Released on October 27, 1971, the film faced a number of obstacles starting from the lack of access to cinemas capable of showing cinemascope format.
Loosely based on a true story, script and screenplay was written by late Dr. Tissa Abeysekera, one of Sri Lanka's best film script writers.
An intense, cat-and-mouse drama between newly appointed Assistant Superintendent of Police (ASP) Randeniya (Gamini Fonseka) and a local thug-Goring Mudalali (Joe Abeywickrema).
Randeniya's life gradually falls apart as he wages war against Goring Mudalali's crime syndicate, erupting in a shocking climax.
Starring Gamini Fonseka, Joe Abyewickrema, Suwineetha Abeysekera, Devika Karunaratne, Piyasena Ahangama, G. W. Surendra, Chandra Kaluarachchi, Elson Divithurugama, Buddhi Wickrema and Mark Anthony Fernando in the stellar cast, music direction of 'Welikathara' is by Somadasa Elvitigala and playback singing by W. D. Ameradeva.
The film became 'first' in many areas and introduced new roles to a number of artistes involved in it.
It was the first screenplay written by Tissa Abeysekara. Joe Abeywickrama, who had been playing comedy role became one of the best character actors in Sri Lankan cinema.
Cinematography, editing, co-production and direction of this film are by D. B. himself, the film is organised by Four-in-one team and it is presented by the Video Team.
The film was a box office success as well as being critically appreciated, going on to be presented by a Sri Lankan Presidential Award as one of the Ten Best Sri Lankan films of all time.
'Welikathara' will be screened at Regal Colombo, Lido Borella and 22 other CEL circuit cinemas around the country.