Jumbo 2017 – Eco Safari Sri Lanka
View(s):

Guiding Light
An exciting International Girl Guides Camp to celebrate 100 years of excellence in leadership of Girls and Young Women in Sri Lanka will be held in Polonnaruwa, on August 23 — 30, 2017.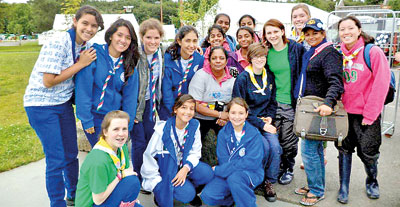 There will be nine sub camps where the local Girl Guides will get to know many International Girl Guides.
The Girl Guides will take part in the following fun programmes in
'Jumbo 2017′.
4Nature watch at the national parks.
4Engaging in adventure sports at the Wild Life and Nature Conservation Centre
by the side of the
Giritale Tank.
4Climbing the Sigiriya Rock and visiting heritage monuments.
4Eco hike and engaging in rice paddy cultivation.
4′Trumpet Time' where the Guides will perform together with the dancers and drummers of
Sri Lanka.
4 'The Gathering' – Global Exchange from the Sri Lankan village to the world , where the Guides will mix, mingle, eat and dance away in to the night.
4Community development experience in the ancient villages.
Jumbo 2017 will take the shape of a traditional Sri Lankan Village, with common areas to meet friends and chat, shops where the Guides can purchase novelties, food and drink and relaxation areas, activity areas and tracks.