View(s):

If I were a king…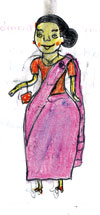 If I were a king, my main responsibility is to look after my people and our culture and the livelihood of my country.
I would provide facilities like health, education, transport, security, water supply and other infrastructure facilities. I am also responsible for performing tasks such as maintaining law and order in the country, enhancing economic well being, protecting the country from internal and external enemy attacks, developing the economy and imposing taxes, protecting national property such as buildings, statues, tanks, bunds and ponds such as Parakrama Samudraya and national heritages such as the wood carvings of Embekke Devalaya and the rock fortress of Sigiriya, the Sri Maha Bodhi of Anuradhapura.
I will make sure that the people live in peace, harmony and unity. I will make all the people united as one people.
As a tax collector it would be my duty to collect taxes to look after their safety and protection and I would spend the monies for the peoples welfare by way of building bridges, schools, hospitals and other charity institutions like elders homes and for the poor people.
Vinuth Siriwardana (12 years)
Vidura College
---
The air we breathe
The air we breathe is a mixture of gases. The most important gas is Oxygen. If we were not able to breathe we would die. Thus air is vital to us.
Air is vital to animals and plants that live on earth. We are all surrounded by air. Thus it is important that the air remains clean and pure.
Factories are constantly emitting poisonous gases and fumes into the air. But man is threatening his own survival. The air we breathe is now filled with harmful pollutants. If this is allowed to increase, we will not have clean air to breathe.
Stop polluting the air we all need to live. If we keep polluting the air
we will all perish.
Amashi Vittahachchi (13 years)
Lyceum Int. School, Nugegoda
My class teacher
My class teacher
is Miss. Misiriya Nizar. She is fair and tall.
She wears beautiful
sarees. She is very kind.
I love her very much.
Saeedh Khan (Grade 2)
Royal College
---
The elephant
The elephant is a strong animal. The elephant is the biggest land animal. It can run fast. There are two kinds of elephants. One is wild and the other is domestic. The wild elephant lives in the forest and can kill people sometimes. But the domestic elephant helps people to carry goods and it lives with people. The elephant has a long trunk. I love elephants.
Brian Denish (10 years)
Najaa Int. School, Mt. Lavinia
---

Myself
I am a girl.
My name is Lithuli Sehansa Ratnatunga. I am seven years old. I live in Rajagiriya. I have one sister. My school is Visakha Vidyalaya. I am in Grade 2B.
My favourite colour is gold. I love to play with my sister. My father's name is Akhila. My mother's name is Chandima.
I love my parents and sister. I want to be a doctor.
Lithuli Ratnathunga (7 years)
Visakha Vidyalaya
---
My dream
My dream is to pass out as a doctor and help people. My family helps to realize this dream. I will work hard and achieve my target. I am learning well to become a doctor. I will help everybody who comes to meet me. I will provide my service to them freely. I want to serve my country. My parents and teachers help me to fulfil my dream too.
Kisan Ranasinghe (8 years)
Prince of Wales College,
Moratuwa
---
Football
Football is an outdoor game which is played between two teams. Each team consists of eleven players. This game is popular and is played all around the world. It is a duration game. There is one goalkeeper at one end of the ground and another goalkeeper at the other end. The objective of this game is to score the maximum number of goals in the given time.
The ball is passed to the teammates to score a goal. Apart from the goalkeeper, if any other player catches the ball with their hands, they will be disqualified. You need to be fast and it requires physical strength. The team which scores the highest number of goals is declared the winner.
Aaminah Altaf (11 years)
Royal Institute Int. School
---
My teacher
My teacher's name is Madushika Senavirathna.
She is thin and short.
She is fair. She wears beautiful saris.
She is kind to me.
Sansala Welagedara (Grade 6)
Mahasen K.V., Dambulla
---
My mother
My mother's name is Aisha. She is
41 years old. Her village is Badulla.
My mother is a gift from god. She helps me to do all the work that I find hard doing. She is an English teacher but not only English, she teaches me everything I need to know.
She works the whole day and gets rest in the night only when she is sleeping. But still she does not sleep properly. She thinks what she should do for the children the next day and what she should make for breakfast and what she should teach me the next day. She keeps all these problems in her mind and never sleeps with a free mind.
I'm proud to have a precious mother like her.
Farhana Farzan (12 years)
Fahriya Muslim School, Panadura
---
Ghosts
Ghosts are known to be 'living dead', where dead people are seen to be living. They say ghosts scare you but they do not intend to harm you in a physical manner. Some say ghosts do not exist and they are all imagery and brain tricks. But still some people say that they do exist.
I am terrified of ghosts. Once, I saw a small scene from the movie 'Insidious.' I saw a shadow of a young boy waving from behind a screen and suddenly it was gone. My mother said it wasn't a big thing to be scared of. But it was bad for me.
I wasn't able to sleep that night. Another day, I watched a programme in 'Syfy' channel, which was about ghost hunting. Even that night I couldn't sleep, and what's more, I couldn't sleep for about a whole week. It made me so nervous that I began to imagine ghosts looking at me second by second and I began to pray. I called my father many times too.
Now I do believe in ghosts and I'm terrified of them too.
Lihini Wijesekara (Grade 7)
Lyceum Int. School, Wattala
---
An international  figure I like
J. K. Rowling is the international figure who inspires me the most. She is the author of the popular 'Harry Potter' series. Full of magic and bravery, this adventurous story leads us to the magical world.
J. K. got the idea about writing the
Harry Potter books during a train journey from Manchester to London. She became famous all over the world at the moment
she published her first book, 'Harry Potter and the Philosopher's Stone' There are seven books in this series. All parts of the book have been translated to above 45 languages.
J. K. Rowling has received many awards for her best work. Millions of her books have been sold throughout the world up to now.
J. K. Rowling is known as the first millionaire who gained all the money by writing books.
I like J. K. Rowling very much because of the unique and noble treasure, she has given to the world. She is my international inspiration for ever.
Hafsa Careem (13 years)
Muslim B. M. V., Kalutara
---
The disaster
The disaster that took place in our motherland made all of us shocked and sad. The sudden change of weather in the city of Gems and down south, made roads impassable, people buried alive, people going missing. All this took place within a matter of seconds. I keep thinking of people with pride of place mixing with poor people in the same refugee camps regardless of caste or creed.
I keep thinking of people who are suddenly without family and relations. I form ideas about the tears that have come to their eyes. Let us share with them to support and make our contribution for their wellbeing.
Ishak Seedin (Grade 9)
St. Sylvester's College, Kandy
---
Dambulla
Dambulla is famous for the Dambulla Golden Temple. It is a nice temple. Banks, schools, temples, post offices, hospitals are in Dambulla. Dambulla is a very big city.
Some people call Dambulla the
non-sleeping town.
Thakshila Danesha (Grade 6)
Mahasen K.V., Dambulla
---
My pet
My pet is a fish. My fish can swim. My fish is very beautiful. My fish is gold in colour. Its name is Goldy. It lives in a small glass tank. It has fins. It loves to eat seaweed. It has many scales.
I love my pet.
Thinushi Jayasooriya (7 years)
Sacred Heart Convent, Galle