Rs 580 million 'transport hub' for Kandy
By L.B. Senaratne
View(s):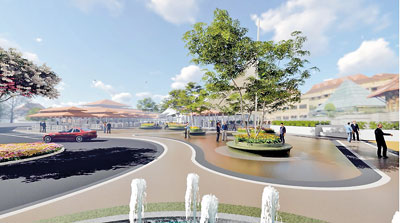 With the establishment of the Strategic Cities Development Plan coming under Minister Champika Ranawaka, plans have now been drawn to commence a 'Transport Hub', embracing both the 'Goods Shed Bus Stand' and the Railway Terminal in Kandy, at an estimated cost of Rs 580 million (US$ 40 million).
Minister Ranawaka told the media that the terminal will be like an Airport Terminal, where everything a passenger needs would be met, be it road or railway transport.
Work is scheduled to commence in January 2018.
The Minister made a formal request to the media against highlighting opposition to the inevitable, temporary displacement of business establishments and houses, that would take place. This, he asked for the future good of this ancient capital and Heritage City.
The Minister categorically stated the road running parallel to the Sri Dalada Maligawa would not be opened, as this small stretch would not make much of a difference to ease traffic congestion, which should be an overall policy, not a patch-up job.
Kandy lies in a valley, and its biggest problem is transport and its congestion. While places such as Kurunegala has developed its bus terminal over the years, Kandy's City representatives have only been 'talking' of Transport problems and ad hoc solutions.
Previously, the late General Anuruddha Ratwatte tried implementing a Transport system without a formal plan, and the first thing he did was to pull down the Boy Scouts Headquarters, as the launch of a Transport plan. Today, that space is used as a temporary bus shelter. The Scouts were given land at Pallekelle.
The plan was to connect the 'Goods Shed' bus terminal to the Railway Terminal, by an overhead bridge. He built shops for traders and also planned to have a terminal with an overhead car park connecting Peradeniya Road. All the plans remained as such, 'stuck in the traffic'.
Kandy is to be developed under the Strategic Cities Development Plan.