Sweetmeats much in demand now; but sweet makers say future bleak
View(s):

Traditional New Year sweetmeat makers in Kevumgama, Kiribathgoda were busy with their orders last week as usual, but they are doubtful that the younger generation would continue with the traditional food industry.With the busy schedules of people living mostly in the city, and who still follow traditional practices associated with the National New Year, the sweetmeat industry is flourishing.
But the traditional sweetmeat makers worry that the industry may soon face a sour demise as many don't know traditional recipes.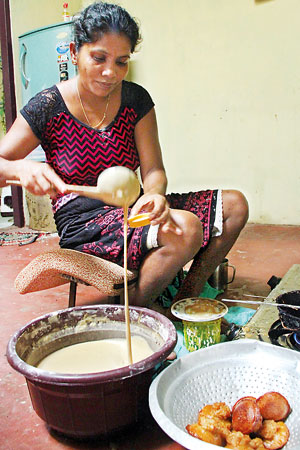 K.D. Nilanthi Jayalath (39) has been selling traditional sweets for more than 10 years and is an expert in making konde kevum. "I can easily make 100 konde kevum in less than three hours, " she says.
She said the demand for traditional sweets is naturally high during the April season, however regular orders come their way throughout the year."Even during the nonagathaya period (the inauspicious time) I have to make sweets sometimes," she said adding that she was the only one in her family who made the sweetmeats. She said none of her young children was interested in learning the art from her.
However K. Ramani from the same village said her children help her. Both her son and daughter help to fry the kokis and mung kevum. Ramani said she learnt the art by helping her mother from the time she was a child and has been doing it for more than 35 years. "Those days a kevuma was sold for just four rupees," she recalled. "Those days we used a fire-wood hearth. But my children objected and now we use gas which of course is more costly as we use about five to six gas cylinders during the season. This season she made around 3,000 to 4,000 konda kevum, around 1,500 kokis and nearly 2,000 mung kevum.
She also complained that the prices of coconut oil and rice flour and other ingredients had increased significantly compared to last year.
R.A. Kusumawathi (56) said the demand for her sweets is usually high and it is very difficult to meet the demand. However she said the income is low compared to the labour put into making the sweets.
She said however her daughter never learnt to make the sweets and they buy them."My grand children don't like traditional sweetmeats.They prefer western sweets such as cakes, biscuits, marshmallows."
Commenting on changes in traditional culture, Dr. Praneeth Abhayasundara of the Faculty of Sociology and Anthropology, Sri Jayawardanapura University, said New Year traditions that started when the country was predominantly an agricultural society had now changed due to industrialisation.
Although food culture is bound to change in the global world we live in, Dr. Abhayasundara said what was important was to uphold traditional values that are seen in many of the cultural practices such as respect for elders and traditional games that emphasise the community spirit.