Kataragama crocs haunt sacred river
By Kasun Warakapitiya
View(s):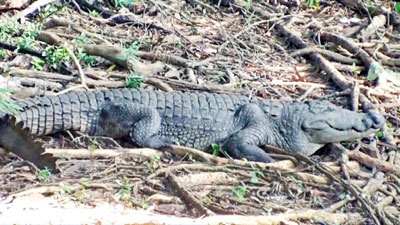 Fears of attacks by crocodiles in the Menik Ganga are keeping away devotees and locals, and wildlife officials say capturing and relocation is a challenge.
Wildlife officials and authorities of the Kataragama Devalaya have received complaints that about 20 crocodiles have been spotted in the river.
The officials of the Department of the Wildlife Conversation said only aggressive crocodiles are relocated during the festival season in August.
An official said there are no plans at the moment to trap and relocate the reptiles and that only some staff in the eveterinary division have the skills to capture crocodiles.
"We have only two or three [metal] cages. After we set the bait, we have to wait for days," the official said.
But he also said these predators are needed in the river to help maintain the balance in the ecosystem. Besides, removing a dominant crocodile could backfire. The next largest crocodile could kill humans and other crocodiles, while driving most crocodiles into water channels near human populations.
A spokesman for the Kataragama Devale said that at religious festival times crocodiles have been removed with the assistance of wildlife officials.
About 15 crocodiles were removed last August during the Esala perahera.
"Twenty crocodiles have been seen," he said.
He also said craters on the riverbed had been filled to eliminate hiding places.
The administrative officer of a home for the elderly in Kataragama, Indunil Galappaththi, said residents living near the temple fear to step into the river.
He claimed there have been attacks on humans in previous years. Some have lost limbs.
Resident, U. K. Bandara, said he had asked the regional wildlife office to remove the crocodiles or erect fenced bathing areas. "The crocodiles stay near all the bathing areas including the bank where the water- cutting festival is held." Some crocodiles have been seen crawling into the villages, and ponds and tanks, he added.