Incentives for dugong hunters to abandon illegal killings 
By Malaka Rodrigo
View(s):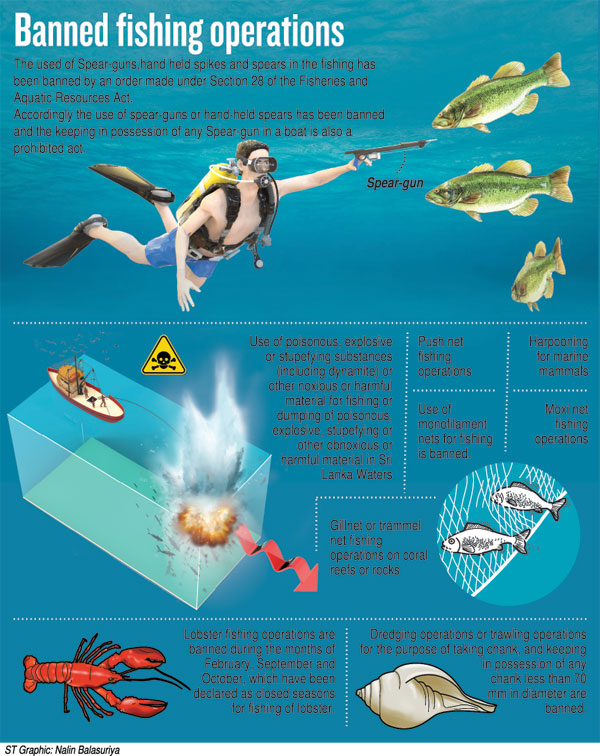 Two people who were arrested while transporting 80 kilos of dugong flesh in a three-wheeler have been released on bail by a court.
There were detained on Sunday, April 9, by the navy at Thavulpadu in Mannar and handed over to to regional officers of Department of Wildlife Conservation. They were then produced in court and released on surety bail of Rs.100,000 each.
The DWC unit in Mannar is investigating, according to Channa Suraweera who is overseeing its marine unit.
Dugongs recorded in the Gulf of Mannar and Palk Bay in Sri Lanka continue to be hunted for meat and are now believed to be 'critically endangered' locally. Killing a dugong or the possession of its meat was banned in 1970s.
Dugongs are often killed when entangled in fishing nets as well as through dynamite fishing.
Despite the laws, the killing continues.
Marine activists say innovative methods are needed to discourage fishermen from killing dugongs.
A trial is underway in Kalpitiya, Puttalam and other areas where dugongs are found.
The project aims to give financial aid to the fishermen to replace illegal fishing gear.
"We have replaced about 30 illegal nets in Sottupitiya area in Kalpitiya. An agreement was also signed with fishermen not to resort to illegal methods," said Thushan Kapurusinghe of the Sri Lanka Turtle Conservation Project, which is implementing the initiative.
The project is also helping fishermen to set up crab cages and sea bass cages in the shallow waters, Mr Kapurusinghe said.
There is high demand for sea bass, also known as moda. The baby fish are being fattened in metal cages set up in shallow seas. Lagoon crabs, too, are being raised this way.
"Raising sea bass is profitable. So this is an added income for us," said Mr Priyantha, a local fishermen who plans to set up a sea bass cage in Kalpitiya.
The project is part of an international effort across the dugong range. It is an incentive-based approach to dugong and seagrass conservation. It is funded and managed by the Global Environment Facility and UN Environment.
The project, which ends in April, is also supporting alternative livelihoods for fishing communities including batik, sewing, dried fish packaging, coir mat production, and ornamental fish breeding.
During a recent media visit, we got a chance to meet a fishing community in Serakkuliya in Kalpitiya.
K B Nilmini, who has taken up sewing, together with a group of housewives said she can earn a decent living. "Our men used nylon nets to catch more fish. It is not legal, but that was a way to earn enough money. But, now, as I can support the family with the income from sewing clothes, we can abandon illegal fishing," Ms Nilmini said.
But the numbers engaged in illegal fishing is large and they need to be persuaded to give up the practice.
Red light for spearfishing
Following continuing action by activists and reports in the Sunday Times, the government has banned spearfishing.
The gazette notice last month says: "No person shall engage in any fishing operation using spear guns or hand held spears within Sri Lanka." The regulation also specifies that no person shall use or possess, or have on board any local fishing boat, any spear gun.
Spearfishing is a method of killing fish by a shooting a 'pointed spike' using a 'spear gun'. Earlier, spearfishing was done by skin divers, but now scuba kits allow divers to remain under water longer to target larger, valuable fish species such as grouper and hump-head wrasse, which are also highly threatened.
Marine activists welcomed the ban.
But there are those who claim spearfishing is a sustainable method, as it only removes the targeted fish and there is no by-catch.
"But if we specify a list of fish not allowed to be speared, will those spearfhishing in our waters adhere to such guidelines? How can we monitor?" asks marine activists. They say a total ban is the solution.
The Director General of the Department of Fisheries & Aquatic Resources, M C L Fernando said the support of the navy and the Coast Guard are needed to enforce the ban.
The Fisheries and Aquatic Resources Act bans several methods of fishing.
Mr Fernando said the department and the ministry were planning to regulate few other fishing methods, including bottom-trawling.
TNA lawmaker M.A. Sumanthiran submitted a bill in Parliament proposing to ban bottom trawling. But some technical issues have surfaced and the bill will be re-drafted and resubmitted by the Fisheries Minister Mahinda Amaraweera, the Director General of the Fisheries Department, Mr Fernando, said.