Fathoming the Bangladesh cricket crusade
View(s):

Analyse closely, and see whether there were any differences in the quality of cricket played by Bangladesh and Sri Lanka in the just concluded series. My yardsticks are the Tests and the ODIs only because, these two forms of the game give a wide spectrum to ascertain the real strengths and weaknesses of the teams.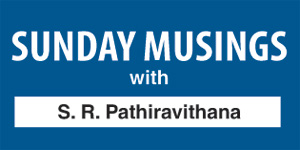 To my mind, the two teams are heading in different directions. As for the Lankans, the trajectory of our cricket is slightly tilted towards the South Pole, may be for different reasons — and the recent results prove them. On the other hand, Bangladesh, at this moment, is right on the same spot and the two sides are on the verge of crossing each other.
Just analyse. In the Test matches, when the Lankans won, it was done in real style. In hindsight, the Bangladeshis reciprocated in like manner. From the very first hour, everyone knew who the ultimate victors would be in the second Test in Colombo. Then the ODIs were a carbon copy of the Test matches — result-wise. At the same time, we do not consider any "What might have beens". Yes, in the second ODI, the Lankans scored over 300 runs. What if the opposition overhauled that stiff proposition? Well, the match was played at Dambulla and Bangladesh had already won one match there.
We said we will not take the T-20s as a yardstick, but, the Bangladeshis who lost eight consecutive T-20 International matches beat the Lankan more than convincingly. Now that gives us an indicator of what the following exchange of ideas is about.
I was in conversation with the Bangladesh 'Strength and Conditioning' Coach, Mario Villavarayan, during the tour. The former Lankan fast bowler has been in the Bangladesh coaching camp for the past three years. He is one of main coach Chandika Hathurusinghe's recruits. At the same time, he is not a stranger to the Lankan team or its culture. Yes, he was in that setup for a long period too.
Mario was in the Lankan setup when the Lankan team was reaping the benefits of that Cricket World Cup win in 1996. For the Lankans, they had that launch pad and, as a result, doors opened for their cricket.
In Bangladesh, they are just beginning to do the same. In recent times, the Bangladeshis have experienced a spate of wins but, mostly at home. Yet, Mario and his team are seeing positive signs. Mario explained, "Suddenly, from playing no cricket, we are playing a hell-of-a-lot of cricket. Certainly, we are beginning to see the end of the tunnel. Even during our tour to New Zealand, which was the first bilateral overseas engagement for Bangladesh in two years, we did well. Yes, if you look at the results, they do not show the real picture.
"We lost the Test series and the ODI series too, but, if you analyse the games closely, compared with the previous years. Just imagine, we took the lead in the first Test. We were competitive in the Test matches. We were competitive in the ODIs as well. It is just that we have to keep converting those into winning ones. This tour came our way after two years but, to perform well outside, you must keep playing under those conditions more frequently. This was not happening to Bangladesh in the past. But now, with improved performances, we see it happening. Right now we are here. Then we have a tour of South Africa very soon, followed by a series in England. Now they are playing outside, and they will learn from those experiences".
Then, I posed a question quite close to my heart. We experienced that in Sri Lanka, when we lost Muttiah Muralitharan, Chaminda Vaas, Mahela Jayawardena, Kumar Sangakkara and T.M. Dilshan along with Thilan Samaraweera (present Bangladesh batting coach) within a couple of years. We have still to recover from that. I asked Mario if the Hathurusinghe team is ready for such an eventuality because, right now, they have a bunch of guys who have played for about eight to ten years together, and are the pivots of Bangladesh cricket right now.
The Bangladesh 'Strength and Conditioning' Coach explained. "This is exactly what Hathurusinghe also has been thinking about. He has already started the grooming process. There are youngsters who played in the last Under-19 World Cup. For instance, Mehedi Hassan played in that tournament. He was brought into the system. There have also been some more. Then, there is a set of guys who are a little older than that. He is quite aware that the big guns are not going to boom forever. Then, with the increased workload, inevitably, there is going to be injuries. So Hathurusinghe knows that he has to be ready for such eventualities. We need replacements.
"Yes, we have a good core-group. We have the Shakibs, Thamims, Mahmadullas, the Rahims and Riyads in store. Then, at the same time, Mustafizur, Mehedi, Shabir Rahman, Soumya Sarkar are developing, so Hathurusinghe has managed to get a setup working for them, which has a good balance of youth and experience." Ironically the start was given in Colombo their limited overs captain Mashrafe Mortaza retired from T20 internationals on his own terms, and now Bangladesh have to find a way forward in the format they are weakest in.
The Bangladeshi authorities prefer to keep their domestic system tight and accountable. According to Villavarayan, in the longer version of the game, they have two 4-day tournaments. One has four teams and the other eight. Then they have the Bangladesh Premier League 50-over tournament and the T-20 tournament, which is known as the BPL. "The BPL is now well established," said Villavarayan.
He explained that unlike the Sri Lanka structure which is fed by the very successful school cricket system, the intake into the Bangladesh systems works in a different manner. "It has a lot to do with numbers. With 150 million people, sometimes it is difficult to get filtered through. In Sri Lanka, we have the advantage of school cricket. In Bangladesh, it has to be through club cricket or divisional cricket, from where you get into four-day cricket. However, here the numbers are small. If it is four teams and there are 20 in a pool, it gives you 80 players in a competition. Then imagine, how difficult it would be to infiltrate — the conversion rate of 150 million to 80 players is pretty narrow. This means, you have to be good to be selected. The domestic season runs from October to April-May – similar to Sri Lanka's."
Then I asked the magic question. Yes, your cricket is on an upward trend. What have you been up to? "Initially, we had to change their attitudes towards the game, towards training, towards fitness, and towards what they were doing at home, when they are not with us. That was our biggest challenge. However, significantly, we managed to achieve most of these aspects within a short period of time. At the same time, I must say, Hathurusinghe managed to bring in changes that others failed to achieve. It may be technical and tactical. It was all about a change in their mindset. Having been working in a similar sort of setup back home, helped us a lot. Our cultures are almost the same. The thinking is very similar."
The final question obviously was how he saw the change that Hathurusinghe effected in Bangladeshi cricket. Mario explained, "He brought professionalism into this setup. I think, that was one of the biggest aspects of it. He brought professionalism in their thinking, training and how they do things. He is a professional and a perfectionist, so he brought that mentality into the Bangladesh setup. He was not happy being mediocre. He was not happy being the underdog. He always posed the question, "Are you happy with what you are?" He was not happy being at slot ten. He wanted to be No. 5. He set goals when he started his journey, and now he is on the job of achieving them".
MRF Tyres ICC ODI Team Rankings (as on 5 April, after Sri Lanka-Bangladesh series and before West Indies-Pakistan series)
Rank Team Points
1. South Africa 119
2. Australia 118
3. New Zealand 113
4. India 112
5. England 108
6. Sri Lanka 98 (-)
7. Bangladesh 92 (+1)
8. Pakistan 89
9. West Indies 84
10. Afghanistan 52
11. Zimbabwe 48
12. Ireland 42
(Developed by David Kendix- ICC)