Best Driver Ashan Silva, Best Rider Pramuka Sesath dominate
Text and pix by Shanuka Aravinda
'Lions Top Speed' Motor Racing
View(s):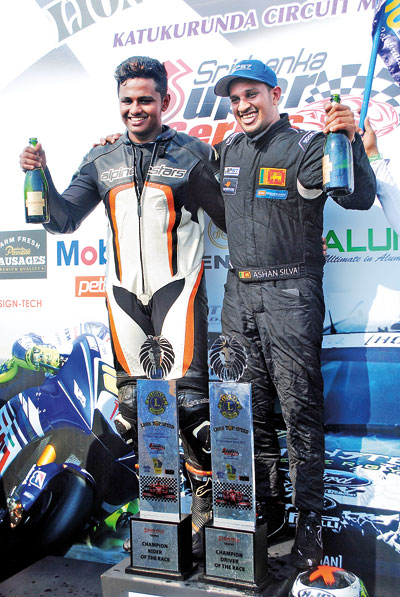 Driver Ashan Silva and Rider Pramuka Sesath dominated the tarmac track at the Sri Lanka Air Force base in Katukurunda, to carry away the Best Driver and Best Rider awards at the 'Lions Top Speed' Motor Racing event.
Energetic Silva, who already has a reputation as a top performer at international level, outpaced 15 other Drivers in the 1st race of the Class SL GT Super Cars event, to take the checkered flag, but was pushed to 2nd place by Ushan Perera in the 2nd race. Silva, a notable absentee during the 2016 season, due to his international commitments, made a comeback to domestic competitions and his start was impressive. He takes an early lead in the Driver's series in the Sri Lanka Super Series with his win in the first outing.
Last year's Super Series winner Perera, was not at his best in the 1st race, but made amends to win the 2nd main race. Abeeth Dangalle, who made valiant attempts to snatch a podium finish in both races, had to be content with 3rd place on both occasions. Renowned drivers Aravinda Premadasa, Pasindu Peiris, Janaka Dias, Sajaad Zuhair, Dinesh Jayawardene and Kaushal Samarasinghe failed to impress in the main two races. The Lions Top Speed created history when husband and wife- Dinesh and Shehara Jayawardene competed in the SL GT Super Cars event.
Best Rider Sesath, stamped his authority with his win in the 2nd race of the Class M Standard and Modified over 250cc event, after conceding the 1st race to Shiran Samuel. Both Sesath and Samuel rode high-powered BMW machines and gave no quarter to take top spot in both races, which provided an electric atmosphere on the track. Both Riders ended up with 18 points each, but considering his performance in the 2nd race, Sesath was declared Best Rider.
Maduranga Caldera, who rode a Yamaha, secured the 3rd place in both races, but Sriyantha Anuradha, who won the Class M Standard and Modified 900cc to 1000cc event, had to pull out of the main races after an on-field mishap during the 1st race. Sesath also secured 2nd place in the Class M Standard and Modified up to 600cc, and 3rd place in the Class M Standard and Modified 900cc to 1000cc events.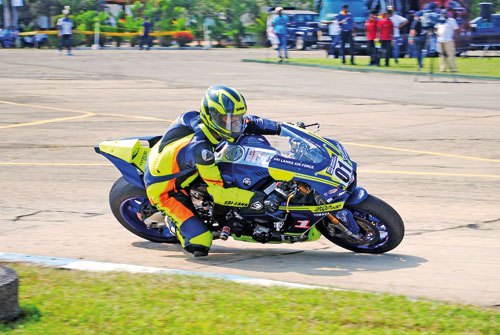 Class SLH up to 1618cc event winner Kushan Peiris, extended his winning form with wins in both races of the Class SLN Ford Laser/Mazda up to 1300cc event, after outmaneuvering Rajith Uluvita on both occasions. Another great achiever was Rider Shoel Daniel, who won the Class M Standard and Modified 175cc to 250cc and Class M Standard and Modified up to 600cc events.
The most outstanding win of the day was by Kavindra Senaratne, who won the Class SLN Ford Laser/Mazda up to 1500cc in a photo finish. The race was contested by 20 Drivers, which turned out to be a thrilling battle, before Senaratne pipped close rival Rajitha Ulivita, to win his 1st race of this category.
The Lions Top Speed was the first occasion where 2 female Riders emerged victorious from among experienced male counterparts, with Hansika Abeysinghe winning the Class O Standard 100cc to 125cc event, while Shushmi Solanki finished 2nd. Abeysinghe went on to secure a double by winning the Class O 125cc to 160cc event.
Car events too featured 2 Women Drivers and the most successful of the 2 was S.A. Lakshika, who out-drove Dhammika Peiris and Sapna Weerasekara to win the Class SLE up to 1000cc Nissan March event. Shehara Jayawardene competed in 3 events without success.
Sangeeth Suriyage, another prominent rider with international exposure, was the cynosure in the Super Motard events. He finished 2nd in the Class SM up to 250cc Super Motard event, but won the Class SM 250cc up 750cc event, overcoming stiff challenges from renowned Riders Suraj Perera, Ananda Wedisinghe, Deshan Solanki, Adduka Srimal Malavige and Ananda Sampath Weerasinghe. Andrew Choksi managed to take major honour in the Formula McLarens 4 up to 1300cc EFI events, after finishing behind Chandima Gunaratne in the 1st race, but bounced back to clinch the 2nd race.
The Lions Top Speed event, which featured 25 races in total, was organised jointly by the Sri Lanka Association of Racing Drivers & Riders (SLARDAR) and the Asian Motor Racing Club (AMRC). It was the 1st Leg of the Sri Lanka Super Series 2017, which is the yardstick to pick the best in Motorsports in Sri Lanka.
RESULTS 
 Class SLN up to 1000cc Mini 7 Cars: 1. K. Parameswaran (Austin Mini 1000), 2. W.N.S. Tissera (Austin Mini 1000), 3. Suresh Kumar (Austin Mini 1000)
 Class SLH up to 2200cc Subaru Legacy Cars: 1. Malinda Gunasekara, 2. Malika Kuruvitaarachchi, 3. Hashen Peiris
 Class SLE up to 1000cc Nissan March Cars: 1. S.A. Lakshika, 2. Sapna Weerasekara, 3. Dhammika Peiris
 Class M Standard/Modified up to 600cc Bikes: 1. Shoel Daniel (Honda CBR 600), 2. Pramuka Sesath (Honda CBR 600), 3. Sriyantha Anuradha (Yamaha R VI 600)
 Class SLH up to 1618cc Cars: 1. Kushan Peiris (Honda Civis 1600), 2. Zakeer Wahab (Honda 1600), 3. David Siyaguna (Honda EP VI 1600)
 Class SM up to 150ss Super Motard: 1. Kasun Danushka (Yamaha YZF 250), 2. Sangeeth Suriyage (Honda CRF 250), 3. Kavindu Dushan (Honda CRF 250)
 Class O Standard 125cc to 160cc Bikes: 1. Hansika Abeysinghe (Honda CBR 150), 2. Vinula Pathirage (Honda CBR 150), 3. Kushan Chamod (Honda CBR 150)
 Class M Standard/Modified 900cc to 1000cc Bikes: 1. Sriyantha Anuradha (Honda HRC 1000), 2. Shoel Daniel (Aprilia RSV VI 1000), 3. Pramuka Sesath (BMW SRR 1000)
 Class SLS up to 1500cc Cars: 1. Zakeer Wahab (Honda Civic 1500), 2. Glen Gunasekara (Honda Civic 1500), 3. Missaka Naveen (Honda Civic 1500)
 Class SLE up to 1275cc Mini Cars: 1. Chanaka Ratnayake (Austin 1275), Thiran Perera (Mini Cooper 1275), 3. Kushan Dhananjaya (Austin 1275)
 Formula McLarens 4 up to 1300cc Cars Race 1: 1. Chandima Gunaratne, 2. Andrew Choksi, 3. Lasitha Naotunna
 Class SLGT up to 3500cc Super Cars Race 1: Ashan Silva (MItsubishi Evolution 2000), Abeeth Dangalle (Mitsubishi Evolution 2000), 3. Dinesh Jayawardene (Mitsubishi Lancer 2000)
 Class SLA up to 1050cc Cars: 1. Michael Wijesuriya (Toyota Vitz 1050), 2. Ajith Keerthi (Autobucks 1028), 3. S.A. Duminda (Nissan March 1050)
Class M Standard/Modified up to 125cc Bikes: 1. Chathura Madushanka (Yamaha TZR 125), 2. Dhanushka Priyasad (Yamaha TZR 125), 3. Jagath Fernando (Yamaha TZR 125)
 Class M Standard/Modified over 250cc Open Bikes Race 1: 1. Shiran Samuel (BMW HP 1000), 2. Pramuka Sesath (BMW RR 1000), 3. Maduranga Caldera (Yamaha 1000)
 Class SM 250cc to 750cc Super Motard: 1. Sangeeth Suriyage (Yamaha YZF 450), 2. Suraj Perera (Hasqvarna FS 450), 3. Deshan Solanki (TKM 450)
 Class SLN Ford Laser/Mazda up to 1600cc Cars: 1. Kushan Peiris (Mazda Familia 1300), 2. Rajitha Uluvita (Ford Laser 1300), 3. Susantha Gunawardena (Ford Laser 1300)
 Formula McLarens 4 up to 1300cc Cars Race 2: Andrew Choksi, 2. Lasitha Naotunna, 3. Ranjaya Dissanayake
 Class O Standard 100cc to 125cc Bikes: 1. Hansika Abeysinghe (Honda CBR 125), Shushmi Solanki (Honda CBR 125), 3. Binura Karunaratne (Honda CBR 125)
 Class O Standard 100cc to 125cc Bikes for Military Servicemen: 1. Dilan Ratnayake (Honda JX 125), 2. M.C.H. Perera (Honda JX 125), 3. Chinthaka Perera (Honda JX 125)
 Special Sports Bikes over 700cc: 1. Akalanka Perera (Aprilia Dorsoduro 1200), 2. Charuka Kumarakith (Ducati Street Fighter 848), 3. Praveen Tyronne (KTM Super Duke 1290)
 Class M Standard/Modified 175cc to 250cc Bikes: 1. Shoel Daniel (Honda CBR 250), 2. Lathika Shamal (Honda CBR 250), 3. Eranga Galpihilla (Honda CBR 250)
 Class SLN Ford Laser/Mazda up to 1500cc Cars: 1. Kavinda Senaratne (Ford Laser 1500), 2. Rajitha Uluvita (Ford Laser 1500), 3. Tharindu Dharmaratne (Mazda 1500)
 Class M Standard/Modified over 250cc Open Bikes Race 2: 1. Pramuka Sesath (BMW SRR 1000), 2. Shiran Samuel (BMW HP 1000), 3. Maduranga Caldera (Yamaha 1000)
 Class SLGT up to 3500cc Super Cars Race 2: 1. Ushan Perera (Mitsubishi Evolution 2000), 2. Ashan Silva (Mitsubishi Evolution 2000), 3. Abeeth Dangalle (Mitsubishi Evolution 2000)