Please help Siyum to undergo urgent surgery
View(s):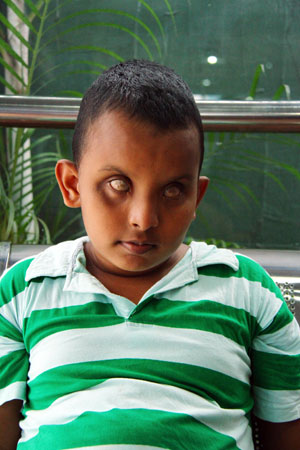 Twelve-year-old Siyum Induwara, of No. 230, Pahalayagoda, Ganemulla is suffering from congenital scleroconea with raised intra ocular pressure in both eyes. He also has a congenital abnormality of the upper and lower limbs that needs to be treated at Durdans Hospital Colombo 3.
Siyum had previously undergone a Lamella keratoplasty operation in his right eye in 2007 at the Colombo Eye Hospital in Sri Lanka. Sadly, he is not able to see through the graft. A scan evaluation on both eyes subsequently done by Eye and retina surgeon Prof. Donald Tan from Singapore National Eye Centre has shown normal posterior segments in both eyes and surgery (Boston Keratoprosthesis) has been recommended, but the facilities are not available in Sri Lanka.
First though, Siyum's hands need attention, followed by further operations on his legs.
The initial operation to be done at Durdans Hospital on February 27 would cost Rs. 200,000.  Rs.100,000  has to be paid to the hospital on admission. W.A.D. Hansika, Siyum's mother is desperately trying to raise Rs. 400,000 to meet the expenses.
Siyum's mother sells fish and dry fish for a living and Siyum's father cannot work as he has sight only in one eye.  Kind donors are requested to send any contributions to Account no. 107853856685 at the Sampath Bank, Ganemulla branch in the name of W.A.D. Hansika. She can be contacted on 0710931650.