President calls for Economic independence and a role for youth
By Sandun Jayawardana
69th Anniversary of Independence
View(s):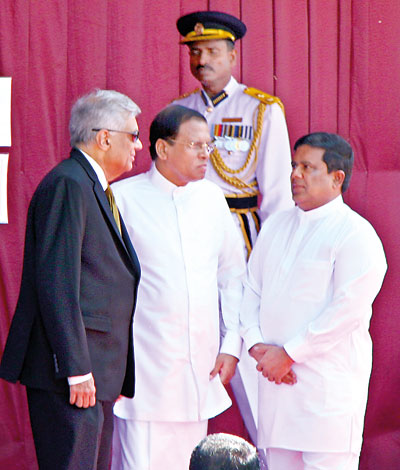 Sri Lanka celebrated the 69th Anniversary of its Independence with much pomp and pageantry at the Galle Face Green yesterday, in a ceremony highlighted by a grand military parade and a breathtaking display by parachutists from the armed forces and the police.
Among the dignitaries present at yesterday's ceremony were President Maithripala Sirisena, Prime Minister Ranil Wickremesinghe, former President Chandrika Bandaranaike Kumaratunga, Speaker Karu Jayasuriya, Chief Justice K. Sripavan, Ministers, senior Government officials and members of the diplomatic corps.
The ceremony got under way with President Sirisena hoisting the National flag. The National anthem was then sung by 110 schoolchildren from various ethnicity representing 11 schools in the Western Province. An armed forces honour guard and a 21-gun salute then greeted the President.
President Sirisena, in his Independence Day speech, emphasised the need to strive for economic independence and spoke of the role the younger generation could play in achieving such independence in a 21st century knowledge-driven society.
The highlight of the ceremony was its military parade, consisting of 7,553 personnel from the armed forces and police. Men and women in uniform representing the various Divisions and Units of the Tri-Forces, Police and Civil Defence Force marched smartly along Galle Face Green in their full regalia to the accompaniment of martial music from their respective bands. Naval vessels from the Sri Lanka Navy sailed just off Galle Face, while Sri Lanka Air Force aircraft also flew overhead during the parade, giving their own salute to the nation.
Among the notable elements of the parade were the various types of weaponry and military hardware from the Tri-forces. They included tanks, armoured personnel carriers, artillery pieces, multi-barrel rocket launchers, various types of naval vessels and aircraft, including fighter jets, helicopters and Unmanned Aerial Vehicles (UAVs). The parade also saw the Navy showcasing its indigenously built 'Wave Rider' patrol craft. Special forces units such as the Army's Commando Regiment, the Special Forces Regiment and the Navy's Special Boat Squadron (SBS) also marched in the parade. The de-mining units of the armed forces, especially their de-mining sniffer dogs, drew much attention.
The final act of the military parade was a parachute display by 34 parachutists representing various branches of the armed forces. The parachutists consisted of 19 from the Army including two female parachutists, 12 from the Air Force, two from the Navy and one from the police Special Task Force.
The proceedings were brought to a close by schoolchildren singing the National anthem in Tamil, signifying the stated aims of national reconciliation, unity and equality.