Health Ministry to recruit 1,500 'field assistants' to tackle increasing cases of dengue
View(s):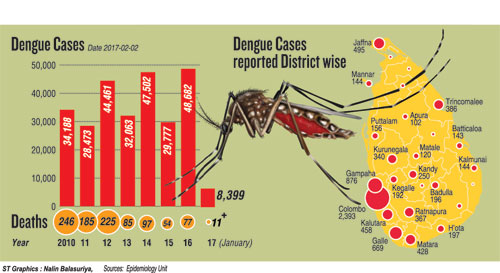 The Health Ministry has identified the lack of an efficient garbage management system as one of the key reasons for the recent hike in dengue cases in the country. Dr. Hasitha Tissera, the National Coordinator for Dengue at Health Ministry, said there were multiple causes for the increase in the number of dengue patients, but the key factors behind the spike in the numbers of cases were the lack of awareness, the lack of efficient garbage management system at local government level, obsolete, outdated garbage disposal systems and poor maintenance of public places including schools.
"Other institutes' inability to discharge their duties regarding sanitation has resulted in dengue becoming a health issue," Dr. Hasitha said.
Though Ministry of Provincial Councils and Local Government had initiated a garbage segregation project island-wide, residents of Colombo complained of delay in removing garbage on time.
'A Dengue free Sri Lanka' is a collective task, which could be archived only if all citizens of this country realise each persons individual responsibility to be part of the process to get rid of the menace.
He added the mechanisms to tackle the challenges posed by the dengue mosquito had been put in place island-wide and that mosquito breeding grounds at household level had in fact been significantly reduced. But the dengue mosquito breeding grounds in public places and private companies remained a concern. Dr. Hasitha emphasised that the situation could have been much worse if Sri Lanka had not succeeded in implementing the clinical management of dengue patients learned from the Thai experience.
According to a dengue update, of the Epidemiology Unit of the Ministry of Health, around 8,399 suspected cases of dengue had been reported to the unit from hospitals island-wide.
Approximately 44.37 percent of dengue cases are reported from the Western province alone.
The mosquito breeding sites can be found regularly in and around households particularly in discarded tyres, plastic containers, coconut shells, leaf axils, blocked roof gutters, bird baths, flower vases, or any other place where rain water collects.
Following a presidential directive, a special Dengue Prevention Campaign was launched on Wednesday with the co-option of the armed forces to curb the spread of this disease in Colombo and its suburbs.
The Epidemiology Unit of the Health Ministry discovered during the dengue eradication programmes carried out by the armed forces in the Colombo District, that 102 out of 170 schools had the potential to become dengue breeding grounds, while 44 schools were found to be having mosquito larvae on its premises.
"In other words, 26 percent of Colombo schools were found to be having dengue larvae," Dr Thissera noted that though dengue breeding grounds at household level had been brought down significantly, speedy action needed to be taken to ensure the public places such school environment were made dengue free.
He said since the onset of the north-east monsoon, Jaffna, Trincomalee and Kalmunai had been identified as being vulnerable to dengue, while small pockets in Batticaloa and Mannar had also identified as potential hot spots.
Dr. Hasitha pointed out the fight to eradicate dengue faced an uphill struggle as there appeared to be a lack of awareness among medical practioners and patients that it was incumbent upon them to notify health authorities when possible dengue patients sought treatment at private medical centres in suburban and remote areas.
A Public Health Inspector (PHI), from Jaffna informed the Sunday Times on condition of anonymity, that he had come across a few cases where, medical practitioners running private medical clinics in villages not informing respective health authorities when persons with symptoms of dengue fever approached them for medication. In many instances they claimed fear of litigation or consequences.
Dr. Hasitha said all medical practitioners had been provided special training with guidelines on how to identify possible dengue patients during their initial visit to a medical doctor. He added there were two courses open for private medical doctors to inform the department of such instances:
n a paper-based manual system where the particular doctor informs the relevant Medical Officer of Health (MOH) immediately and
n the other a web portal system which is maintained online.
He added that private medical doctors were duty-bound to inform the health authorities whenever they treated a patient with possible dengue symptoms.
" Legal action can be instituted against those failing to do so," he said. According to the Disease Prevention Ordinance of 1987, a fifty rupee fine could be imposed on doctors who do not comply with the regulation.