Appreciations
View(s):

H.M. SENEVIRATNE

A scholar, mentor and ideologist is no more

H.M. Seneviratne, Senevi to his friends, was widely acclaimed as an eminent lecturer in Education, especially in Educational Administration. He was considered an asset when there was a severe shortage of staff to teach the subject at the universities. This gave Senevi an opportunity to train many of today's high ranking scholars and practitioners in the field of Education and outside. He was well-known for his dedication to students and he was proud to see many of them achieving high positions in the Education sector. He had the qualities of an impressive teacher and he always imparted knowledge in the correct perspective.

Before joining the university service, Senevi was a teacher in the Department of Education and served in three schools. Even as a teacher he shone and he proved himself to be dedicated to his field and his students. It was during this period he successfully followed the post-graduate Diploma in Education course at the University of Ceylon, Peradeniya and won the Khan gold medal in 1970 – Senevi considered this to be his proudest achievement in his academic career. Senevi joined the teaching staff of the Faculty of Education at the University of Ceylon, Peradeniya and later at the University of Colombo in the same capacity (when the Faculty was shifted there). He won the Commonwealth Scholarship Award to pursue post-graduate studies in 1981 and completed a Masters degree at the University of New England in Armidale, NSW, Australia.

Senevi, though every inch a scholar, kept his close touch with the common man. He always gave them counsel and advice whenever they needed them. He hailed from Dahamune, Pilessa, Kurunegala and he received his primary and secondary education at Maliyadewa College, Kurunegala.

It would take quite some time for us, his batch mates, to reconcile ourselves to the fact that this great scholar, mentor and ideologist is no more. Our condolences go to his wife Kamala and to his ever loving daughter Tushari who cared for and looked after him during his illness and throughout.

W.R. Gamini De Silva
---
H.M. Faiz
A multi-faceted media personality
H.M.Faiz has earned an important place in the history of media of Sri Lankan Muslims.
He was a multifaceted journalist, who worked as a magazine editor, media trainer, organiser and observer.
I had the good fortune to associate with him when he was working as an editor of the English and Tamil language journal 'Islamic Perspective' which was published from 1989 to 1998. Hanifa Mohamed Faiz was more close to me after associating with the Sri Lanka Muslim Media Forum.
He was born on May 22, 1963, as the fourth child to Marhoom Allappiccai Hanifa Mohamed and Fakir Fatheela Umma from Slave Island, Colombo. After his early schooling at T.B. Jaya MahaVidyalaya, he gained admission to Zahira College and passed the GCE A'L examination in the English medium. After that he joined the Open University and obtained a degree in sociology and completed his Master's in Mass Media at the University of Peradeniya. He obtained a diploma in Journalism too.
Faiz also excelled in Accounting and Auditing and worked as an Accountant at Salaka and Selma from 1982 to 1989.
After joining the Sri Lanka Muslim Media Forum, he became a full time social worker. From 2008 until his death a few months ago, he served as Administrative Secretary of the Federation of All Ceylon Muslim League youth fronts. The service he rendered to develop this organisation was remarkable.
The Federation of All Ceylon Muslim League youth front in the last few years, started a service under the name of "Truth Factor" to monitor the issues against Muslims in the country's print media. The enormous contribution of Faiz with his dynamic trilingual efficiency was irreplaceable in this field. He willingly performed a yeoman service for many years.
While associating with the Thawheed movement, Marhoom Faiz served as the Principal of Ilm Ahadiya school from 1985 to 1987, and secretary of the Muslim Writers Association from 1985 to 1999. In addition, he served as the Deputy Director of Circle Institute and as a visiting lecturer of Maradana Technical College.
Faiz played a vital role in the development of Sri Lanka Muslim Media Forum and was the magazine editor, assistant treasurer, and treasurer for the last three consecutive periods.
In the meantime, he served as the forum's unofficial administrative secretary and served as the editor of the forum's official publication 'Media'. He served as a main counsellor for the symposiums conducted under the theme of "Media in the 21st century".
The contribution made by Faiz for the success of the recently celebrated 20th anniversary of the Sri Lanka Muslim Media Forum and for the publication of the souvenir "Koormunai" is worth mentioning. He worked day and night to make this celebration a grand success.
Faiz participated in all the struggles organized by media organisations and civil society organisations to protect the country's media freedom. He played an important role in the alliance of seven media organisations. In particular, he took part in various protests held during the last regime. He represented the Sri Lanka Muslim Media Forum at the conference of South Asian journalists held at Hyderabad in 2016, and Islamic World Tamil research conference held in Kayalpattinam.
Being an Islamic activist, Faiz never imposed any of the policies that he adopted, on other associates during the time we were together.
Although he was a man with rare potential, I saw him as a humble dedicated social worker.
Members of the Sri Lanka Muslim Media Forum respected him for his rare qualities. He had an excellent character – hard working, straightforward and well organized. During the office bearers' elections of the Sri Lanka Muslim Media Forum, many times he was elected with a majority of the votes and twice elected unanimously.Although he had the ability and higher educational qualifications for better jobs, he preferred shari'ah based simple jobs. Therefore, he worked with the Muslim organizations and was satisfied with an ordinary salary.
Faiz, married Rizna Gani in 1994 and they were blessed with three children. He passed away on November 18 at the age of 53. He leaves his beloved wife and three children, Ashfaq Ahsan, Aska Faiz and Arzak. Faiz's death has created a void in the community, especially the Muslim media.
May Allah accept his services, forgive his sins and reward him with Jennathul Firdous.
N.M. Ameen
---
Group Captain Wasantha Jayawardena
There is a space in our hearts where your name is etched in gold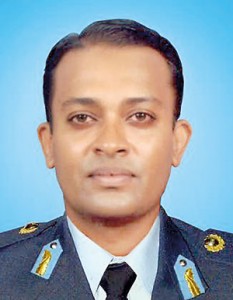 They say that God takes the good ones first
And leaves the rest to suffer
It will be hard for you to see what we go through
Because you are not there anymore
You were a hero at work and at home
The country and family couldn't be prouder
All now left are the memories
Because you are not there anymore
Since you decided to leave all of us in sorrow
There wasn't a single day that we did not think of you
Laughter, kindness and the brotherhood which is gone
Because you are not there anymore
Years go by and  everyone moves on
There is a space in our hearts
In which your name is etched in gold
You are remembered with fondness and love
Until we breathe our last breath in this journey
Although you are not there anymore.
Asoka Jayawardena