Days are numbered for destructive trawling in Sri Lanka
By Sandran Rubatheesan
View(s):
Trawling, the notoriously destructive fishing method, in which nets are dragged by fishing vessels along the sea floor, are expected to be outlawed in Sri Lanka.
The Fisheries Ministry is expected to submit a bill to the parliament by early next month to ban trawling. Many countries have banned trawling due to its destructive nature. Trawling captures even fingerlings and alters the seabed.
"Those who are engaging in trawling not only destroy the rich marine environment of the sea but also the livelihoods of thousands of small scale fishermen. We cannot let this continue," the Secretary to the Fisheries Ministry, W. M. M. R. Adikari told the Sunday Times.
Last week, Fisheries Minister Mahinda Amaraweera, got the cabinet nod to a proposal seeking to prohibit trawl fishing using mechanised boats in Sri Lankan waters. The cabinet paper outlined the need to incorporate an amendment to the Fisheries and Aquatic Resources Act No. 2 of 1996.
Unlike the illegal Indian bottom trawlers that intrude into Sri Lankan waters, the local mechanised trawlers are comparatively small in size and their inability to cause massive destruction of marine resources, but their fishing activities in shallow waters significantly affect local traditional fishermen.
A Sri Lankan mechanised trawler is 28 feet long and weighs three and a half tonnes. And they are less powerful compared with illegal Indian trawlers.
Dr Sisira Haputhantri, Head of the Marine Biological Resources Division of National Aquatic Resources Research and Development Agency, told the Sunday Times that limited marine resources are being harvested rapidly.
"Currently more than 50,000 vessels are engaged in fishing in coastal waters. Most of them operate in shallow waters. Resources that are depleted take time to recover. So far there has been no management plan," he said.
Pesalai fishermen in Mannar who engage in trawling on a massive scale, say the Government must provide them alternative livelihood options before banning trawling. At least 200 mechanised trawlers fish for shrimp and prawns in the shallow waters five days a week and traditional fishermen complain that they are being deprived of their catch.
Santhiyooku Arulseelan, leader of Pesalai fishermen's union, denied large-scale, destructive fishing.
"In shallow waters we cannot fish using normal methods used in territorial fishing, recommended by the Fisheries Department. When NARA officials visited here some years ago, they inspected our activities and gave us clean certification," he told the Sunday Times.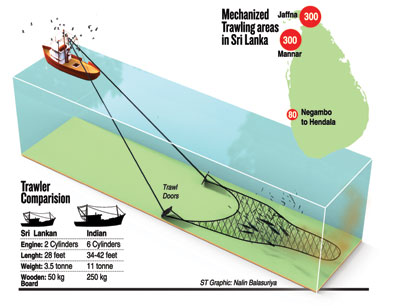 Arulseelan also added that if the local fishermen are to be prosecuted for mechanised trawling in Sri Lanka, the Government should ensure that illegal Indian fishing is halted. "Otherwise, it is meaningless. If Indian fishermen can come and rob our resources, how can they expect us to follow those 'effective fishing' methods".
Nara will do a survey with the technical assistance of the Norwegian Government to find potential fisheries resources in the Sri Lankan fleet to help formulate a national fisheries policy for sustainable development, conservation and management of marine resources.
The new survey is tasked with exploring maximum exploitation and preservation of the marine resources in Si Lankan seas while ensuring necessary checks and balances for conservation and management.
N Subramaniyam, the secretary of the Fisheries Federation of the Northern Province noted that while all unions support a trawling ban, some are agitating against the idea.
"We understand that some of the local politicians particularly those representing Tamil National Alliance in the Northern Provincial Council have backed trawling in the north for their own electoral gains as local government elections are believed to be held this year. We will not tolerate this and will stage a massive protest," he said while expressing hope that the bill would be passed by lawmakers next month.
A senior official at the Department of Fisheries and Aquatic Resources said that trawling has increased in the north and measures to provide alternative methods were not successful.
The Northern Provincial Council is planning to introduce laws to set up the Provincial Fisheries Authority to exercise limited powers related to fishing in territorial waters. Currently the provincial ministry is vested with powers of developing infrastructure for inland fisheries and improving the livelihood of the fishing community.
Provincial Fisheries Minister Balasundaram Deniswaran said that laws are in the making. The aim is to exercise powers up to five nautical miles (12 kilometres) from shore under the purview of the provincial ministry.
"Since there has been no effective law in place to stop trawling, it is difficult to prosecute them or fine them. We will support whatever the efforts taken by the government to curb trawling as our province is vulnerable to this practice," he said.