35,000 kilos of rice unfit for human consumption seized
View(s):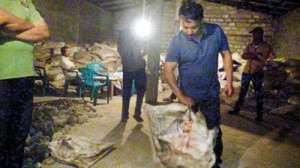 A stock of 35,000 kilos of imported rice unsuitable for human consumption was seized in Kekirawa on Friday night while the stock was being prepared to be sent back to the market, Palagala Medical Officer of Health (MOH) Dr. Srimal Withanaarachchi said.
Following a tip from area residents officers had raided the store, in Kekirawa, Pubbegama, where six labourers and the owner of the store were taken into custody. Another man who had employed the workers had fled the scene. The owner of the store had said that a Colombo businessman had rented the store for a couple of days.
Although the original packages had expiry dates as January and February, the rice was unfit for consumption Dr. Withanaarachchi said.
The six labourers were given bail while the owner of the store was taken into custody.