Sri Lanka tea plantations: Crisis and restructure
By Manil Perera F.I.P.M, M. I. M(SL), BSc Mgt, Dip Agric, Dip Plant Mgt.
View(s):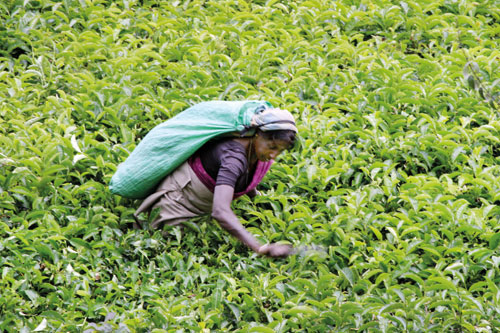 Background
The Sri Lankan tea industry faces several problems and the major challenges that the tea industry faces are, raising productivity and remaining competitive. The area under tea cultivation is stagnant or shrinking, productivity is low, the replanting rate is low, production costs are high and there is a shortage of labour willing to work in the industry.
Sri Lanka's share of world production and share of world export are also gradually decreasing. These are the signs of losing competitiveness in the global tea market.
Plantations are not just economic and commercial production units but rather social institutions, which control the lives of their resident work force where they are born, live, breed and die. The workers and their lives are invariably bound with the work and the management's authority. The plantations do not just offer employment: They are also responsible for providing housing, water, gardens, welfare, temple, cemetery, dhoby, barber and many other facilities that affect the daily lives of workers. It is a complete and total institution.
The plantations are characterised by a rigid hierarchy, and the organisational structure is divided into five strata: the owner, management, staff, sub-staff and workers. The management consists of a manager/assistant manager, clerical and white-collar workers constitute staff, while supervisors, drivers, mechanics, and crèche attendants constitute the sub staff. The plantations social structure consists of management, staff and labour. The three social categories found in the hierarchical occupational structure can be differentiated by five main characteristics. Firstly, they live segregated under different housing conditions; Secondly, in terms of income and economic conditions; Thirdly, the management and staff are monthly paid whilst the labour is daily paid, Fourthly, management is exclusively male and; Fifth, management is provided with an official vehicle.
Studies on the Sri Lankan tea industry have identified several problems that the country is currently facing such as, low productivity, lower replanting rate, high cost of production, stagnant area under tea and a shortage of labour. Labour costs constitute 67 per cent to 70 per cent of the cost of production of a kilogram of tea. An increase of labour wages by a single rupee would increase production cost of tea by a minimum of Rs. 0.60 per kg. The high labour cost is mainly due to work norms such as plucking, pruning, draining, fertiliser use and planting being below the worker capacity. Currently, even the average price of tea in auctions has fallen below the average cost of production.
Sri Lanka's plantation industry has been plagued by low productivity. While the more productive estates can yet be profitable, the less productive ones run at a significant loss. Productivity of tea lands indicated by yield/ha has declined during the last few years possibly due to weather, soil erosion leading to infertile soils, pests and diseases etc along with a myriad of management decisions from strate-gy, structure, lack of managerial and technical personnel, maintenance, fertiliser, plant types and ageing.
Productivity or the unit cost of production can be improved by reducing the cost or increasing output. Since wages of tea pluckers is a large component of the cost, controlling wages has to be the first recourse. However, estate workers are unionised and the unions also have political representation in Parliament. In addition, unions representing tea workers are not doing many things that could improve the lot of estate workers.
The logical means of increasing productivity on plantations is replanting and infilling. The average tea yields are considerably lower than the potential yields and low incidences of replanting and in filling have affected yields in Sri Lanka. In the smallholder tea sector the average yield is around 1800 kg/ha and in the estate sector it is about 1200 kg/ha.
Some of the cultivars developed by the Tea Research Institute (TRI) had been yielding around 8,000 kg/ha in South India under commercial conditions and yields over 3000kg /ha even in Sri Lanka. To sustain the industry, the replanting rate should be at a minimum 2 per cent per annum of the total area under tea cultivation. Moreover, Sri Lanka'Äôs daily plucking average is just 66 per cent of what it is in India. How are new smallholder plantings in the low country¬† producing record yields?"
Beginning of the crisis
In the 1970s, African countries entered the tea industry in a large scale. During 1970s, the Sri Lankan Government nationalised many of its plantations. As a result, the British investors who ran many of the Sri Lankan plantations went to Kenya to invest in the tea plantation sector.
The Kenyan Government provided them with the necessary support. The tea produced by the Kenyan estate sector is marketed by the multinational companies. Thus, Kenya has relatively strong international marketing mechanism. This enabled Kenya to be a major player in the global tea market.
Kenya is now enjoying a significant portion of the global tea production and global tea exports. Kenya gained market share at the expense of the major players, such as Sri Lanka and India.
This was possible due to several reasons. Firstly, the Kenyan tea industry is backed by leading multinational companies. This led to the establishment of an efficient estate sector under the British tea companies. These companies introduced new practices to the factory management. Secondly, the Kenyan Government took a major step to integrate small scale growers into the mainstream of tea growing. Thirdly, the Kenyan tea industry is using high yielding varieties. These factors led to higher productivity and lower cost of production. Until Kenya entered the UK tea market, Sri Lanka and India were the major players. Kenya was able to amplify its market share in the UK tea market aggressively and Sri Lanka and India lost its market share.
Restructuring the industry:
What needs to be done
Productivity refers to the internal capability while competitiveness refers to the relative position against its competitors and productivity is the key to competitiveness. Competitiveness is central to the capability of firms to survive and succeed in the global market, viz Price competitiveness, Demand competitiveness, Technology competitiveness and Capacity competitiveness.
The essence of formulating a competitive strategy is relating a company to its environment, viz human resources, physical resources, knowledge resources, capital resources and infrastructure. An organisation achieves competitive advantage if it enjoys low-cost or uniquely high quality factors of the particular types that are imperative to competition in a specific industry. Furthermore, it is important to distinguish between the basic factors which include natural resources, climate, location, unskilled and semi-skilled labour, and debt capital and the advanced factors which include modern digital data communications infrastructure, highly educated personnel, and university research insti-tutes in sophisticated disciplines.
These factors of competitive advantage can be grouped into Internal (Physical and Human) and External. The Physical factors are resources, domestic demand, business environment, related and supporting industries and the Human factors are the workers, politicians and bureaucrats, entrepreneurs, and professionals.
The basic factors are important particularly in the agricultural industries. However, advanced factors are the most significant factors for competitive advantage and they are vital to produce differentiated products.
Advanced factors are vital to gain competitiveness in the tea industry since these factors are necessary  to produce differentiated or value added tea that fetches higher prices.
In Sri Lanka, workers in the plantation sector are highly unionised. This makes any cost reduction programmes in relation to labour almost impossible.
Union action such as strikes
Demanding higher wage rates are common in the plantation sector and such developments exercise a significant pressure on cost of production. Tea production is highly labour intensive and about 56 per cent of cost of production is from labour. Studies carried out by the TRI shows that labour cost accounts for more than 65 per cent of the cost of tea planting/replanting. Kenya's cost of production is much lower compared to Sri Lanka. Hence, increasing labour productivity is vital if a country is trying to compete in the global tea market using cost leadership strategy.
Despite these facts, Sri Lanka has been able to fetch higher prices for its tea owing to high quality standards and is known as a quality tea producer.
The analysis of Sri Lanka's competitiveness reveals that there are many unfavourable conditions together with some favourable conditions. The low labour and land productivity are mainly due to unfavourable factor conditions such as higher labour costs, inflexible labour, lower replanting rate, the lack of high yielding varieties, inadequate fertiliser application, and the lack of trained work force particularly due to migration from the plantations. The Government attempted to increase competitiveness through different strategies and policies such as the fertiliser subsidy scheme, replanting, new planting and infilling subsidy.
Sri Lanka is not blessed with good factor conditions and these unfavourable factor conditions prevent Sri Lanka from adopting a cost leadership strategy. Given the cost structure of Sri Lankan tea, it is not possible to adopt a cost leadership strategy, which requires the companies to produce at the least cost and sell them at lower costs. However, Sri Lanka has a good reputation in the global tea industry as a high quality tea producer.
In view of the important role played by the tea sector on the socio-economic development of the country, it is important that the factors which limit the productivity and profitability are given serious consideration. In this regard, cultivation of better tea cultivars and their effective management including better fertiliser and pest management practices, improved manufacturing and value addition of the produce, increased rate of replanting, reducing soil degradation and conservation practices infrastructure diversification (even within the plantation to tourism, hydro power, etc), and maintaining a good education system are essential.
These natural assets need to be changed into competitive assets in order to gain greater competitiveness. All these activities would involve a high level of capital investment and also, effective implementation of policies. The most important source of competitive advantage is the knowledge and skills of the workforce.
Therefore any restructuring mechanism should take into account the presence of the resident labour force and the method of providing gainful employment to them, as it would cause social and security issues.
Constraints
Under the management of estates in JEDB/SLSPC (State Plantations Corporation) during state ownership, foreign funding was available through the World Bank (MTIP), ADB and other multilateral agencies to revamp the plantations after nationalisation. As a result, most estates in JEDB/SLSPC were in good order at the time of privatisation in 1992. A fair portion of the acreage on each estate had been replanted by JEDB and SLSPC during the   17 years state management in addition to what had been replanted by the former owners prior to LRC take over.
The privatisation of state plantations has contributed to enhance Sri Lanka's competitiveness by way of improving management practices and providing adequate finance. However, certain management companies did not infuse new capital and depended on bank borrowing and were only interested in skimming the plantations by charging high management fees and paid no attention to replanting and development.
Multinational companies dominate the international tea trade.   For example, four major companies account for more than 80 per cent of the global tea trade. A salient feature in the global tea market is value added tea fetches better prices compared with bulk tea.
Thus, the export of more of value added tea enhances the competitiveness. The value added tea denotes the 'Äėall type of tea'Äô except tea marketed in bulk form. Thus, value added teas take the form of tea packets, tea bags, instant tea and green tea. Given the higher prices fetched by value added tea compared to bulk tea, increasing the export of value added tea is important. Thus, policy makers should pay due attention to adopt policies that will encourage local producers to export more tea in the value added form, even from the producer level, considering the wide difference between the auction price of tea and its export value.
Increasing the share of value added tea will result in greater employment opportunities, increased foreign exchange and the potential for strengthening the plantation's profitability.
The presence of related and supporting industries that are internationally successful, also provide a competitive advantage. In the heydays of the tea industry, production, management, manufacture, fuel, transport, auction, insurance, freight, blending, packaging, retail sales were all in British hands, representing a well-coordinated and mutually supportive chain. Today it is not!
Recommendations
Considering the crisis in the plantations, it is recommended that re-structuring should encompass:
Change in ownership by integration with good investors preferably  international, having adequate working capital requirements, adequate finance for long-term investment and having a supportive marketing chain with international access especially to the Western European markets.
Limit ownership to a single or maximum of three plantations. This  would enable decision-making at estate level and prevent the estate having to maintain a large head office having different agendas and becoming parasitic in nature.
Increase agricultural productivity: in the short term by   fertilising, infilling and in the long term by replanting, soil conservation, etc and motivation of labour, staff and management.
Factory development/modernisation both in the short term and long   term.
Manufacture/sale of value added teas at producer level.
Diversify into hydropower, yourism with benefits at estate/producer  level thus making the plantation a profit centre in joint ventures using its resources.
Develop/diversify unproductive land into dairy farming, timber, etc.
Liabilities in relation to past statutory dues/creditors, etc should    be borne by the State, allowing a new investor to commence operations on a positive balance sheet.