MRP mechanism takes away patients' democratic right of choice
By Kumudini Hettiarachchi
In an exclusive interview Chairman and Managing Director of Mega Pharma (Pvt.) Ltd., Shirantha Peries discusses drawbacks of the recently introduced price control on 48 drugs; what should have been done and public misconceptions about medical specialists and pharmaceutical companies here
View(s):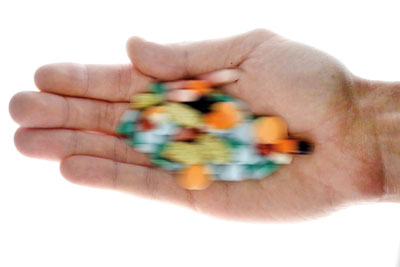 Why is the right of choice of the patient who is the consumer being taken away and who will be the beneficiaries of the price-control imposed on 48 drugs?
These are the concerns being raised in a no-holds-barred interview by the head of a pharmaceutical company who is the only person who has come forward to discuss on record the recent Maximum Retail Price (MRP) mechanism for 48 drugs imposed by a Gazette dated October 21 and its far-reaching impacts.
Not only explaining the past systems but also suggesting what should have been done, the Chairman and Managing Director of Mega Pharma (Pvt.) Ltd., Shirantha Peries, reiterates that with the introduction of the MRP mechanism, many pharmaceutical companies will not be able to market their medicines at the new controlled price and will be compelled to withdraw.
"This, in turn, will create a vacuum in the market. The public should look out for newly emerging so-called 'pharmaceutical companies' and stakeholders behind these companies thereafter," he warns, in an exclusive interview with the Sunday Times.
Pointing out that on Thursday alone at least five people called him to say that they have been on original brands for the last 10 years but now these drugs are not available in the market, he asks how the 'formula' for price-control was worked out.
"The formula is questionable and the public should not be fooled by this," Mr. Peries is adamant, explaining that whoever fixed the MRP has not looked into the possibility that the companies which come under price control are unable to make their products available at that price. The control-price fixation has been done arbitrarily.
According to this pharmaceutical company head, in a democracy, patients should be ensured their human right to purchase a product of their choice, if they are willing to pay for it. "It is public knowledge that in the recent past certain high-level politicians have received treatment in Singapore and have likely been prescribed original products as well. If the local system is good enough for nearly 22 million people, why is there preferential treatment for some, using tax-payers money? Today, these taxpayers are not restricted just to high-income earners but include the public as well who are subjected to indirect taxes in some way, though they might not realize that."
Mr. Peries then takes a look at the system that had existed in the past with regard to the marketing of medicines made available to patients. Such marketing and availability took three ways:
The Department of Health Services put out worldwide tenders called by the State Pharmaceutical Corporation (SPC) for medicines which were to be distributed to the state hospitals and dispensed free of charge, through these state hospitals to the patients.
There were also SPC tenders, these too called by the SPC, whose interest was to promote affordable medicines to the public through the SPC outlets and its respective distribution agents and pharmacies. These medicines were dispensed by generic name.
Then there were the 'original brands' (originally-researched products) and 'branded generics' which were promoted by pharmaceutical companies and prescribed by clinicians and dispensed by pharmacies under the prescribed brand names.
('Original brands' or 'innovator drugs' are initially-marketed new chemical entities or the first versions sold by innovator-manufacturers. Thereafter, once the original patent expires, other pharmaceutical companies produce 'copies' but place their own brand names to enable a connection to their companies and these are known as 'branded generics'. The third category is 'generics', copies of branded drugs which should 'ideally' be identical to the brands produced by companies without any kind of branding. These, therefore, need strict quality-checks)
"When dealing with the third category, 'original brands', there have been misconceptions among the public that all profits generated were going into the pockets of pharmaceutical companies and doctors. But here the public has been misled," says Mr. Peries, explaining that in reality up to 60% of the profits go back to serve the public better.
How?
There are various colleges of medical specialties and the pharmaceutical companies are wholly, in 90% of the cases, responsible for the development and education programmes conducted for them to enhance and fine-tune their skills, he says, citing the example of cardiac stenting which was made available to the public in Sri Lanka only because the pharmaceutical industry took the lead and sponsored these programmes on the requests of Consultants.
"This is why Sri Lankan specialists are much sought-after by many countries and most of them who have taken that option are even heading various specialty departments including in the United Kingdom, he says, conceding, however, that there may be "a very few instances" where such sponsorships have been misused by companies and doctors alike. But politicians have amplified these few instances, totally masking the huge benefits to the public through such development of qualitative healthcare, due to the educational programmes which keep the medical profession updated.
He picks on the most talked of areas of non-communicable diseases (NCDs) which are dealt with through diabetology and cardiology. Both President Maithripala Sirisena and Health Minister Dr. Rajitha Senaratne have in the recent past been witnesses and participants in programmes linked to diabetology and cardiology. In the last 10 years, when every such programme is statistically computed, the answer as to where a majority of the profits made by the pharmaceutical companies have been invested is obvious.
Giving more food for thought, Mr. Peries asks whether regulators understand that the same generic could be manufactured by two companies at a completely different production cost, depending on whether they are following the World Health Organisation's 'Good Manufacturing Practices' (GMP).
GMP is the aspect of quality assurance that ensures that medicinal products are consistently produced and controlled to the quality standards appropriate to their intended use and as required by the product specification, the Sunday Times understands. GMP defines quality measures for both production and quality control and defines general measures to ensure that processes necessary for production and testing are clearly defined, validated, reviewed and documented and that the personnel, premises and materials are suitable for the production of pharmaceuticals and biologicals including vaccines.
Mr. Peries stresses that the cost of production would even be completely different in the following three situations of manufacturing medicines according to the requirements of Australia's Therapeutic Goods Administration (TGA), the United Kingdom's Medicines and Healthcare products Regulatory Agency (MHRA) and America's Food and Drug Authority (FDA). Of course, if the medicines are being produced as a cottage industry, then the cost would be minimal. But are those the products that Sri Lanka wishes to buy its people?
Touching on another crucial area, he asks whether it also means that vaccines being imported into the country in future would take the same route of price control. Are our regulators as well as our politicians willing to endorse this for their kith and kin?
The drugs currently coming under the MRP model include oral suspensions, tablets, capsules, inhalations and an injection. They are drugs prescribed for bacterial and viral infections; diabetes, hypertension, high cholesterol, for heart attacks, thyroid issues, mental illness, seizures, asthma, gastritis, osteoporosis, to halt vomiting, prevent worm infestation and also non-steroidal anti-inflammatory drugs (NSAIDs).
Prices and medicines: What should have been done
The Chairman and Managing Director of Mega Pharma (Pvt) Ltd., Shirantha Peries, is very clear about what should have been done with regard to prices and medicines.
The policy-makers should have introduced a three-tier system:
Continue with the Department of Health Services tenders, while ensuring the quality of the free medicines being made available to the public in the state hospitals.
Referring to how quality of free medicines should be ensured, he underscores the fact that it is essential to have a fully-fledged quality-assurance laboratory that has adequate capacity. Then tests can be performed in the shortest possible time, prior to allowing the medicines into the country through the airport or the port.
If a patient is happy to buy a low-cost medicine under a generic name which is his personal choice, he/she can do so by purchasing such a product from any State Pharmaceutical Corporation (SPC) retail outlet or its authorised selling outlets.
If a clinician prescribes an appropriate medicine by brand name after evaluating the patient's capacity to purchase it and meeting the patient's choice, then the patient should be able to buy it from any private pharmacy. Yet, if the patient wants to purchase a cheaper medicine, he/she can do so by presenting the prescription to an SPC outlet which will honour it by giving a generic medicine. Then the patient's right and the consumer's choice are not interfered with.