An artist's personal journey
View(s):

'Now You See Me' – young artist Shanela Ranaraja's debut solo exhibition opens in Kandy this week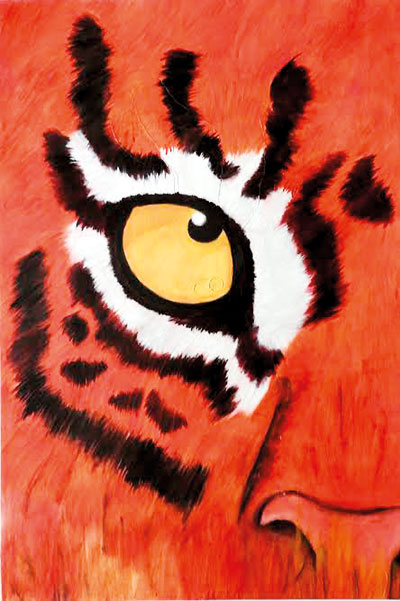 Not for her the conventional landscapes and traditional sketches of dancers we see at so many exhibitions. Shanela Ranaraja's art is deeply personal and though she has had no professional training having honed her craft all on her own, at the tender age of 19 she is ready to share her work with a larger audience.
A past student of Colombo International School Kandy, the talented and vivacious young artist will be holding her first solo art exhibition entitled "Now You See Me" from October 26 to November 16 at the Alliance Française in Kandy. On display will be paintings which she has done at various stages in her life portraying her growth both as an artist and as a person.
Shanela recalls that she fell in love with drawing when she scribbled on her kitchen table while waiting for her father to take her to school. Ever since her love for creating something magical from a blank canvas matured into something her peers and teachers marvelled at. A very dynamic personality in school, captaining the school Netball team and Athletics team whilst being a prefect, Shanela is also a high achiever academically.
Shanela attributes her initial training in art to her art teachers Grace Wickramanayake and Thilak Palliyaguruge who helped her develop some of her techniques. After Grade nine however, she went on a creative voyage of discovery developing her skills by herself.
As an artist she has no particular medium she sticks to but favours acrylic, which makes her process as an artist easier in her own words. On a recent trip to Austria she was taken by two Austrian masters – Gustav Klimt and Hundertwasser who she deems "creators and revolutionaries of their time who influenced Austrian culture". Their use of geometric shapes and colour influenced her as an artist.
Art, she says candidly is her outlet – where she vents all her feelings. Each painting she has created is deeply personal reflecting issues that many people are afraid to address in our society. The exhibition title is inspired by one of her works she has called "Now you see me" which deals with the taboo topic of bisexuality. Shanela says she wanted to address topics and themes that she has discussed with her friends and hopes her audience will see these as issues that should not be hidden but rather addressed by society.
We have a sneak preview of one of her signature pieces which she calls "Landscape of dreams"  – an impressive painting of a horse where she has utilized everyday objects like coins, CDs, sea shells and various other materials through which she depicts the elusive mysteriousness of one's fantasies. There are many personal allusions here like the Hantane mountain range which the viewer can identify.
For this young Kandyan, it is indeed a daunting prospect to see how her rather conventional audience will receive her work. Dealing with forbidden themes like lust is a risk but she hopes it will give her viewer food for thought. Having developed her skill alone Shanela says that her secret is that she kept it personal and just let her own imagination flow – and now she hopes her art will speak of who she is.
"Now You See Me" is on at the Alliance Française in Kandy from October 26 to November 16.